North Korea claims successful test of solid-fuel missile engine
---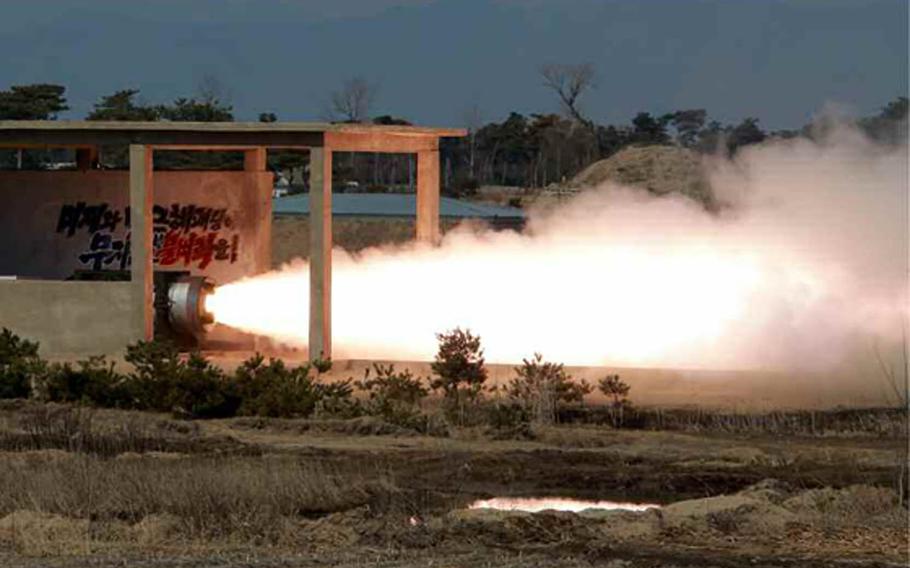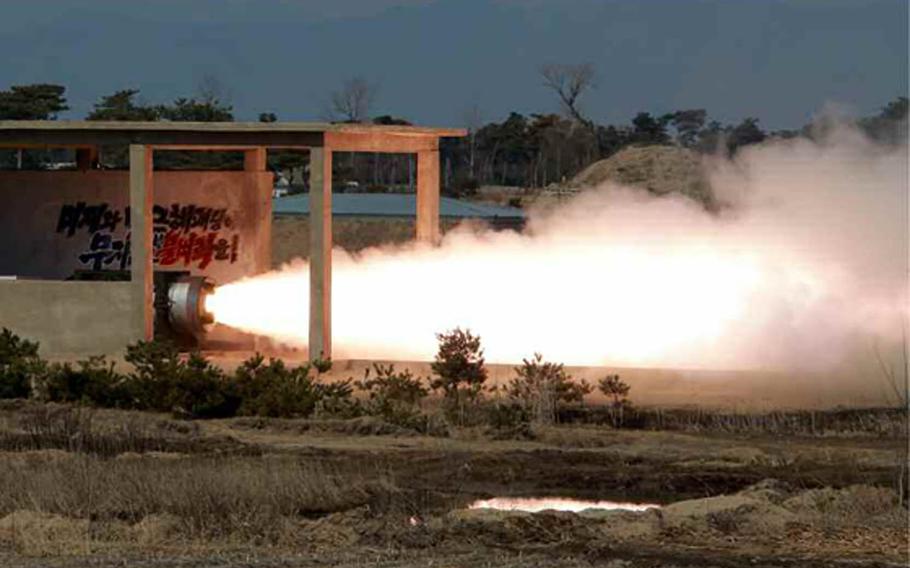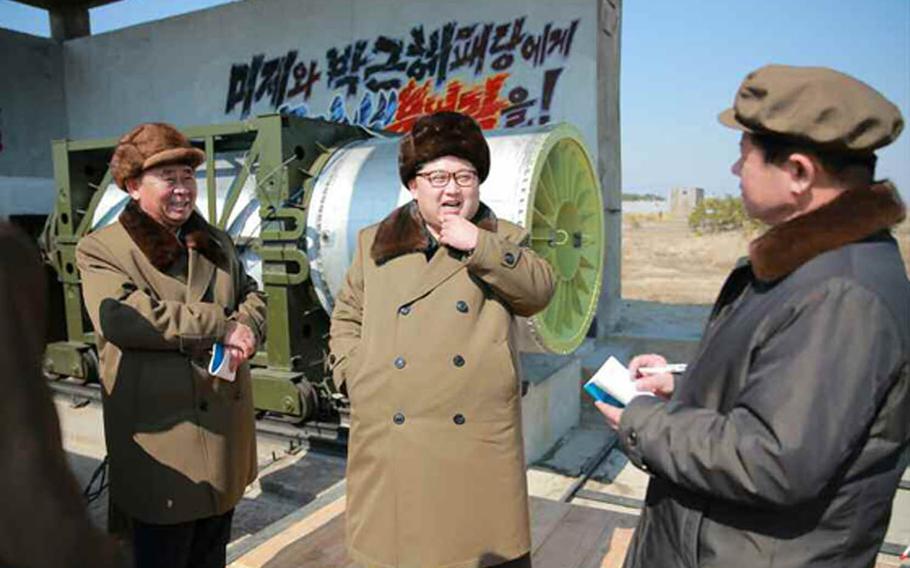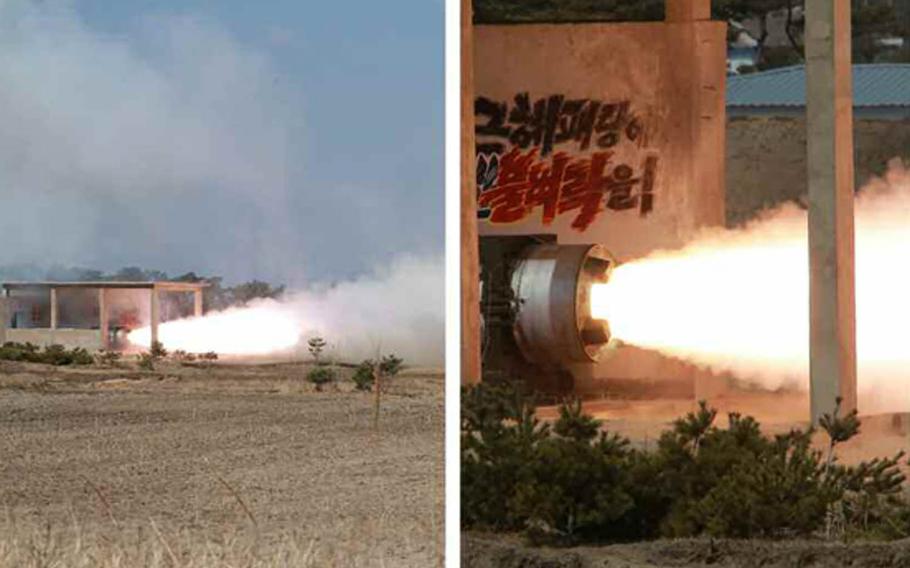 North Korea claimed Tuesday it had successfully tested a solid-fuel rocket engine, which would extend the range of its ballistic missiles and provide less warning of a launch. Leader Kim Jong Un said the development would "strike great horror and terror into the hearts of the enemies."
It was the latest in a series of boasts that the rogue nation has made this year about alleged technological advances in its nuclear weapons and missile programs. Experts have questioned some of the claims, but it's clear that the North is pouring resources into both programs despite the strain on its already-weak economy, with fresh U.N. sanctions expected to worsen matters.
The North's missiles have traditionally used liquid fuel. While that provides for greater control during ascent, it also takes time to load, thereby providing some advance notice of an impending launch despite the North's recent efforts to camouflage activities at its main launch site.
A solid fuel engine would require less preparation -- and therefore less warning. It also could be used on a mobile launcher.
"North Korea appears to be in the (early) stages of developing solid-fuel rockets," Moon Sang-gyun, spokesman of South Korea's Ministry of National Defense, told reporters. "North Korea's switch to solid fuel means it could do launches frequently."
In a steadily escalating crisis on the peninsula, the North has repeatedly threatened to use its growing nuclear arsenal to turn South Korea, the U.S. mainland and U.S. bases in the Pacific into "seas of fire and ash." Pyongyang is particularly angry about the annual spring U.S.-South Korean military exercises – the largest ever -- that it claims are a rehearsal for an invasion.
South Korean President Park Geun-hye ordered her military "to be fully ready to aggressively cope with North Korea's reckless provocations," her chief press secretary, Kim Sung-woo, told reporters Thursday. That came a day after the North said it is ready to "mercilessly wipe out" Park and "other South Korean warmongers."
North Korea accused South Korea of staging a drill Monday that simulated destroying Kim Jong Un's office with 16 fighter bombers carrying air-to-surface guided missiles. South Korea's Yonhap News reported that Seoul officials confirmed their air force conducted a large-scale air raid drill against a simulated key North Korean facility, though it did not give details.
South Korean media have reported that the exercises also have included mock attacks on North Korea's nuclear facilities.
Since conducting its fourth underground nuclear test on Jan. 6 and launching a long-range rocket a month later, Pyongyang says it has developed the final critical components needed to be able to reach the U.S. with a nuclear-tipped missile: a bomb small enough to fit into a warhead and a re-entry vehicle capable of protecting the weapon from the rigors of hitting the atmosphere from space.
The North's bluster may be aimed as much at bolstering internal support for Kim as it is striking fear among its enemies, with speculation that he is still trying to consolidate power more than four years after taking over following the death of his father.
He has been depicted as being intimately involved in both the nuclear program and has been photographed inspecting what was called a miniaturized nuclear bomb, attending missile tests, signing the order for the nuclear test and warning that another would soon follow, along with launches of several types of missiles. The Thursday edition of Rodong Sinmum, the ruling party newspaper, carried a two-page report on the solid-fuel rocket test with photos of Kim in attendance at the site.
"He noted with great pleasure that the successful test... helped boost the power of ballistic rockets capable of mercilessly striking hostile forces," the official KCNA news agency reported.
The U.N. Security Council has imposed what have been described as the toughest sanctions against the North in 20 years over the nuclear test and rocket launch. Even ally China has signed onto the measures, which are aimed at hitting the North in its wallet, although it's unclear how tightly it will enforce them amid concern that they could cause the Pyongyang regime to collapse.
---
---
---
---