North Korea calls Trump 'heedless and erratic old man' as tensions rise
by
Kim Gamel
December 9, 2019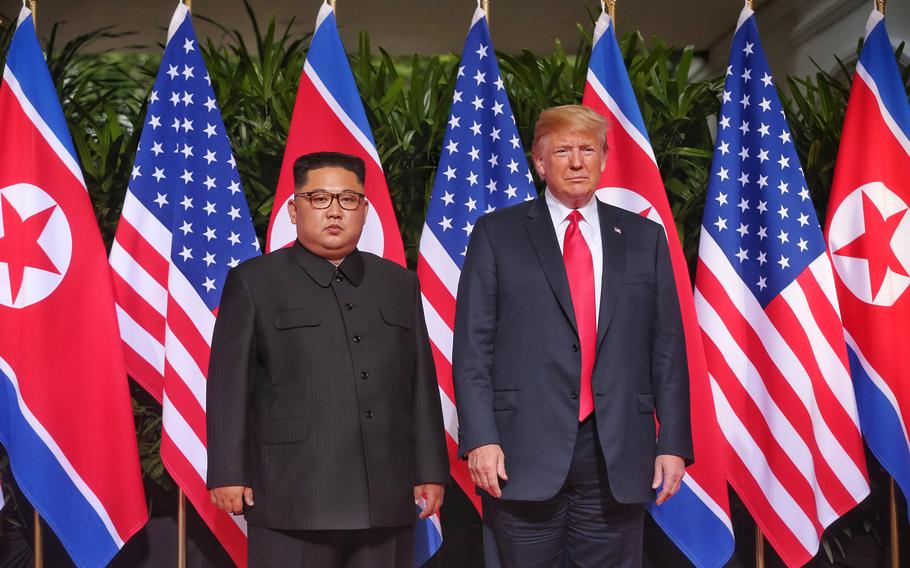 SEOUL, South Korea — North Korea fired back against President Donald Trump on Monday, calling him a "heedless and erratic old man" and warning of "bigger catastrophic consequences" if the United States fails to meet an end-of-year deadline to revive nuclear talks.
Two officials issued back-to-back statements in response to tweets by Trump admonishing North Korean leader Kim Jong Un not to resume hostilities amid fears that the communist state may be preparing to test-fire an intercontinental ballistic missile.
Kim Yong Chol, a senior North Korean official who met with Trump twice last year when diplomatic efforts were at a high point, reiterated that the North may resume calling Trump a dotard, an insult it used frequently as tensions spiked in 2017.
"As he is such a heedless and erratic old man, the time when we cannot but call him a 'dotard' again may come," he was quoted as saying by the state-run Korean Central News Agency.
He also said the friendship between Kim and Trump, which the president has frequently touted as progress, was at risk.
"We make clear once again that the (North Korean leader) has not used any irritating expression towards the U.S. president as yet," he said, warning that may change if things continue on their current course.
Last year, Trump said he and Kim "fell in love" and he has largely dismissed recent military activity by the North. But he adopted a more threatening tone after the North announced it had conducted a "very important test" at a long-range rocket launching site on Saturday.
"Kim Jong Un is too smart and has far too much to lose, everything actually, if he acts in a hostile way," Trump tweeted on Sunday. "North Korea, under the leadership of Kim Jong Un, has tremendous economic potential, but it must denuclearize as promised."
He was referring to an agreement issued by the two leaders after their first summit in Singapore in June 2018 in which they made a vague promise to "work toward the denuclearization of the Korean Peninsula."
Diplomatic efforts have stalled as the two sides failed to agree on the details of how to achieve that goal, with many experts saying the North has no intention of giving up its nuclear weapons.
Over the weekend, the president also revived his "rocket man" nickname for Kim and threatened to use military force if necessary.
Beyond the name calling, North Korea has conducted 13 weapons tests this year that experts say show it is taking advantage of the diplomatic deadlock to make advances in its nuclear weapons program.
"Trump has too many things that he does not know about [North Korea]. We have nothing more to lose," Kim Yong Chol said.
The vice-chairman of the central committee of North Korea's ruling Workers' Party, Ri Su Yong, issued a separate statement noting that Kim Jong Un would make a final decision at the end of the year.
"Trump might be in great jitters but he had better accept the status quo … and think twice if he does not want to see bigger catastrophic consequences," Ri said, according to KCNA.
Kim "has neither clarified any stand yet nor made any ironic and irritating expressions toward the other party as done by someone," Ri said. "Trump would be well advised to quit abusive language which may further offend the chairman."
The North provided no details about what was tested on Saturday at the Sohae Satellite Launching Ground near the border with China. Experts said it was likely a test of a solid-fuel engine that could be used to power an ICBM, although that couldn't be confirmed.
North Korea has stopped short of lifting its self-imposed moratorium on long-range missile and nuclear tests, which the Trump administration have signaled would be a red line since they pose a threat to the U.S. mainland.
Kim has set an end-of-year deadline for the U.S. to offer a more flexible approach to negotiations, saying he may be forced to seek a "new way" if that doesn't happen.
A North Korean diplomat also said last week that it is "entirely" up to the U.S. what "Christmas gift" it wants to receive.
The renewed saber rattling has raised concern that the adversaries may be returning to a cycle of threats and missile tests that pushed the divided peninsula to the brink of war in 2017.
gamel.kim@stripes.com Twitter: @kimgamel