North Korea agrees to dismantle nuclear complex if US also takes steps; Kim says he'll visit Seoul
by
Yoo Kyong Chang Kim Gamel
September 19, 2018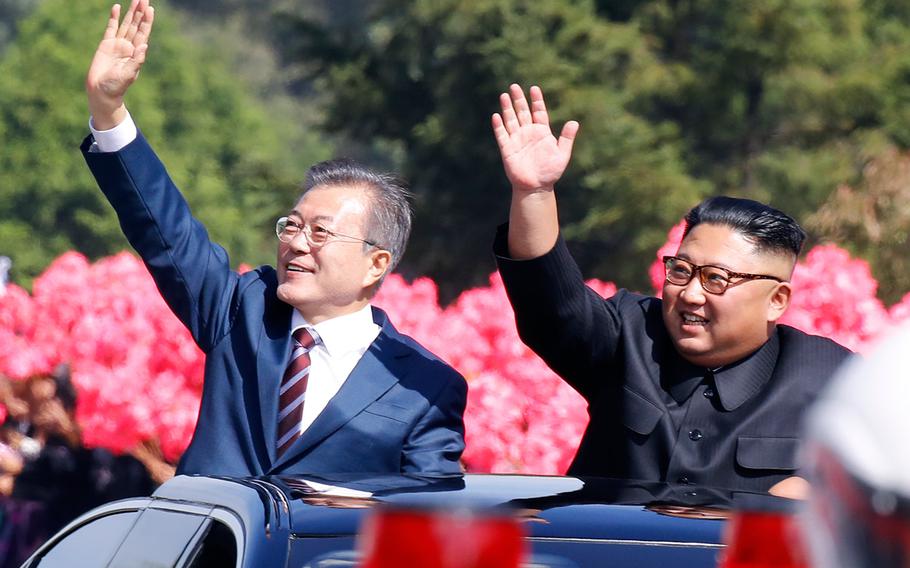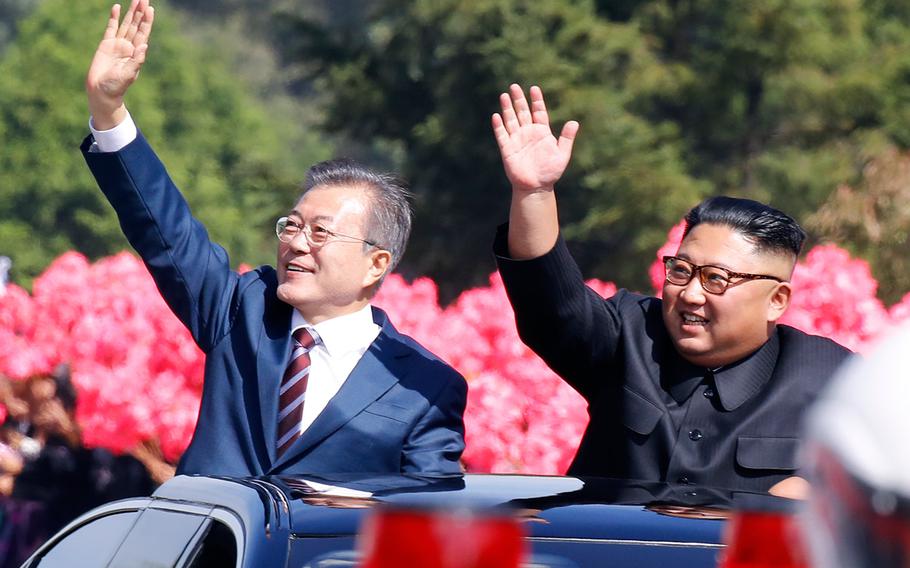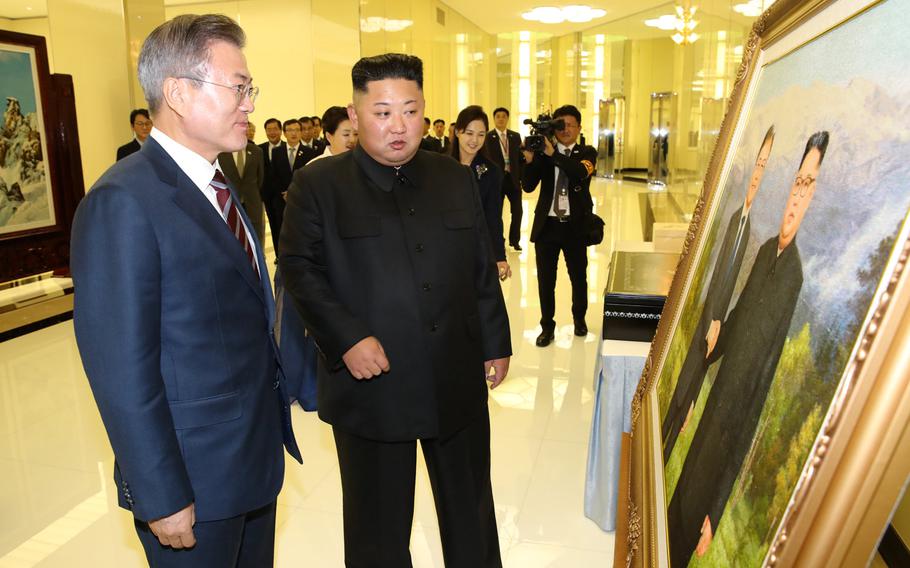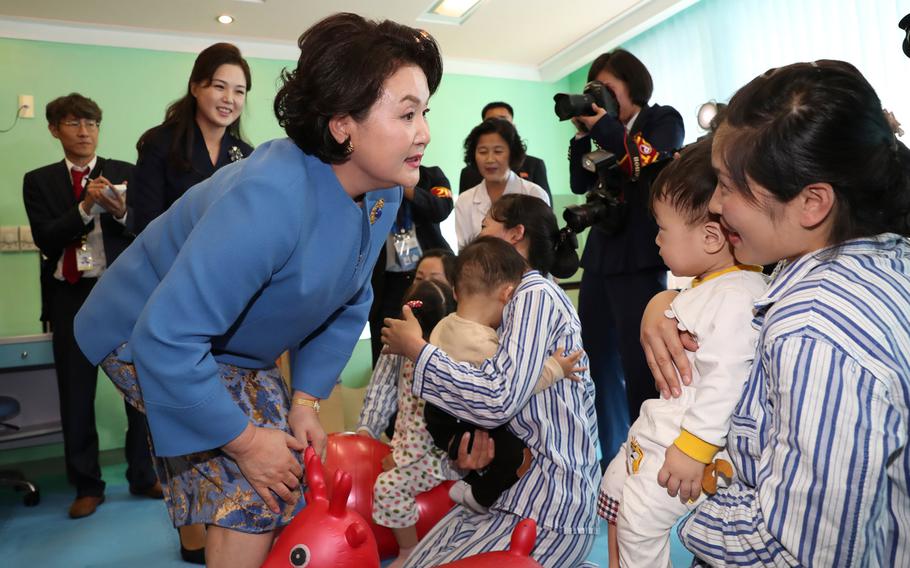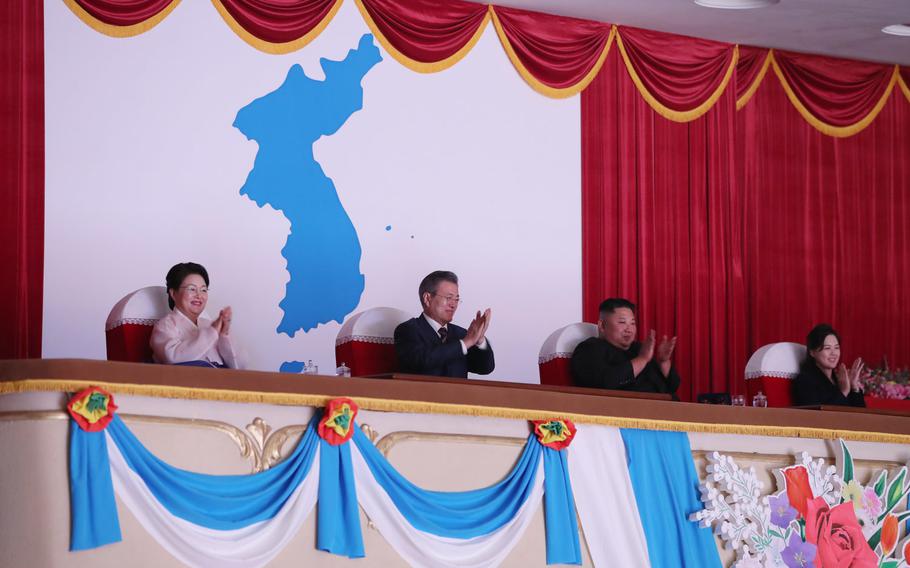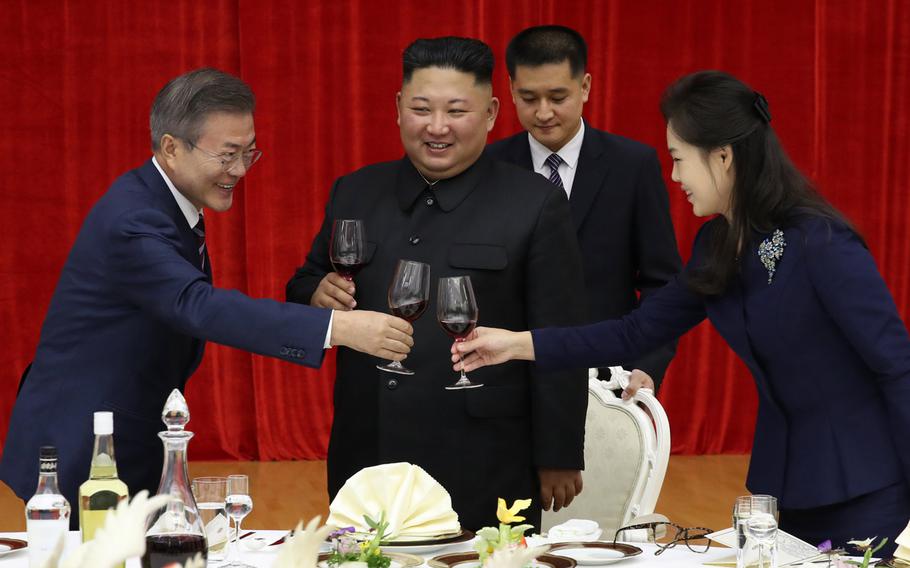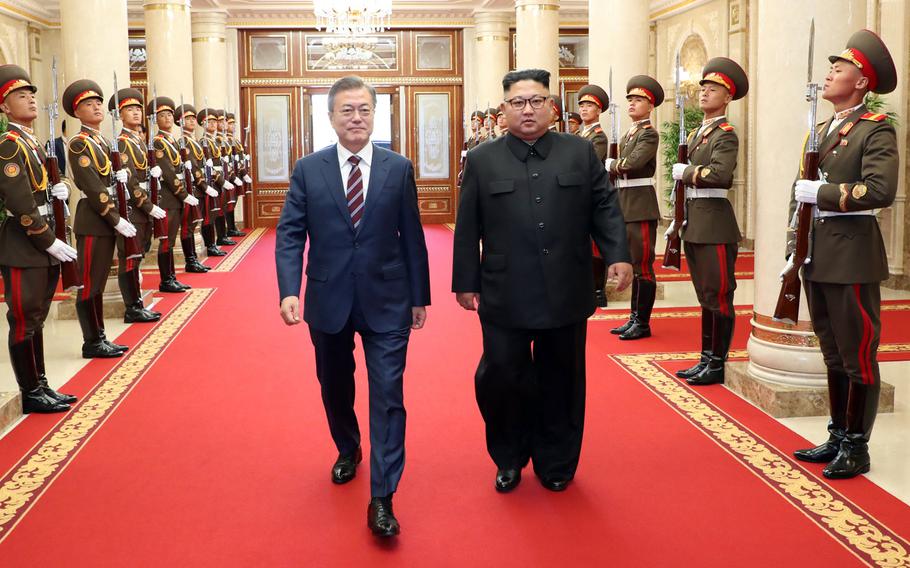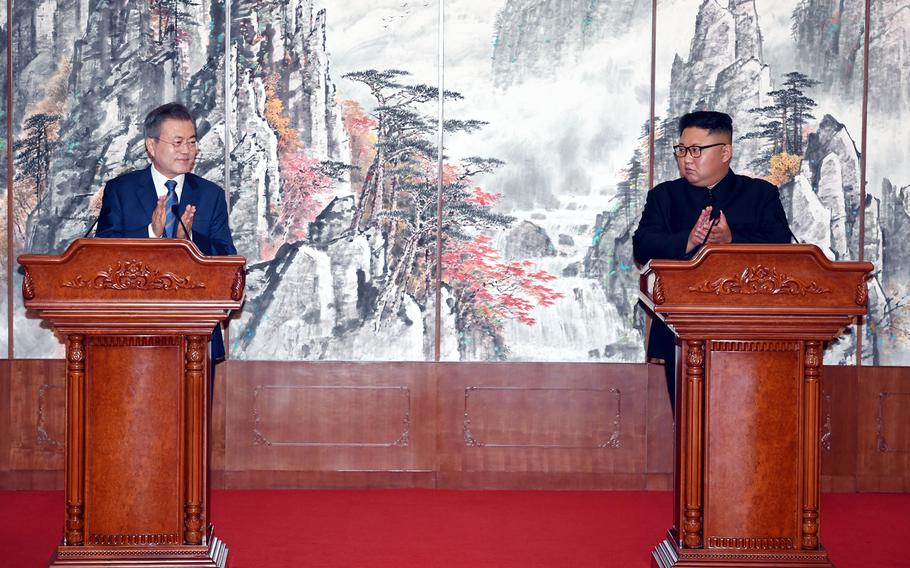 SEOUL, South Korea — Kim Jong Un agreed Wednesday to dismantle North Korea's main nuclear complex if the United States reciprocates, as he and South Korea's president vowed to turn the war-torn peninsula into a "land of peace."
The offer was part of a wide-ranging declaration that capped a pomp-filled inter-Korean summit aimed at breathing new life into U.S.-led diplomatic efforts to persuade Kim to give up nuclear weapons.
Experts said the ball was in President Donald Trump's court and it remained to be seen if South Korean President Moon Jae-in delivered enough to bring Washington back to the table.
Trump praised the summit, saying there had been "tremendous progress with respect to North Korea." He also said he received a letter from Kim that was delivered three days ago.
Moon and Kim signed the so-called Pyongyang Declaration after holding their second and final round of talks Wednesday at a state guesthouse.
The two leaders began the summit on Tuesday after Moon and an entourage of more than 150 South Korean business titans and officials arrived in the North Korean capital after a nearly hourlong flight from Seoul.
'Tremendous progress'Standing next to Kim at a press conference, Moon outlined specific measures he said the North was prepared to take, including the permanent closure of the main nuclear complex at Yongbyon and the destruction of a missile test site in the presence of international experts.
"Today Chairman Kim has shown his commitment to denuclearization and we shared our willingness to create a peninsula that is peaceful and nuclear free," Moon said.
Kim, whose family has ruled the communist state since it was founded in 1948, also said he would visit Seoul "in the near future."
That would make him the first North Korean leader to travel to the South Korean capital while in power.
"The road to our future will not always be smooth and we may face unexpected challenges and trials," Kim said. "But we want to bring an end to the division of the peninsula as soon as possible. We are on the journey to peace and prosperity."
"The two sides shared the view that the Korean Peninsula must be turned into a land of peace free from nuclear weapons and nuclear threats, and that substantial progress toward this end must be made in a prompt manner," the five-point declaration said.
The longtime rivals also moved forward with improving bilateral relations, signing a sweeping military agreement aimed at easing tensions along the heavily fortified border that has divided the peninsula since the 1950-53 war ended in an armistice instead of a peace treaty.
In addition, they agreed to compete together in the 2020 Summer Olympics and to submit a joint bid for the 2032 Summer Games.
The excitement over the North's participation in this year's Winter Olympics that were held in the South helped launch the diplomatic process that reversed months of tensions threatening to provoke a nuclear war.
Nuclear challengesWhile observers largely welcomed the summit outcome as a positive step, experts were skeptical that the North is willing to completely give up its hard-won nuclear weapons program.
Many said the deal fell short of U.S. demands that the North provide a detailed inventory of nuclear facilities and allow international inspectors to verify steps throughout the process.
Trump said in an earlier tweet that Kim had agreed to allow nuclear inspections, "subject to final negotiations."
But the summit agreement only mentioned that "experts from relevant countries" would observe the permanent dismantlement of the Dongchang-ri missile test site.
"In the meantime there will be no Rocket or Nuclear testing," Trump wrote, adding that the North would continue returning remains of American war dead.
It's unclear what details may have been discussed during the closed-door talks. Moon planned to brief Trump on Monday on the sidelines of the U.N. General Assembly, presidential spokesman Yoon Young-chan said.
Experts said the measures, while far from the complete removal of the nuclear program that Washington seeks, were likely enough to keep the diplomatic process alive.
"This has really put the ball in the Trump administration's court," Alexandra Bell, of the Center for Arms Control and Non-Proliferation, said in an interview. "It's very clear that President Moon and Chairman Kim are committed to moving forward no matter what."
The Korean leaders pledged to "remove all dangers that could cause war on the peninsula," during two days of talks in Pyongyang, Moon said.
The 65-year-old former human rights attorney had been under pressure to achieve specific results as opposed to the vague promises of an earlier round of summits with Kim.
Later Wednesday, Moon attended the mass games, a highly synchronized show involving tens of thousands of North Korean performers.
He also was expected to travel with Kim to Mount Paektu, which is sacred to North Koreans, on Thursday before flying back to Seoul, Yoon told reporters.
Devil in the detailsThe centerpiece of the nuclear promises in the summit agreement was Kim's agreement to permanently close Yongbyon "as the United States takes corresponding measures."
It didn't elaborate, but North Korea has been pressing for a former declaration to end the war as well as the lifting of punishing economic sanctions and security guarantees.
The Trump administration has insisted it will maintain pressure on the communist state until a nuclear deal is reached.
Talks between Washington and Pyongyang peaked with an unprecedented summit between Kim and Trump on June 12 in Singapore.
But they reportedly have deadlocked over the U.S. refusal to agree to Kim's call for a phased approach that would include rewards in exchange for steps toward denuclearization.
Trump canceled a planned trip by Secretary of State Mike Pompeo to Pyongyang last month, citing insufficient progress in denuclearization efforts.
Michael Fuchs, a former deputy assistant secretary for East Asian affairs, said a key question will be what the North Koreans are demanding in return for the denuclearization steps.
"I think that Moon got enough from Kim to keep the possibility of U.S.-North Korea talks alive for the time-being," said Fuchs, a senior fellow at the Center for American Progress. "It appears that Kim has put an offer on the table in terms of inspections and potentially closing Yongbyon, but we don't yet know what the price is."
More clear was progress made in reaching a military agreement, which included plans to demilitarize the truce village of Panmunjom, which straddles the border, and to establish buffer zones precluding artillery maneuvers near the border to prevent accidental clashes.
They also agreed to remove nearly a dozen guard posts from the Demilitarized Zone on a trial basis, and to establish a no-fly zone above the Military Demarcation Line that would apply to planes, helicopters and drones.
The two sides also agreed to hold a groundbreaking ceremony by the end of the year for a project to link their railways as they seek to lay the foundation for greater economic cooperation, which is limited by U.S.-led sanctions.
Moon, who also met with Kim on April 27 and May 26, was the first South Korean president to travel to Pyongyang since 2007. The first inter-Korean summit also was held there in 2002.
gamel.kim@stripes.com Twitter: @kimgamel