No need for Americans to leave South Korea, leaders say
---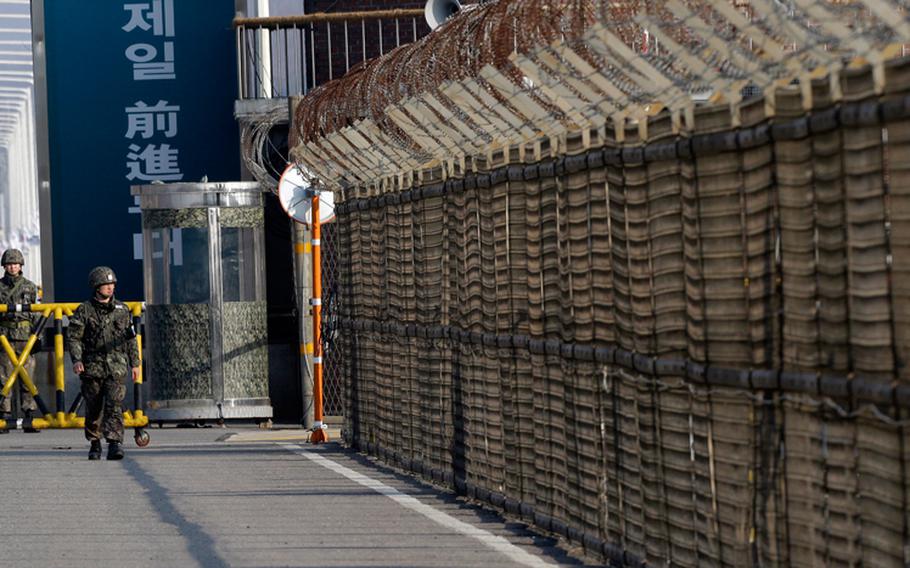 SEOUL — U.S. officials Wednesday downplayed the threat posed by North Korea, telling Americans there is no need to heed Pyongyang's warning that foreigners flee South Korea because nuclear war is imminent.
There is widespread speculation that the North, as part of its efforts to raise already-high tensions, is preparing to stage some kind of provocation in the near future. But it appears unlikely that the North would make a major attack and is trying, as it often has, to create a crisis to gain aid and other concessions from the U.S. and South Korea.
Carrying out another underground nuclear test or launching one or more rockets is considered more likely.
On its Facebook page, the U.S. Embassy posted a statement from the State Department: "We have not recommended that U.S. citizens who reside in or plan to visit South Korea take special security precautions at this time."
The embassy also posted a link to a transcript of Tuesday's State Department briefing in Washington, D.C., during which acting deputy spokesperson Patrick Ventrell dismissed the suggestion it might be irresponsible for the U.S. to ignore such a specific warning from North Korea to foreigners in South Korea.
"Well, if we thought otherwise, we'd have a different recommendation," he told reporters. "Look, we're clear-eyed about the threat, but at this time we're not recommending any specific actions by American citizens. So, North Korea's reported 'advice' — quote/unquote — to foreigners that they depart South Korea only serves to unnecessarily and provocatively escalate tensions."
The Korea Asia-Pacific Peace Committee in North Korea warned Tuesday, in a report carried by the government-controlled news agency, that the Korean peninsula is on the brink of a thermonuclear war, so all foreigners in South Korea "are requested to take measures for shelter and evacuation in advance for their safety."
An estimated 100,000 Americans live in South Korea, in addition to 28,500 U.S. servicemembers stationed here. Approximately 1.5 million foreigners overall are in the country.
North Korea has spewed a steady string of statements and actions in recent weeks in response to United Nations sanctions and joint U.S.-South Korea military exercises under way on the peninsula. It has threatened to turn Seoul and Washington, D.C. into a "sea of fire," declared invalid the armistice that effectively ended the Korean War and said it considers itself to be in a "state of war."
The U.N. sanctions came in the wake of a successful satellite launch by the North in December and its third nuclear test in February. Officials say it appears North Korea is prepared for a missile launch — perhaps even the launch of missiles from several locations around the country — timed in conjunction with the April 15 birthday of North founder Kim Il Sung.
Korean media reports suggested the potential missile launch had prompted the U.S.-led Combined Forces Command to raise its "watch condition" one level Wednesday, opening the door to increased surveillance and intelligence activities on the peninsula. Attempts to verify that with U.S. Forces Korea were unsuccessful.
The intensifying rhetoric from Pyongyang has affected the travel plans of a number of top U.S. officials in South Korea.
USFK commander, Gen. James Thurman canceled a planned trip to Washington this week, and U.S. Ambassador Sung Kim was forced to turn a planned weeklong spring break vacation with his family into a three-day weekend trip to Busan.
In a blog entry posted this week about his end-of-March trip, Kim provided insight into the life of a U.S. envoy in a country where tensions are running high.
"As new threats started coming from North Korea, I got busy with work," he wrote. "I had many calls and emails with Washington policymakers, senior South Korean officials and U.S. Forces Korea. My BlackBerry was very busy.
"Several of these calls happened when we were at the Busan Aquarium," Kim said. "At one point, I had to send my daughters to the aquarium gift shop and then find a somewhat secluded stairwell to take part in what I hoped would be a 10-minute conference call. Unfortunately, the call lasted 40 minutes."
---
---
---
---