No injuries, damage after Misawa-based fighter jet loses plastic part during flight
by
Hana Kusumoto Seth Robson
January 18, 2019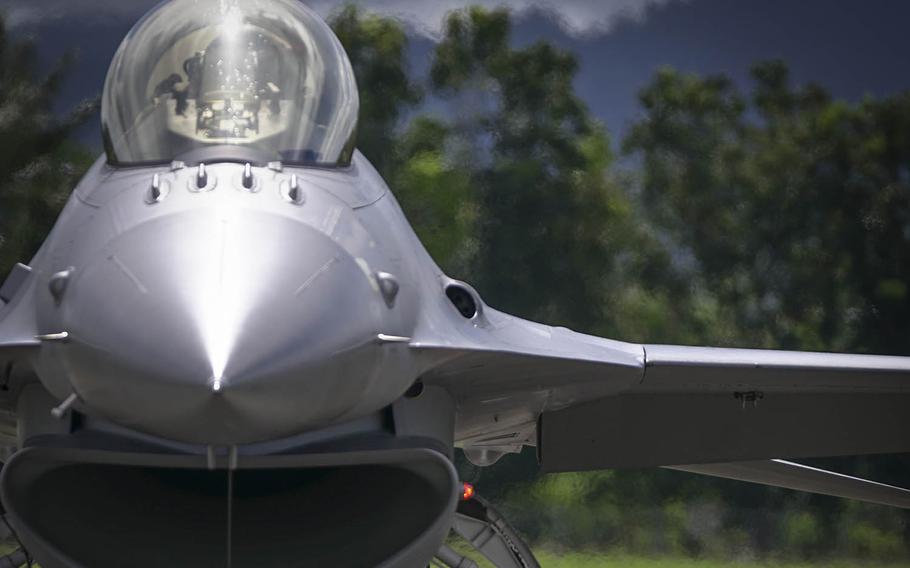 YOKOTA AIR BASE, Japan — A plastic part from an Air Force fighter jet detached during flight and fell to the ground Monday in northern Japan, an Air Force spokeswoman has confirmed.
"An F-16C Fighting Falcon stationed at Misawa Air Base had a small plastic piece located to the rear of the canopy blow off due to rapid decompression," 35th Fighter Wing media operations noncommissioned officer in charge Staff Sgt. Brittany Chase said in an email Friday.
The part fell at about 12:20 p.m. west of the Hakkoda Mountains and south of Aomori City before the pilot landed without incident back at Misawa, she said.
A Tohoku Defense Bureau spokesman speaking on a customary condition of anonymity said the incident was reported to local authorities and that no injuries or damage had been reported. A U.S. safety team is looking into the incident and investigating the cause, he said.
However, he added that the Tohoku Defense Bureau had complained to Misawa commander Col. Kristopher Struve that it wasn't notified about the incident for three days.
Also on Monday, a Misawa-based F-16D Fighting Falcon made a precautionary landing at Aomori Airport because of a leaking seal.
On Tuesday in Okinawa, safety issues forced a pair of Air Force F-15 fighter jets to make arrested landings within minutes of each other in opposite directions on the same runway at Kadena Air Base.
robson.seth@stripes.com Twitter: @SethRobson1