No deal: Trump, Kim end high-stakes summit without nuclear agreement
by
Kim Gamel
February 28, 2019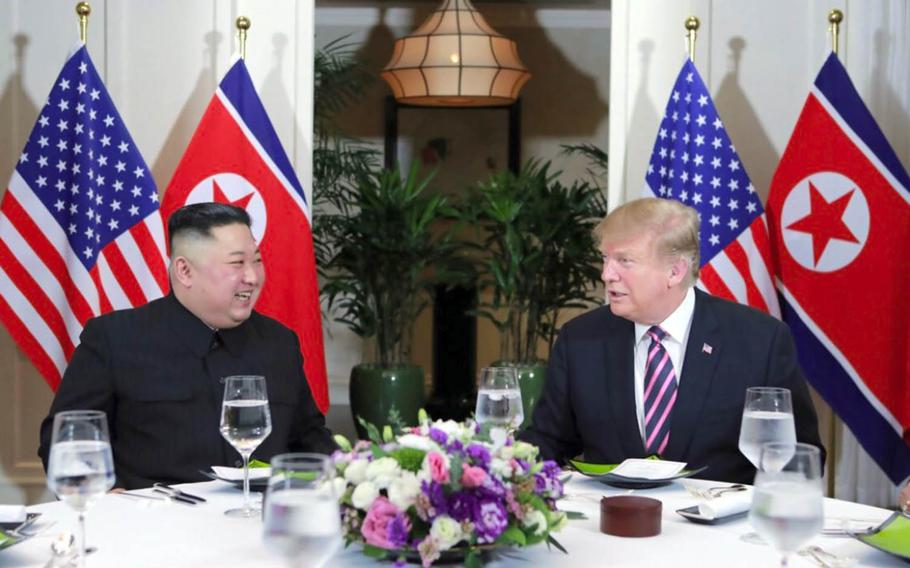 HANOI, Vietnam — President Donald Trump and North Korean leader Kim Jong Un failed to reach an agreement on nuclear weapons Thursday, with Trump saying he had to "walk away" from a demand to lift economic sanctions in exchange for denuclearization.
However, in a move that was sure to be pleasing to the North Koreans, the president indicated he had no plans to resume joint war games with the South because they're "very expensive."
The surprise ending to the summit, which started Wednesday with high hopes, came after the leaders engaged in two days of talks in the Vietnamese capital amid pressure to draft a roadmap eight months after they first met in Singapore.
"It was a very productive two days," Trump said at a news conference after parting ways with Kim. "But sometimes you have to walk, and I think that this was one of those times."
Before leaving for Washington, Trump told reporters the main obstacle to a deal was North Korea's insistence that the United Nations lift all economic sanctions in return for closing only one nuclear facility.
However, North Korea's Foreign Minister Ri Yong Ho told an impromptu, late-night news conference that the North sought only partial sanctions relief and offered a permanent end to tests of its nuclear weapons and long-range missiles. The U.S. demanded "one more" step beyond dismantling its main nuclear facility in Yongbyon, the South Korean news agency Yonhap quoted Ri as saying.
The agency said Ri insisted the North would not change its position even if the Americans ask for further talks.
Deal-breakerThe outcome was a disappointment to many who had predicted the leaders would agree to concrete measures ranging from exchanging liaison offices to declaring a symbolic end to the 1950-53 Korean War.
Trump and Secretary of State Mike Pompeo insisted the process would continue and said Kim had promised not to resume nuclear and missile tests, which raised fears of a new conflict in 2016-17.
But some experts said the effort to rid the North of its nuclear weapons, which began in force early last year after months of tensions, was in danger of losing steam.
"There was an opportunity here to make some gains by starting small. Instead, both parties chose to walk away empty-handed," said Catherine Killough of the Ploughshares Fund, a global security foundation.
"The clock is ticking for Trump," she said. "He will continue to spin all this as a victory, but if he loses interest in trying to engage Kim, momentum for negotiations at the working level will peter out."
The summit began Wednesday on a positive note, with both leaders vowing to make it successful as they talked one-on-one and had dinner with key aides.
But the mood erupted in confusion after several hours of talks on Thursday when the White House announced plans for a working lunch and a joint signing ceremony had been canceled.
Trump said he decided not to go forward with an agreement, although he insisted that papers had been prepared for signatures.
"Basically, they wanted the sanctions lifted in their entirety and we couldn't do that," he said, adding that the North Koreans had been willing to give up their Yongbyon but the Americans wanted more.
"It just wasn't appropriate," he said. "I'd much rather do it right than do it fast."
Trump and Kim first met on June 12 in Singapore, an unprecedented summit between countries that have been enemies since the 1950-53 Korean War.
They promised in a vaguely worded statement to work toward the "complete denuclearization of the Korean Peninsula," as well as to improve relations, build a "lasting and stable peace regime" and to recover the remains of thousands of troops killed in the war.
Expensive exercisesTrump also announced in Singapore that he was halting annual military drills with South Korea that have long been an irritant to the North, which considers them a rehearsal for an invasion.
When asked Thursday if he would resume the exercises, he reiterated his complaint that they cost too much.
"Exercising is fun and it's nice and they play the war games. I'm not saying it's not necessary because on some levels it is and on other levels it's not," he said. "But it's a very, very expensive thing."
U.S. Forces Korea, which oversees the approximately 28,500 American troops based on the divided peninsula, has been mum about potential plans for annual springtime drills known as Key Resolve/Foal Eagle.
South Korean media have reported that the exercises will be scaled back and renamed 19-1.
Amid the deadlock in nuclear talks, U.S. intelligence officials have warned that the North has no intention of relinquishing its hard-won nuclear capabilities. Satellite images and other reports also have shown the North is continuing to develop weapons.
Trump alluded to those concerns, saying the U.S. wanted to shut down plutonium and uranium facilities other than Yongbyon. "We brought many points up that I think they were surprised that we knew," he said.
Senior U.S. and North Korean diplomats have met several times in recent weeks trying to hammer out a deal.
Pompeo said the leaders were unable to push it over the finish line at the summit due to differences over sequencing and timing issues.
"We made real progress … unfortunately we didn't get all the way," he said after Trump yielded the microphone to him at the press conference.
"I wish we could have gotten a little bit further," he added. "But I'm very optimistic … that the progress put us in position to get a really good outcome."
Trump sought to lower expectations earlier in the day when he said he was in "no rush" to make a deal. But the news came as a disappointment to South Korea, which was eager for a deal that would allow it to move forward with inter-Korean initiatives that are limited by sanctions.
"It is regrettable that [Trump and Kim] were unable to reach complete agreement," President Moon Jae-in's office said in a statement. "However, it seems clear that they have made more meaningful progress than at any time prior."
A deal is still possible, said David Santoro, a nuclear policy specialist with the Pacific Forum research institute.
"North Korea isn't prepared and probably won't ever be prepared to denuclearize," he said. "It wants to make concessions on some elements of its program but retain a functioning nuclear arsenal."
"At present, the U.S. isn't willing to accept that," he said. "That may change if the discussions move on to the working level and yield results."
"The administration will want results and the only way to get results will be to accept that North Korea will retain some nuclear deterrent capability," he said.
gamel.kim@stripes.com Twitter: @kimgamel