Nicholson bids farewell to III Marine Expeditionary Force on Okinawa
by
Matthew M. Burke
August 3, 2018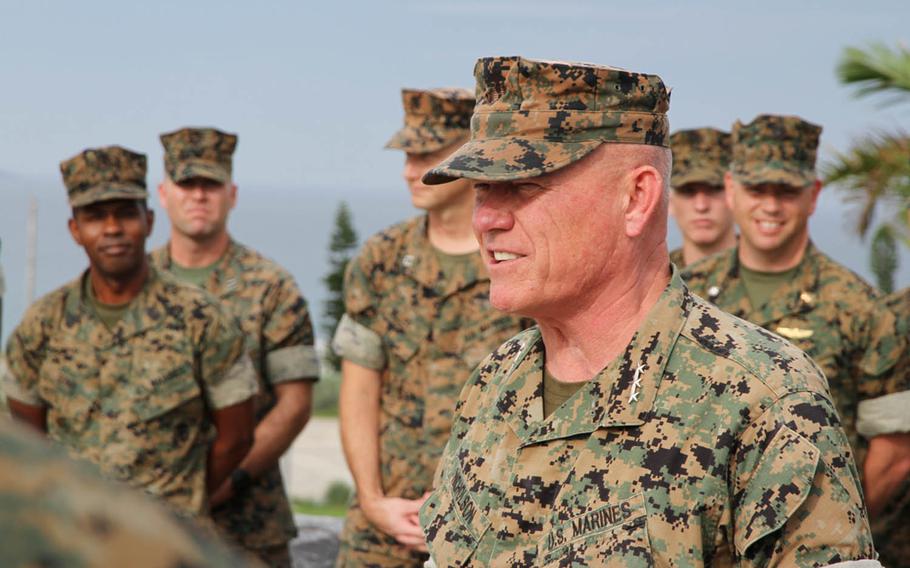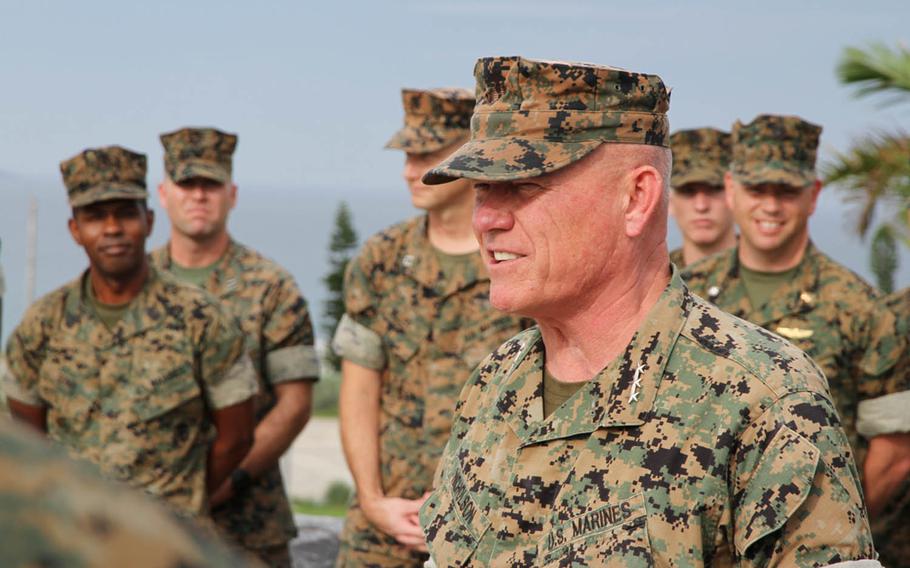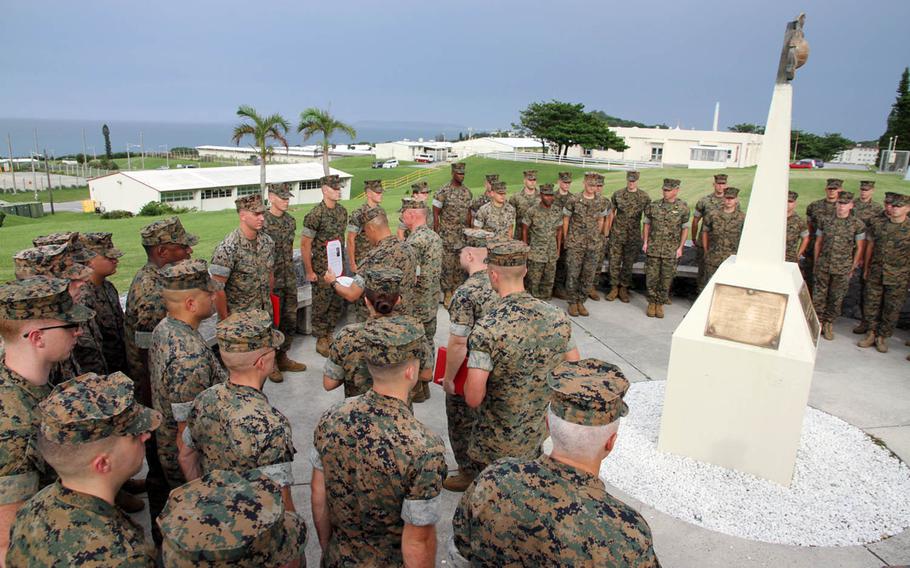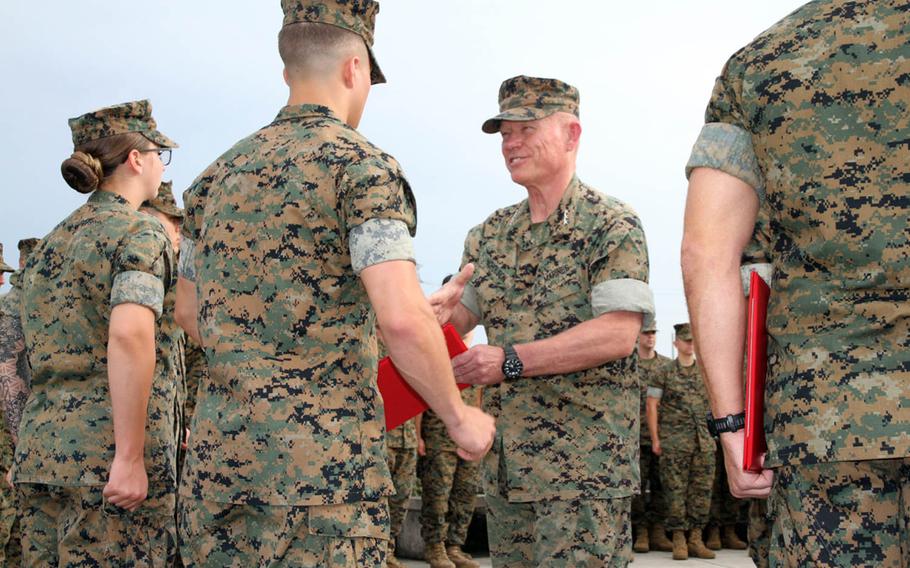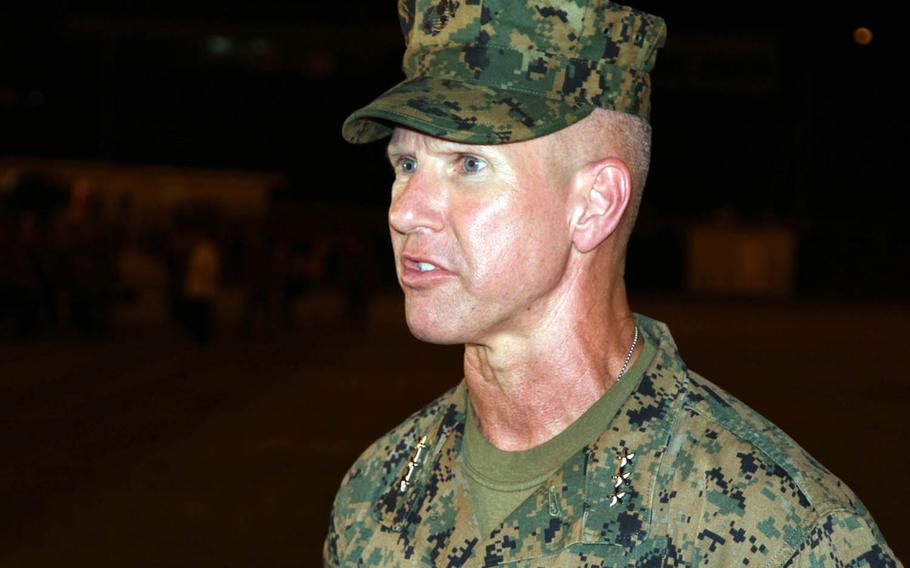 CAMP COURTNEY, Okinawa — Lt. Gen. Lawrence Nicholson's last official act as the top Marine in Japan might not surprise those who served with the personable, hard-charging III Marine Expeditionary Force commander during his nearly four-decade career.
Just hours before he handed leadership to Lt. Gen. Eric Smith Thursday evening on Camp Courtney's parade grounds, Nicholson meritoriously promoted five Marines and a Navy corpsman in an intimate ceremony in front of their family and friends at the Operation Iceberg memorial.
Nicholson recited the biography of each servicemember from memory before presenting them with their awards and shaking their hands.
"This is hallowed ground," he said as the troops crowded around. "Any promotion is a great day … but you do it here in Okinawa; you do it at the site of this monument here — it's something. I don't care if you're a Marine for four years or 40, you will always remember this day. I'm proud as hell of each and every one of you."
Newly minted Sgt. Isaiah Bernstein of the 3rd Reconnaissance Battalion said he was surprised when he heard that Nicholson would be presiding over his promotion so close to the change of command.
"I didn't think I'd get to have this opportunity while I was in the Marine Corps," he said. "It's amazing."
Petty Officer 2nd Class Emily Clemmer was the lone sailor promoted at the ceremony.
"Getting meritoriously promoted is great but to get it done here, next to this monument, and with a three-star [general] pinning me; it's really great, and the fact that he knew our bios, it was very honoring and flattering."
'Tough … to walk away' Later that evening, Nicholson presented the colors to Smith — fresh off a command tour with the 1st Marine Division at Camp Pendleton, Calif. — as his Marines stood at attention before him under the parade-ground lights.
"This is a tough one, to walk away," said Nicholson, who will return to the U.S. where he intends to retire. "Is this bittersweet? For sure … ladies and gentlemen, it has been the honor and privilege of my lifetime to be the commander of the III Marine Expeditionary Force."
After taking over from Lt. Gen. John Wissler on Sept. 11, 2015, Nicholson navigated his Marines through a tense period that included an uptick in provocations from North Korea that set the world on edge.
Nicholson also played the role of diplomat, as he was called upon again and again to apologize for a spate of crimes perpetrated by servicemembers within the tiny island prefecture. He was also responsible for curbing alcohol-related incidents among U.S. military personnel — a particularly sore spot for Okinawans.
Commandant of the Marine Corps Gen. Robert Neller called Nicholson the service's "most operationally experienced and capable commander."
"I've known Larry Nicholson over 20 years now," Neller said at Thursday's ceremony. "Everywhere he's gone and everywhere he's served, he's done pretty much the same thing. He's come in with a lot of energy; he's come in with a lot of operational expertise; he's come in with an idea to try and make whatever unit he was in more operationally effective, to make it better and to improve everything he could for the Marines that he served with."
'Same high standards' Nicholson introduced Smith by relaying how they met in Ramadi, Iraq. Nicholson saw the then-lieutenant colonel limping around the office of former Marine general and current Secretary of Defense Jim Mattis.
"I said, 'Why is he limping?'" Nicholson said. "And [Mattis] said, 'Well, he just got shot the other day.' He was shot in the calf, and I guess it was a through and through, but he didn't even take a day off of work … [he's] tough as nails."
A native of Plano, Texas, Smith joined the Marines in 1987 while at Texas A&M University. After participating in Operation Desert Shield and Storm, as well as Assured Response in Monrovia, Liberia, he was assigned to Caracas, Venezuela, as the naval section chief of the U.S. Military Group there.
He served two combat deployments in support of Operation Iraqi Freedom and another in Afghanistan in support of Operation Enduring Freedom. He was a senior aide to the Marine Corps commandant and later a senior aide to the secretary of defense.
Smith said the Marines and their Okinawan hosts should expect "predictability and stability" from his leadership.
"You won't see significant changes," he told Stars and Stripes after the ceremony. "You'll see steady, slow, dependable, improvement."
Smith isn't without controversy. Earlier this year, the San Diego Union-Tribune reported that the general was "upbraided" by the U.S. Navy-Marine Corps Court of Criminal Appeals, which found that he had committed unlawful command influence by overstepping his bounds during efforts to stamp out hazing in the 1st Marine Division.
He arrives during an eventful time on Okinawa. Landfill on a controversial runway into Oura Bay at Camp Schwab is slated to begin later this month. Both Okinawa's anti-base Gov. Takeshi Onaga and the island's small but passionate protest movement are gearing up to fight the move, which will facilitate the closure and relocation of air operations at Marine Corps Air Station Futenma.
Smith implored the people of Okinawa to hold him responsible for the behavior of each and every Marine on the island.
"I will hold the Marines here, to the same high standards that I hold them to in the United States," he said. "I will hold them to the same standards of safety, the same standards of conduct. My own son is a Marine, and I hold him to those same high standards. That is my promise to the citizens of Okinawa."