New rotational brigade begins transition to South Korea with equipment arrival
by
Kim Gamel
February 13, 2020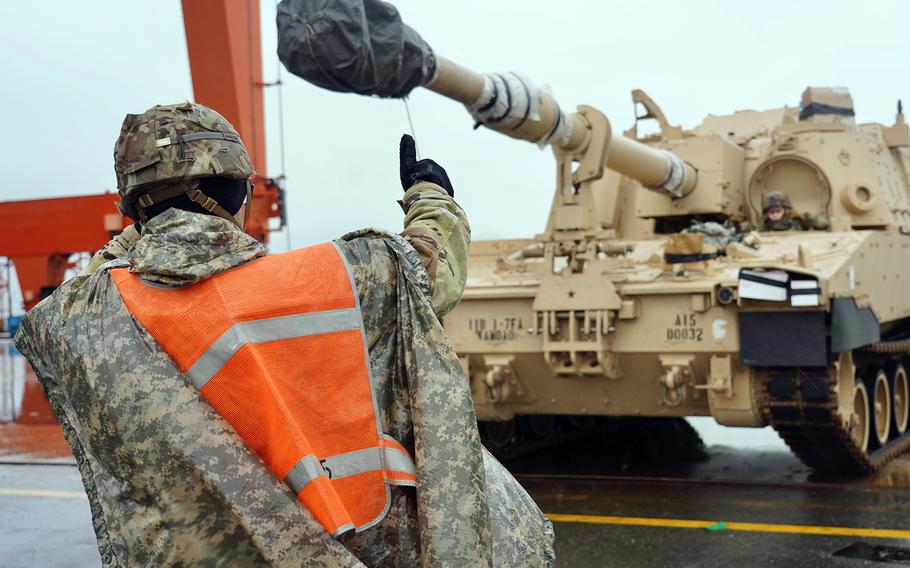 SEOUL, South Korea — Tanks and other armored vehicles rolled off a ship onto the Korean Peninsula this week in preparation for the arrival of the new rotational brigade.
The Fort Riley, Kansas-based 2nd Armored Brigade Combat Team, 1st Infantry Division, known as the Dagger Brigade, will be the eighth rotational brigade to serve in South Korea since the system began in 2015.
It is replacing the 3rd Armored Brigade Combat Team, 1st Cavalry Division, which will return to Fort Hood, Texas, after its nine-month rotation.
The transition comes as the U.S. and South Korean militaries are expected to begin joint exercises next month. The allies have reduced the scale of the drills in a bid to avoid antagonizing North Korea amid stalled diplomatic efforts to persuade it to give up nuclear weapons.
The brigades bring their own equipment to the peninsula and remove some of it when they leave, including M1 Abrams tanks and M2 Bradley Infantry Fighting Vehicles.
"The logistical process allows for proper maintenance and service of the old equipment and aligns our deployed forces with current Army-wide modernization and readiness efforts," the military said Thursday in a press release.
The equipment was offloaded at the southern port of Gwangyang, then taken to its destination on the South Korean rail system, it added.
The brigades will hold the official transfer of authority ceremony in early March, officials said. It's the Dagger Brigade's first rotation to South Korea.
The rotational system was introduced in 2015 when the Army deactivated the permanently stationed unit that had served near the border with North Korea for five decades.
The Army said it exposes more soldiers to South Korea's operating environment and enhances the alliance between the two countries that fought together in the 1950-53 Korean War, which ended in an armistice instead of a peace treaty.
Maj. Gen. Patrick Donahoe, the Eighth Army's deputy commander for operations, praised the outgoing Greywolf Brigade, which arrived in June 2018.
"They arrived at a high state of readiness and we're returning them to Fort Hood better trained and more experienced, like any unit marked for rotation" to South Korea, he said. "We're really looking forward to the Dagger Brigade's arrival and expect nothing but the best from a unit of the Army's oldest division."
North Korea, which commonly denounces U.S. activities on the divided peninsula as threats, has criticized plans for the rotational deployment of the new unit after it was officially announced in early December.
State-run media called it a violation of the spirit of negotiations as Washington has insisted it remains open to talks despite the prolonged stalemate.
"The brigade announced the launch of transfer of its latest tanks and armored vehicles," the Korean Central Broadcasting Station was quoted as saying in mid-January. "Such U.S. attitude discloses the deceitfulness of its call for dialogue, which it has been speaking of in front of the world."
gamel.kim@stripes.com Twitter: @kimgamel