New PACOM chief: China's South China Sea island claims 'preposterous'
---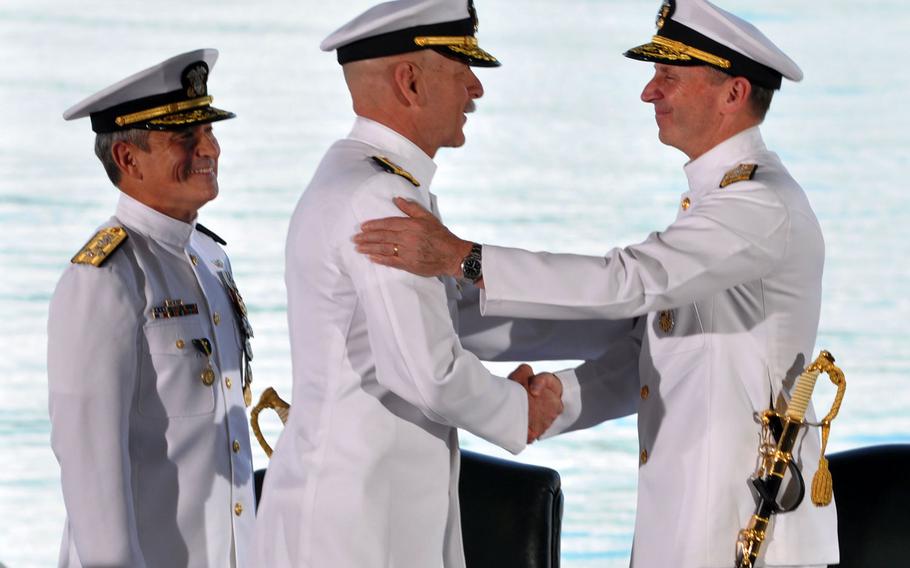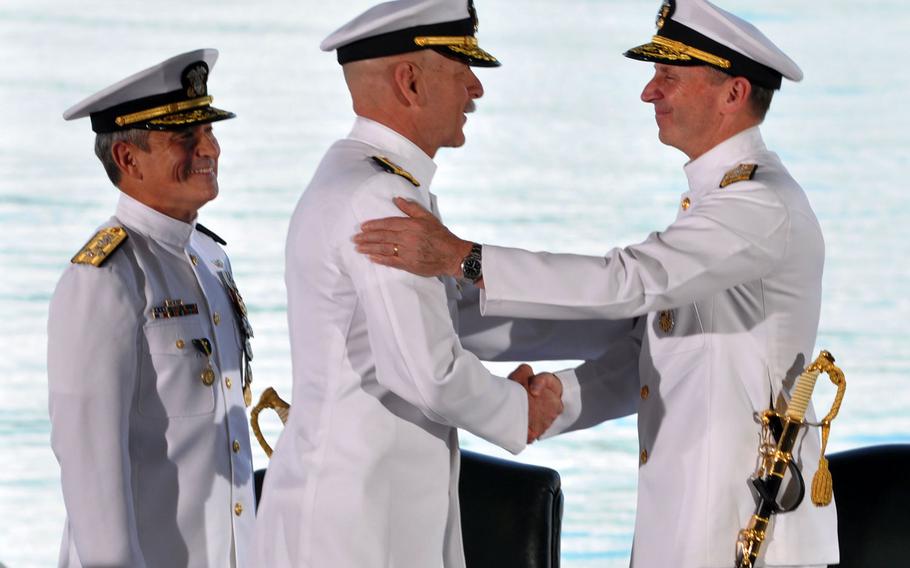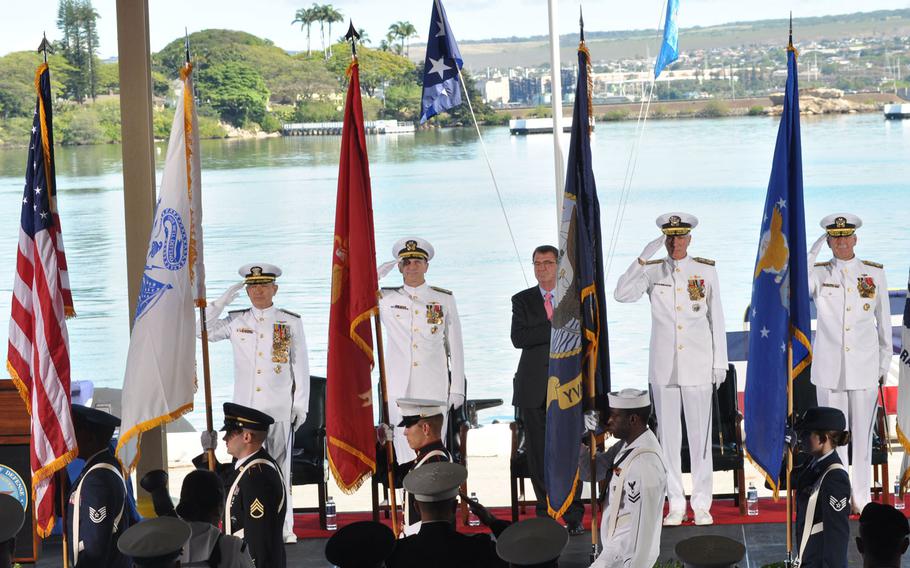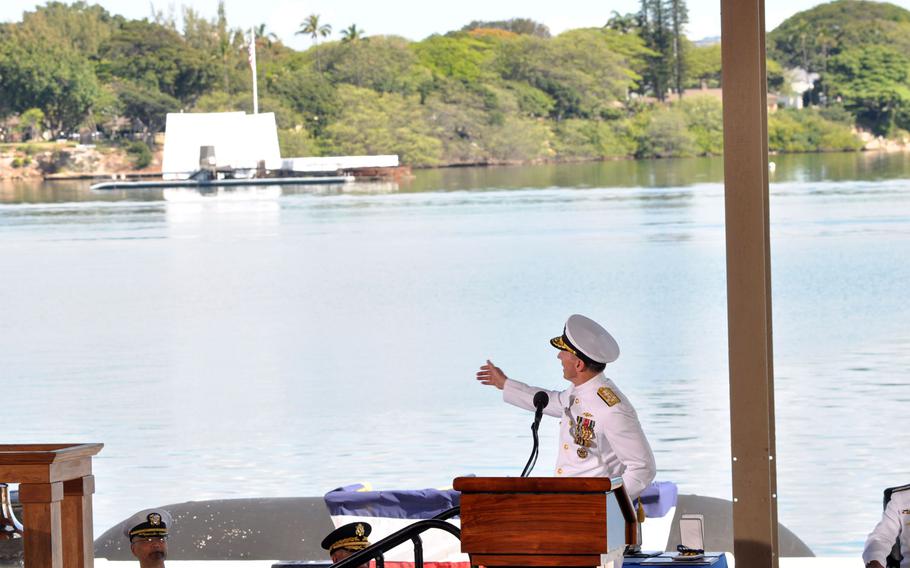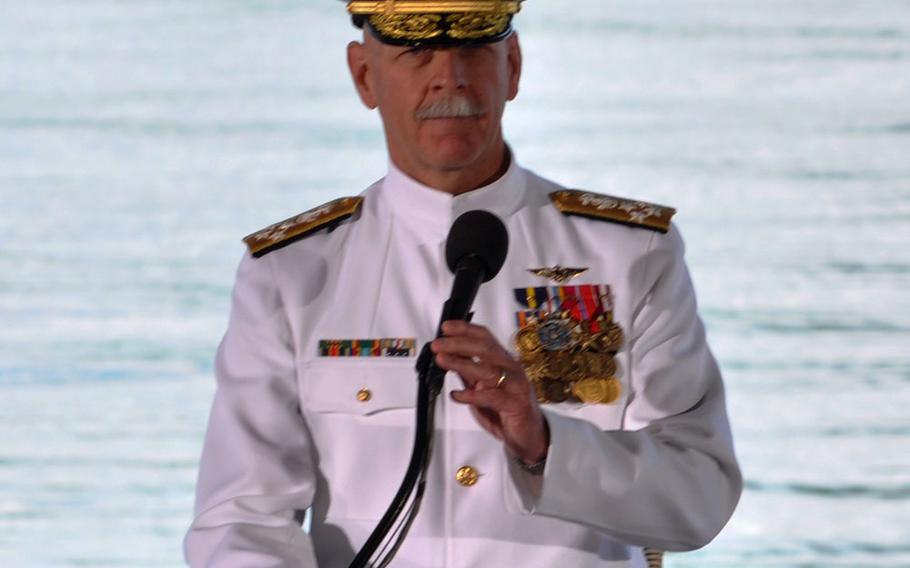 JOINT BASE PEARL HARBOR-HICKAM, Hawaii — The newly promoted head of U.S. Pacific Command on Wednesday described China's claims to a vast swathe of islands in the South China Sea as "preposterous."
China's disputed island claims was one of several challenges Adm. Harry B. Harris, Jr., said he would face as the new head of PACOM during his change-of-command ceremony, whose backdrop was the submerged USS Arizona Memorial.
At the same ceremony, Adm. Scott H. Swift assumed command of U.S. Pacific Fleet, which Harris had commanded since October 2013.
Secretary of Defense Ash Carter told the audience that the U.S. opposes any further work by China to militarize disputed islands in the South China Sea.
Harris projected a scrappy stance toward China in his remarks.
"So ladies and gentlemen, our president is crystal clear," Harris said. "The U.S. will rebalance to the Pacific. Our joint forces will work closely with our allies and friends in the Indo-Asia Pacific region."
And the greatest challenges those forces face, he said, are from North Korea, "with its quest for nuclear weapons and the means to deliver them intercontinentally," China's "preposterous claims to and land reclamation activities in the South China Sea," and a "resurgent Russia" in the Pacific.
"If called upon, we would fight tonight to defend American interests in the vast Indo-Asia Pacific. This is not aspirational; it's in our DNA."
During a conference last week in Honolulu, U.S. Army Pacific commander Gen. Vincent Brooks struck a far more conciliatory tone toward the Middle Kingdom, saying that "top-level leaders" want America's military to seek out more ways engage with China's People's Liberation Army in order to forge a stronger relationship.
That could prove difficult to do as China continues to assert sovereignty over much of the South China Sea, particularly to various uninhabited islands also claimed by the Philippines, Malaysia, Vietnam and others.
In recent years, U.S. officials have been reluctant to comment much on the island disputes, saying it was something the countries involved had to work out amicably.
At the Wednesday ceremony, however, defense secretary Carter outlined a stronger U.S. position on the South China Sea.
Tensions between the U.S. and China have risen there since last week, when a Chinese military dispatcher demanded a U.S. Navy P-8A Poseidon surveillance plane leave the airspace near Fiery Cross Reef in the Spratly Islands, which lie near the Philippines and Malaysia, where China has been enlarging uninhabited atolls for reasons it has not made clear. The U.S. regards the area as international air space.
"First, we want the peaceful resolution of all the disputes and an immediate and lasting halt to land reclamation by any claimant," Carter said. "We also oppose any further militarization of disputed features."
Second, the United States "will fly, sail and operate wherever international law allows, as we do all around the world," he said.
"Finally, with its actions in the South China Sea, China is out of step with both international norms that underscore the Asia-Pacific's security architecture and the regional consensus in favor of a non-coercive approach to this and other long-standing disputes."
Carter said that China's actions "are bringing countries in the region together in new ways" and that the U.S. "will remain the principle security power in the Asia-Pacific for decades to come."
Carter and Harris will now travel to Singapore for this weekend's Shangri-La Dialogue security talks, where they will meet many of their counterparts from the region.
Carter said that when he speaks at the summit Saturday, he will "call for the region to strengthen its security institutions and relationships to ensure we can maintain lasting peace and security in a region that is undergoing significant change."
olson.wyatt@stripes.com Twitter: @WyattWOlson
---
---
---
---