New Ospreys in Japan involved in Guam exercise
by
Charlie Reed
November 29, 2012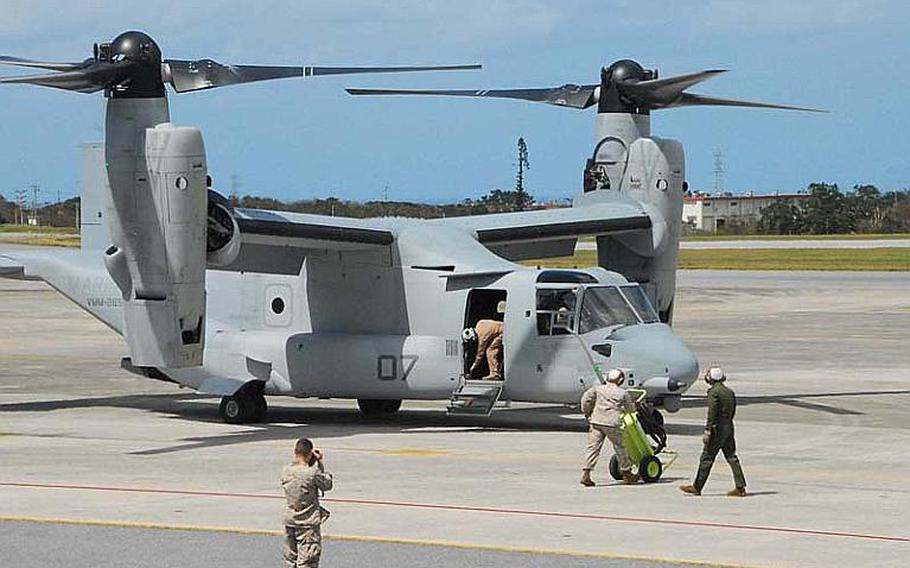 YOKOTA AIR BASE, Japan — Three of the 12 Osprey aircraft the U.S. recently deployed to Japan will cut their chops in Guam at the annual Forager Fury exercise, which began Thursday.
It's the first exercise the Japan-based MV-22s will participate in since they began replacing the Marines' aging CH-46 helicopter fleet on Okinawa this fall.
The Ospreys' main mission during Forager Fury is transporting personnel and equipment to and from Okinawa and Guam — a roughly 1,500-mile trip the CH-46 is incapable of making, said Senior Master Sgt. Arsenio Cortez, a spokesman for U.S. Forces Japan.
The hybrid aircraft are scheduled to depart for Guam early next week, Cortez said. The exercise concludes Dec. 18.
The U.S. already has deployed the Ospreys to Iraq, Afghanistan, Haiti and Libya. But their arrival on Okinawa in October ignited a backlash on the island, where critics are leery of the safety record of the aircraft, which crashed in Florida and Morocco earlier in 2012.
U.S. and Japanese officials contend the increased capability of the Osprey makes it necessary for the defense of Japan — the crux of the allies' security treaty. A bilateral committee set some operational guidelines to increase public safety, though the military is only obligated to follow the rules when they are practical and do not conflict with mission requirements or other safety measures, according to the document, which can be viewed online.
USFJ deputy commander Marine Maj. Gen. Andrew O'Donnell, who is qualified to fly the Osprey, recently has been to Okinawa to "help ensure we're following the procedures that we agreed to in the joint committee," Lt. Gen. Sam Angelella told Stars and Stripes Thursday.
Staff writer Wyatt Olson contributed to this story.