New leader takes helm of Navy's only forward-deployed amphibious force
by
James Bolinger
May 21, 2019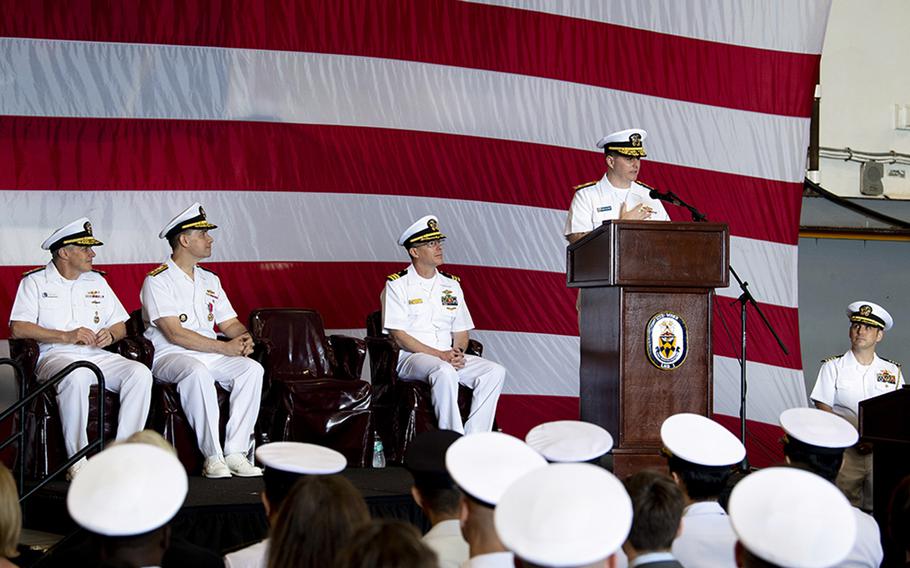 Rear Adm. Fred Kacher assumed command of Task Force 76 from Rear Adm. Brad Cooper during a ceremony Friday aboard the USS Wasp at Sasebo Naval Base, Japan.
Kacher joins Amphibious Force 7th Fleet after serving as executive officer to the commander, U.S. European Command.
Cooper leaves Sasebo for Washington, D.C., where he will assume duties as the chief of legislative affairs for the Secretary of the Navy.
The sailors of the Navy's only forward-deployed amphibious force have been some of the busiest in the service. As recently as March eight of nine ships assigned to the task force were at sea.
The Wasp Amphibious Readiness Group embarked the Marine Corps F-35B Lightning II stealth fighter last year for its first operational deployment. That deployment included a successful test of the up-gunned expeditionary strike group concept, which paired an Aegis guided-missile destroyer with a traditional amphibious readiness group with embarked Marines.
Sailors and Marines from the group provided humanitarian support in fall 2018 to the Northern Mariana Islands following Super Typhoon Mangkhut and also enforced international sanctions against North Korea in the East China Sea.
"To the Sailors in our strike group, I extend my personal thanks," Cooper said in a statement posted to the Amphibious Force 7th Fleet website Friday. "My most treasured memory from this tour stems from the great accomplishments of the Sailors and Marines that we have the privilege to serve alongside. They make us all so proud each and every day."
Kacher assumes command of nine vessels, which include the five amphibious ships of Amphibious Squadron 11 and four mine sweepers of Mine Counter Measures Squadron 7.
"Know that I will do my level best to work with each of you to build on the friendship and operational excellence established by [Rear] Adm. Cooper," Kacher said in the statement. "For the Sailors and Marines of Expeditionary Strike Group 7, I'm ready to stand shoulder to shoulder with you as we deliver lethal combat capability and integrated American sea power in support of our nation and our neighbors in the Indo-Pacific."
—
bolinger.james@stripes.com Twitter: @bolingerj2004