New Eighth Army commander seeks 'rigorous, realistic' training for US, South Korea troops
by
Kim Gamel
October 2, 2020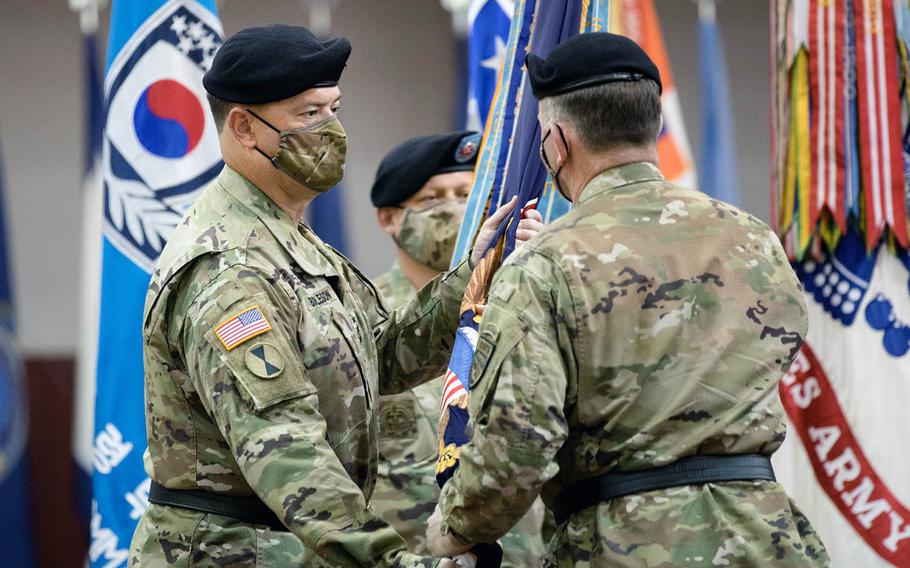 SEOUL, South Korea — Lt. Gen. Willard "Bill" Burleson III assumed command of the Eighth Army on Friday, stressing the need for U.S. and South Korean troops "to train rigorously and realistically" to maintain readiness on the divided peninsula.
Wearing a camouflage mask to match his uniform and ward off the coronavirus, Burleson accepted the Eighth Army colors from Lt. Gen. Michael Bills during a ceremony in a gym on Camp Humphreys, the Army's main headquarters in South Korea.
The change of command occurred amid fears of renewed tensions as U.S.-led nuclear talks with North Korea have stalled. Many experts have predicted that the North may conduct a missile test or another provocation in connection with the upcoming U.S. presidential election.
"Eighth Army's presence here in Korea and in the Pacific certainly sends a strong signal, not just to the Republic of Korea but to our regional allies on the United States commitment to deterring our potential adversaries," Burleson said during the ceremony, which was streamed live on Facebook.
"And while we all hope and pray for peace, we must never forget that we're not there yet," he said, promising to help maintain a strong alliance with South Korea.
"The ability of our (South Korean) and U.S. forces to train rigorously and realistically is essential to maintaining our readiness," he added.
Joint military exercises have long been a linchpin of the alliance between the two countries that was forged in the 1950-53 Korean War.
However, the militaries have had to cancel or curtail several drills over the past two years because of diplomatic efforts with North Korea.
Training also has faced challenges from the coronavirus pandemic and complaints about noise and other annoyances from local residents who live near training ranges.
Burleson was previously the assistant chief of staff for U.S. Forces Korea, the United Nations Command and the Combined Forces Command, which are led by Gen. Robert Abrams.
Bills, who became Eighth Army commander in January 2018, retired in a separate ceremony on Friday.
Abrams praised him for leadership in helping to curb the spread of the coronavirus, noting that the U.S. military in South Korea has not reported a locally transmitted case since mid-April.
"Mike improved the overall fight tonight readiness of Eighth Army. He strengthened the (South Korean)-United States alliance. And he protected national security initiatives to ensure we maintained a strong deterrent against North Korea," Abrams added.
The Eighth Army oversees six major subordinate commands including the 2nd Infantry Division and smaller units in South Korea.
Burleson also will serve as chief of staff for the Combined Forces Command.
gamel.kim@stripes.com Twitter: @kimgamel