Navy task force on Guam video links with Japan for change-of-command ceremony
by
Caitlin Doornbos
October 5, 2020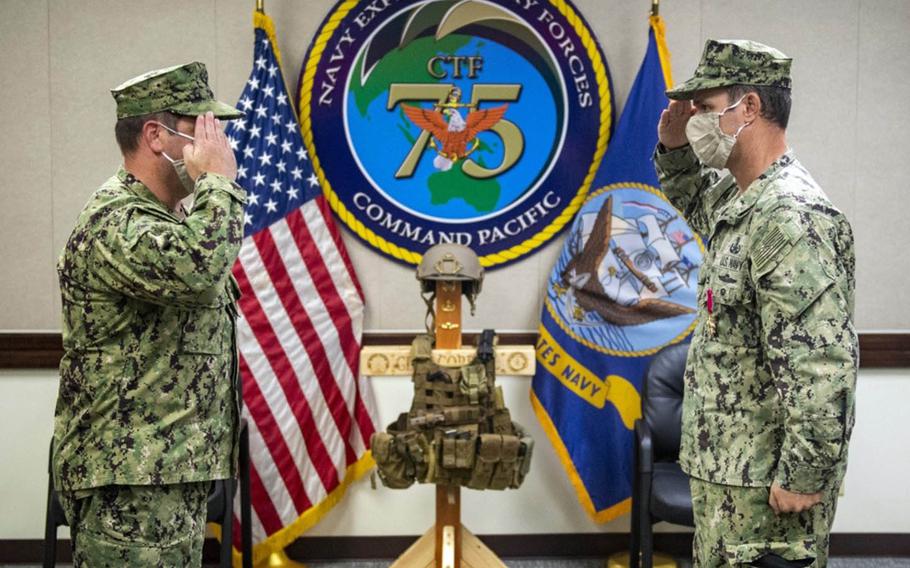 YOKOSUKA NAVAL BASE, Japan — A grandson of two veterans who helped liberate Guam in World War II took command of Task Force 75 on the island during another in a series of downsized, coronavirus pandemic changes of command.
Capt. Gareth Healy took over as commodore of the task force on Friday from outgoing Capt. Eric Correll. The ceremony was "attended virtually by most" in keeping with coronavirus prevention measures, according to a Navy statement Sunday.
Headquartered at Naval Base Guam, Task Force 75 is the 7th Fleet's primary expeditionary forces command, "responsible for the planning and execution of maritime security operations, explosive ordnance disposal, diving, engineering and construction, and underwater construction," according to the statement.
The Navy tradition of change-of-command ceremonies has morphed this year from the all-hands events of pre-pandemic times. Last week, the USS Ronald Reagan turned over its commanders over the ship's public address system.
Calling in via webcam aboard the command vessel USS Blue Ridge at Yokosuka, 7th Fleet commander Vice Adm. Bill Merz presided over the Task Force 75 ceremony. He told Healy it was a "great time to come to the region" because "there's so much energy going on with our warfighting concepts," according to the statement.
"This is the most complex region in the world for a lot of reasons," Merz said, according to the statement. "There are 35 maritime nations out here that depend on everything we do."
The task force, established in 2014, is made up of more than 1,000 sailors in Seabee units, riverine squadrons, expeditionary intelligence forces and explosive ordnance technician teams across the Pacific, the Navy said in 2015.
During World War II, about 59,000 Marines and Army infantry landed on Guam to retake the island from Japanese occupiers in July and August 1944. The Coast Guard and Navy were there, too, along with Healy's grandfathers, he said during the ceremony.
"I take command on Guam under the heavenly eyes of two grandfathers involved in the liberation of the island in 1944," Healy said, according to the statement. "One of whom brought a very similar capability to what we use here today as part of 41st Special Construction Battalion."
Under Correll's leadership, the task force's expeditionary forces conducted operations in more than 25 countries, responded to typhoons Mangkut and Yutu, expanded expeditionary mine countermeasure capabilities and re-postured Seabees — the Navy's construction battalions — opening multiple new locations and closing less-effective sites throughout the 7th Fleet, according to the Navy.
The task force also supported operations on Guam when the USS Theodore Roosevelt in March diverted there to disembark, test and isolate its 5,000 crew members after a coronavirus outbreak on the ship, according to the statement.
Healy comes to the task force from U.S. Special Operations Command in Washington, D.C., where he served in the Countering Weapons of Mass Destruction Directorate. A native of New Orleans, he is a 1997 graduate of Tulane University. His career specialty is explosive ordnance disposal, according to the task force.
Correll will next serve as commanding officer of Naval Surface Warfare Center, Indian Head Division and the deputy executive manager for the Defense Department's EOD Technology.
doornbos.caitlin@stripes.com Twitter: @CaitlinDoornbos