Navy Super Hornet loses refueling cover while training off Okinawa coast
by
Aya Ichihashi James Bolinger
February 14, 2020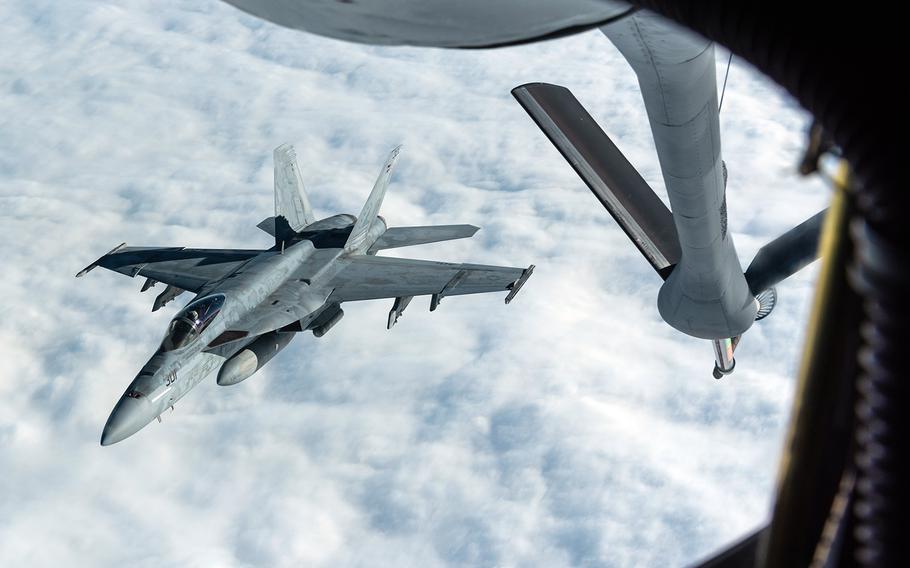 MARINE CORPS AIR STATION IWAKUNI, Japan — An F/A-18E Super Hornet lost a refueling cover Wednesday while flying over water near Kadena Air Base, Okinawa, the Navy said in a statement Thursday.
"The location where the cover was lost is yet to be determined, however the flight path occurred primarily over water and a U.S.-controlled airfield, and there are no safety concerns for the public," it added.
A post-flight inspection found no further damage to the aircraft, according to the Navy's statement, which said the incident is under investigation.
The Okinawa Defense Bureau, a branch of Japan's defense ministry, declined to comment on Friday.
The jet belongs to Strike Fighter Squadron 115 and was training with Air Force F-15 Strike Eagles from Kadena when the part was lost, according to a report in the Okinawa Times newspaper.
The squadron is part of Carrier Air Wing 5 based at MCAS Iwakuni. It regularly deploys with the aircraft carrier USS Ronald Reagan, now at its homeport at Yokosuka Naval Base, Japan.
bolinger.james@stripes.com Twitter: @bolingerj2004
ichihashi.aya@stripes.com Twitter: @AyaIchihashi