Navy ships being held in Philippine port as death investigation continues
---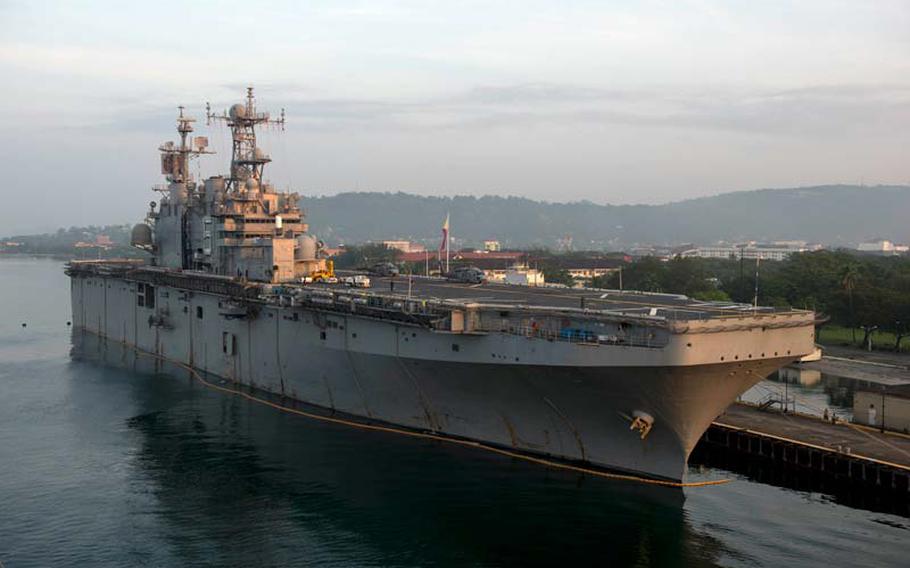 Five Navy warships are being held in port in the Philippines while police investigate the killing of a transgender Filipina at Subic Bay.
The State Department said in an email Tuesday that a Marine, assigned to 2nd Battalion, 9th Marines, out of Camp Lejeune, N.C., is a suspect in the death of Jeffrey Laude, also known as Jennifer.
Laude, 26, was last seen entering the Celzone Lodge in Olongapo City with a short-haired male foreigner, aged 25-30, around 10:55 p.m. on Saturday. Later, Laude's naked body, partially covered with a blanket, was found in a bathroom at the hotel.
A State Department spokesperson said the suspect is being held onboard the USS Peleliu while the Naval Criminal Investigative Service and Philippine National Police investigate.
The Peleliu, USS Germantown, USNS Sacagawea, USNS Washington Chambers and the JHSV WestPac Express are staying in the Philippines, Marine Corps Forces Pacific spokesman Col. Brad Bartelt said.
"All ships even remotely related to this incident are being retained in port," by order of Adm. Samuel J. Locklear, U.S. Pacific Command, and will remain in port until otherwise directed, Bartelt said in an email Tuesday.
Thousands of Marines and sailors have been in the Philippines this month practicing beach assaults throughout the country, including training areas near Subic Bay.
Philippine media reported that some of the U.S. ships had been due to leave Wednesday. Bartelt said he could not comment on when they might depart.
"We do not discuss specifics of ship movements due to operational security concerns," he said.
The State Department spokesperson said the U.S. Embassy in Manila had offered condolences to Laude's family and friends.
"The United States will continue to fully cooperate with Philippine law enforcement authorities in every aspect of the investigation," the spokesperson said.
Philippine Foreign Secretary Albert del Rosario told the Philippine Daily Inquirer that the U.S. ships would not leave "until there is clarity to the situation since this is tragic."
Del Rosario said the Philippines would likely ask the U.S. to hand over the suspect to local police.
"In the normal course of events, the U.S. will have custody, but in case of heinous crimes, we can ask them to waive custody," he said. "So I suppose that it will go in that direction."
The Associated Press reported Tuesday that dozens of people went to the U.S. Embassy to protest about the incident. Young activists burned a mock American flag and demanded that Washington hand over the suspect to Philippine police.
Aileen Baviera, a professor of Asian Studies at the University of the Philippines, said the case is receiving widespread coverage in local media.
"The custody issue over the U.S. serviceman has to be handled very sensitively," she said. "If mishandled, there will likely be greater and continuing public scrutiny of what the American soldiers do here, where they do it, and what kind of numbers are involved."
robson.seth@stripes.com Twitter: @SethRobson1
---
---
---
---