Navy sends guided-missile cruiser through Taiwan Strait in eighth transit there this year
by
Caitlin Doornbos
November 13, 2019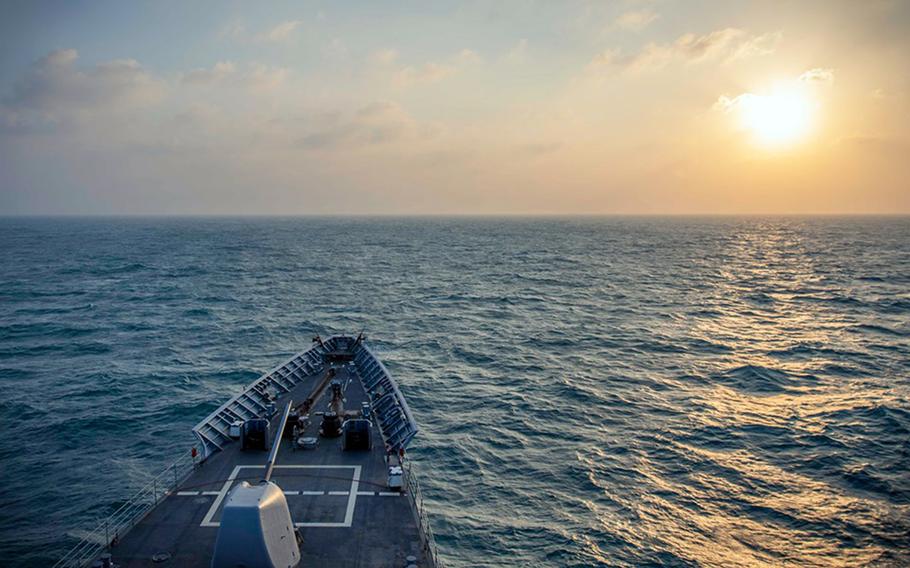 YOKOSUKA NAVAL BASE, Japan — For the eighth time this year, a Navy vessel has sailed through the contentious waters between Taiwan and mainland China, officials said Wednesday.
The guided-missile cruiser USS Chancellorsville made its way through the 110-mile-wide Taiwan Strait on Tuesday in a move that's bound to draw protests from Beijing.
China views the strait as territorial waters and asserts that foreign vessels must first ask permission before sailing through the area. International law does not recognize that requirement and considers the strait an open waterway.
The transit was "routine" and "in accordance with international law," 7th Fleet spokeswoman Cmdr. Reann Mommsen said in an email Wednesday.
The ship was seen steaming through the open waters against an orange sunset in a photo of the transit posted on the Chancellorsville's official Facebook page.
Mommsen said the Navy will continue to "operate anywhere international law allows."
The U.S. considers Taiwan's status unsettled, but adheres to the "One China" policy, acknowledging that Beijing asserts sovereignty over Taiwan.
China has lodged complaints with the U.S. after each of the seven prior U.S. transits this year.
This year, the U.S. markedly increased the number of trips its vessels make through the Taiwan Strait. It has sent a ship through the strait once a month from January through March, and again in May, June, July, September and now November.
Last year, just two Navy vessels steamed through the strait. Prior to July 2018, a year had passed without a U.S. transit there.
In July, China's State Council Information Office in a defense white paper said U.S. passage through waters China claims are "wrong practices and provocative activities."
It also said China would "make no promise to renounce the use of force" against those who try separating Taiwan from the Chinese mainland.
Beijing considers reunification a top national priority. The U.S. has not taken a stance on the separation of Taiwan from China.
Gen. Li Zuocheng, chief of the Chinese military's Joint Staff Department, during a January meeting with former Chief of Naval Operations Adm. John Richardson warned that "if anyone wants to separate Taiwan from China, the Chinese military will safeguard the national unity at all costs, so as to protect China's sovereignty and territorial integrity," according to the South China Morning Post.
Richardson later told reporters in Tokyo he assured Li that the U.S. was "committed to the One China policy with respect to Taiwan."
doornbos.caitlin@stripes.com Twitter: @CaitlinDoornbos