Navy says Chinese destroyer shot laser at aircraft near Guam in 'unsafe and unprofessional manner'
by
Caitlin Doornbos
February 28, 2020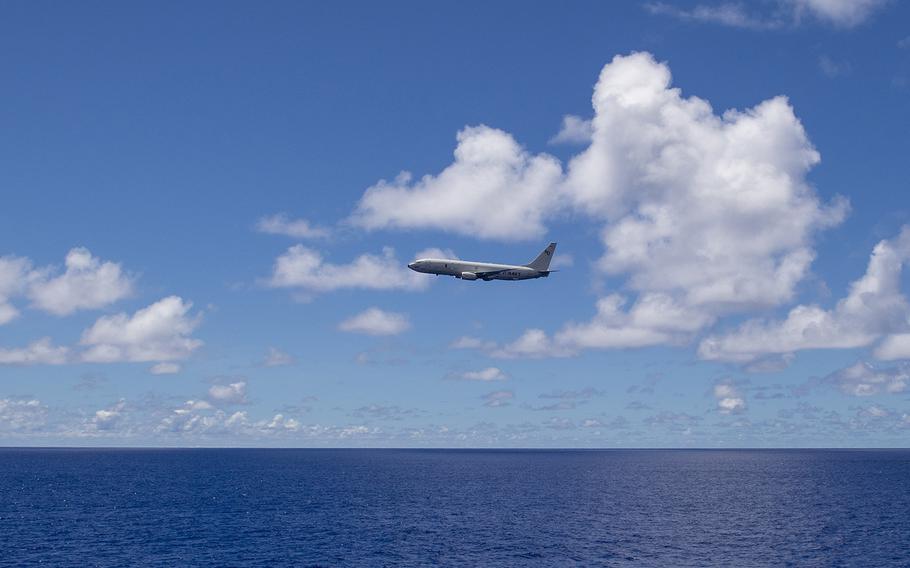 YOKOSUKA NAVAL BASE, Japan — A Chinese navy destroyer shot a weapons-grade laser at a P-8A Poseidon patrol aircraft in a recent move that U.S. Pacific Fleet dubbed "unsafe and unprofessional" in a statement Thursday.
The incident happened Feb. 17 in the Philippine Sea about 380 miles west of Guam while the Poseidon crew was "operating in international airspace in accordance with international rules and regulations," according to the statement.
A sensor on the Poseidon detected the laser, which was invisible to the naked eye, according to the statement.
"Weapons-grade lasers could potentially cause serious harm to aircrew and mariners, as well as ship and aircraft systems," Pacific Fleet said in the statement.
China's actions violated the Code for Unplanned Encounters at Sea, which is an agreement between 21 countries – including China and the United States – to "reduce the chance of an incident at sea," according to the statement.
The code "specifically addresses the use of lasers that could cause harm to personnel or damage to equipment," Pacific Fleet said in the statement.
The lasing incident also violated a U.S.-China memorandum of understanding "regarding rules of behavior for safety of air and maritime encounters," according to the statement.
The Poseidon is assigned to Patrol Squadron 45 based in Jacksonville, Fla., and is deployed to Kadena Air Force Base on Okinawa. The crew regularly conducts maritime patrol and reconnaissance, the statement said.
"U.S Navy aircraft routinely fly in the Philippine Sea and have done so for many years," Pacific Fleet said in the statement.
The Pacific Fleet last publicly accused the Chinese navy of taking an "unsafe and unprofessional" action in September 2018, when the Chinese destroyer Luyang veered close to the guided-missile destroyer USS Decatur before pulling away.
The Decatur was on a freedom-of-navigation operation in the South China Sea near the Spratly Islands, which is a source of contention in the region as China, Taiwan, Malaysia, Vietnam and the Philippines have overlapping claims to territory in the area.
doornbos.caitlin@stripes.com Twitter: @CaitlinDoornbos