Navy Poseidon crew finds fisherman stranded in Pacific about 600 miles from Guam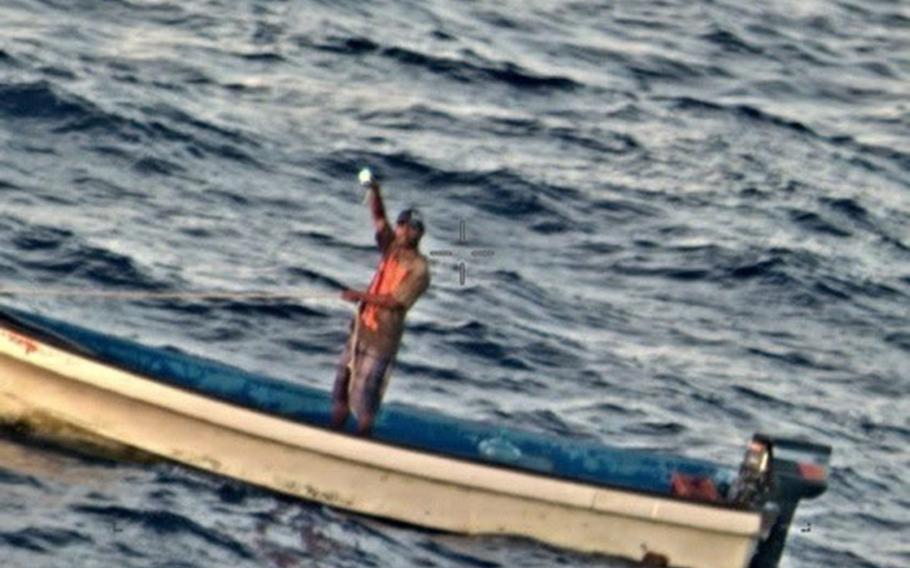 A fisherman stranded about 600 nautical miles from Guam is safe thanks to the crew of a Navy P-8A Poseidon operating out of Kadena Air Base on Okinawa.
Aviators from Patrol Squadron 45, which is based at Naval Air Station Jacksonville in Florida, were called upon to help on Friday by the U.S. Coast Guard in Guam, according to a statement from 7th Fleet. At that point, the mariner and his 16-foot skiff had been missing in the western Pacific for five days.
Later that day, the Poseidon crew spotted the vessel about 50 nautical miles from its last known location, the statement said. They dropped a search-and-rescue kit, which typically includes food, water, medical supplies and communication devices, and reported his whereabouts to the Coast Guard.
The rescue happened less than a week after a Navy helicopter flew an ailing man from a fishing boat to a Guam hospital on Jan. 11.
The man was found unconscious aboard a 252-foot Taiwanese-flagged vessel by other crewmembers, a U.S. Coast Guard statement said.
The MH-60 Seahawk crew, from Navy Helicopter Sea Combat Squadron 25 on Guam, hoisted the man from the boat, which was about 150 nautical miles south of the U.S. territory, the statement said. He was flown to U.S. Naval Hospital Guam in stable condition.