Navy launching first Great Green Fleet next week
By
Wyatt Olson olson.wyatt@stripes.com
January 15, 2016
---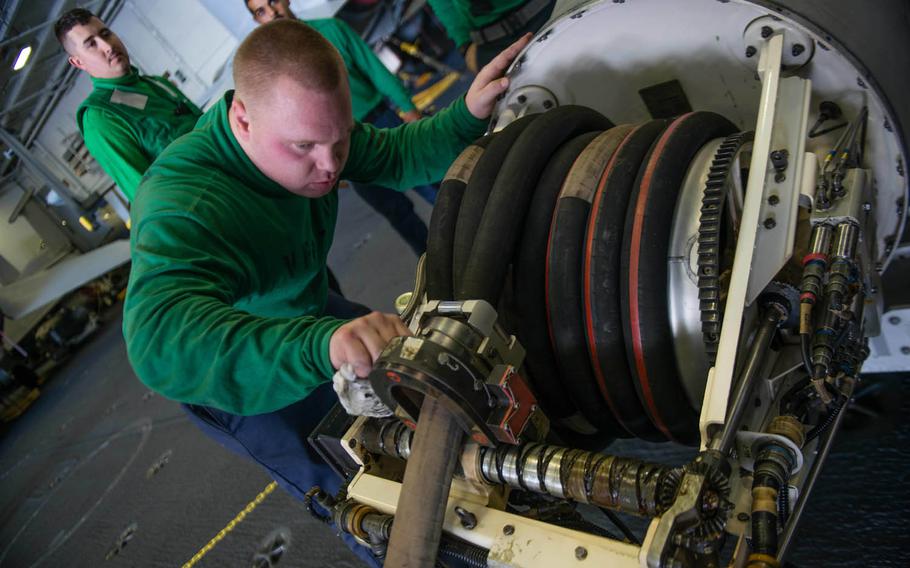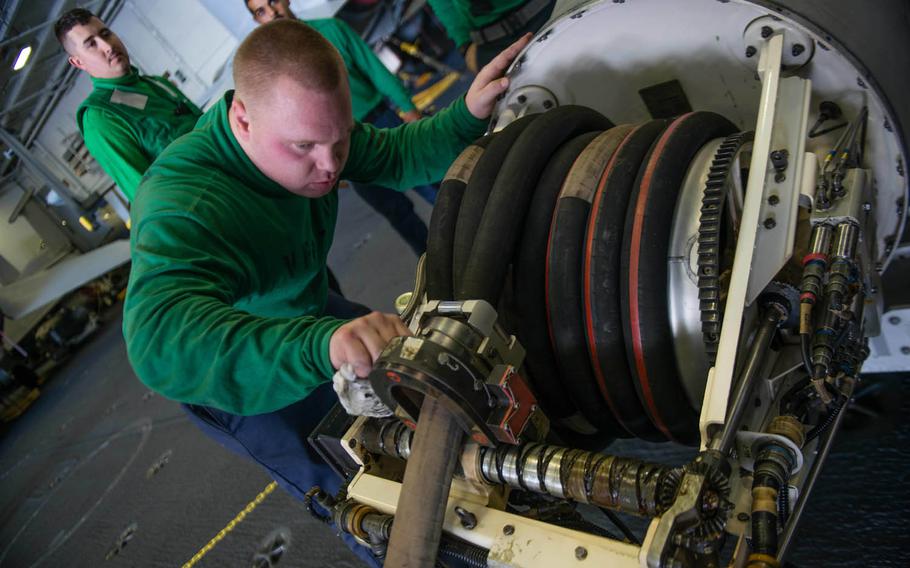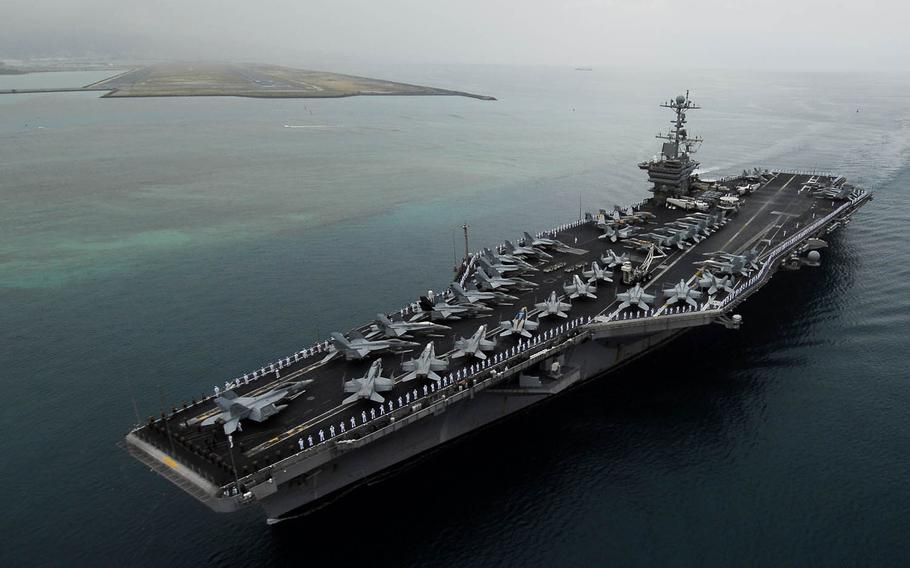 The Navy will launch the first vessels of its "Great Green Fleet" next week in San Diego.
Carrier Strike Group 3 and its flagship, the nuclear-powered supercarrier USS John C. Stennis, will deploy using alternative fuels.
"The 'Great Green Fleet' highlights how the Navy and Marine Corps are transforming our energy use to increase our combat capability, operational flexibility and resiliency so that we can go farther, stay longer and deliver more firepower," Lt. Chika Onyekanne, a Navy spokesman, said in a statement.
Navy Secretary Ray Mabus announced the concept seven years ago. The initiative is named after President Theodore Roosevelt's Great White Fleet, a convoy of destroyers that circled the globe at the dawn of the 20th century in a show of American naval might.
Carrier Strike Group 3, the centerpiece of the initiative, will use alternative energy as part of its normally planned operations and exercises, Onyekanne said.
The Navy obtained about 78 million gallons of biofuel to power the "Great Green Fleet," according to Biofuels Digest, an industry newsletter, adding that the Defense Logistics Agency paid $2.05 per gallon.
The Navy has led the way in winnowing U.S. armed forces off a dependence on fossil fuels. Soon after becoming secretary in 2009, Mabus announced a goal of getting at least half the Navy's energy from alternative sources by 2020. Testifying at a Senate hearing in 2012, Mabus argued that diversifying fuel sources would protect the Navy from petroleum-supply and price shocks.
"Strategically, we are at risk because much of the fuel we use comes from volatile regions of the world," he said. "We would never buy aircraft or ships from many of the places that supply us oil because some are unstable and some do not necessarily have our best interests at heart."
President Barack Obama helped push ahead the goal of curtailing fossil fuel dependence with his 2011 national energy strategy called the Blueprint for a Secure Energy Future. Its objective was to reduce oil imports by a third by 2025. The policy included the greater use of advanced biofuels.
In 2012, the Navy experimented with alternative fuel blends on roughly 40 ships, six submarines and 200 aircraft that participated in the Rim of the Pacific exercise in Hawaii. The fleet was provided almost a million gallons of "hydro-treated" diesel fuel, a 50-50 blend of traditional petroleum-based fuel and biofuel made from waste cooking oil and algae oil.
Replacement fuels must be "drop-in" fuels, meaning they use infrastructure that's already in place for transporting and distributing fuel, according to DOD policy. Modified fuels also must not necessitate modifications to weapons platforms, must be cost-competitive with petroleum and emit greenhouse gasses no worse than conventional fuels.
Biofuel can be produced from a variety of sources — crops, wood, vegetable oils, animal fats and algae.
The drop-in biofuel DOD will use is not the same as the earlier generation ethanol and biodiesel commonly used in cars and trucks. It is third-generation, with much less oxygen than in ethanol and so-called biodiesel, but holds the same energy "density" as petroleum fuels. That means the energy released is equal to its fossil counterparts.
olson.wyatt@stripes.com Twitter: @WyattWOlson
---
---
---
---