Navy implements new inspection procedures after window falls from helicopter at Atsugi
---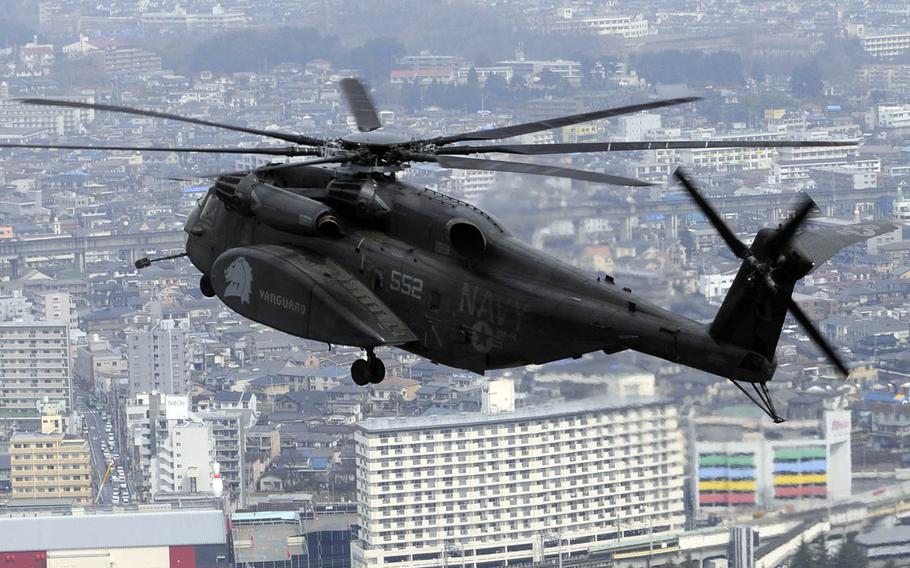 YOKOSUKA NAVAL BASE, Japan — After a window fell from a Navy MH-53E helicopter at Naval Air Facility Atsugi in July and made Japanese headlines, the service this week announced new maintenance procedures to help prevent future occurrences.
On July 27, an MH-53E Sea Dragon was hovering about 6 to 8 feet above the flight line when a window fell off the aircraft, according to a Navy statement. No one was hurt, and the helicopter landed safely afterward.
Japanese Defense Minister Itsunori Onodera told reporters in July that members of the Japan Maritime Self-Defense Force saw the window falling soon after the helicopter took off, according to a July 28 report by Kyodo News.
The Navy responded by grounding all MH-53E aircraft in the region and opened an investigation. The results — released this week — showed "the accident was most likely caused by inadvertent release of a loose emergency handle," the service said.
Though the investigation has concluded, the Navy said all remaining MH-53E Sea Dragons in Japan are being "individually reviewed for clearance" before they are returned to normal flight operations.
A Kanagawa Prefectural Office official said they are aware of the investigation report's release and are seeking details through the South Kanto Defense Bureau, which regularly communicates with U.S. Forces Japan. A base affairs official at the prefectural office said there are concerns that such accidents could cause greater danger if they occur above a residential area.
From the investigation's results, the Navy has implemented new procedures for maintenance inspections "to prevent this from happening again," according to the Navy statement.
"Every MH-53E aircraft operating in the region was inspected in accordance with the updated procedures and will be re-inspected in the same way prior to each flight," the statement said.
The Navy also recommended that it and the Marine Corps both include the Navy's new inspection procedures in their routine maintenance operations for all H-53E aircraft.
The Navy's follow-up actions align with what the prefecture and South Kanto Defense Bureau requested the day of the accident. Motoyasu Mitsumori, who leads the prefecture's U.S. military-facilities relations division, said they asked for "precise and accurate information" about the incident, an investigation into its cause and that the U.S. take necessary measures to prevent accidents from reoccurring.
"There were no damages this time, but it could be a catastrophe if something falls off of an aircraft above a residential area," Mitsumori told Stars and Stripes on Thursday. "We want them to take all possible measures to ensure safety on a day-to-day basis."
Mitsumori said the Kanagawa governor is the chair for a group made up of prefectures hosting military bases that made a similar request to the Japanese government in February after a series of U.S. military aircraft incidents, including the emergency landings of Okinawa-based Marine Corps helicopters.
The Atsugi accident came about six months after a window from a Marine Corps CH-53E Super Stallion helicopter fell onto a sports field near Marine Corps Air Station Futenma, Okinawa, where more than 50 elementary schoolers were playing. One boy's hand was slightly injured by a rock that was sent airborne.
That incident prompted outcries from Okinawan citizens and a rally to remove U.S. forces from the island.
The prefecture's late anti-base Gov. Takeshi Onaga, who died in August, called the ordeal "terrible and unforgivable," according to Japanese public broadcaster NHK.
Early this year, Onodera reportedly asked Defense Secretary Jim Mattis to take additional measures to prevent future mishaps. In June, Onodera emphasized the importance of U.S. military aircraft safety at a joint press conference with Mattis in Tokyo.
The Navy said the Atsugi helicopter that dropped the window remains at the base and will be airlifted to the U.S. for routine scheduled maintenance unrelated to the July's incident.
"While it would have been possible to repair the aircraft in Atsugi, the aircraft is approaching a service-life requirement for depot-level maintenance and it was determined to be more cost effective to return the aircraft early," the Navy said in an email to Stars and Stripes on Thursday.
Moving forward, the service's Sea Dragon helicopters will be returning to Japanese skies again — but not until all precautions have been taken.
"The U.S. Navy takes this situation very seriously and will only return these aircraft to flight ready status after applying the new inspection procedures," the service said in its statement.
The Navy declined to answer when all helicopters will be back to normal operations because the service "does not discuss future operations due to security."
Stars and Stripes correspondent Hana Kusumoto contributed to this report.
doornbos.caitlin@stripes.com Twitter: @CaitlinDoornbos
---
---
---
---