Navy helicopter crew airlifts ailing fisherman to Guam hospital
by
Wyatt Olson
January 13, 2020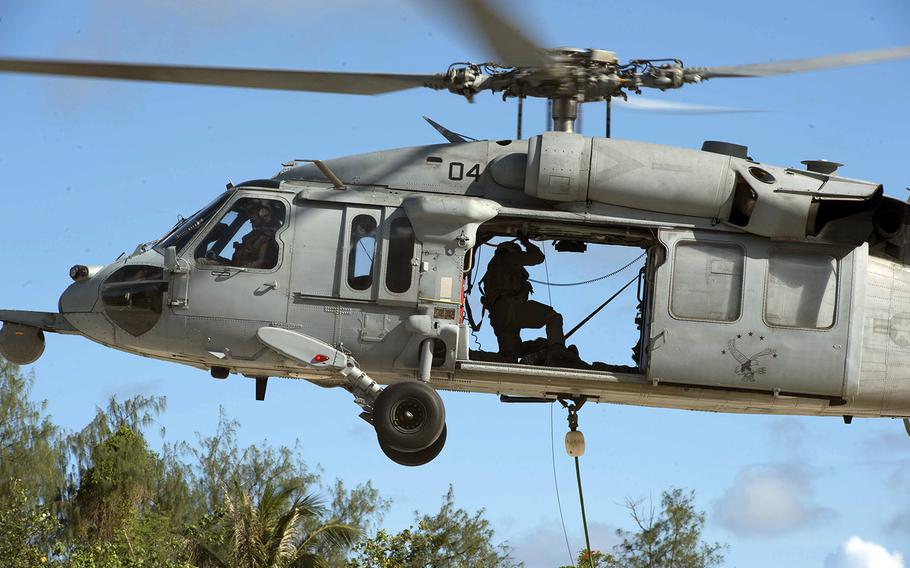 The crew of a Navy helicopter flew an ailing 61-year-old crewmember from a fishing boat to a hospital on Guam on Saturday, the Coast Guard said.
The MH-60 Seahawk crew, from Navy Helicopter Sea Combat Squadron 25 on Guam, hoisted the fisherman from the Sheng Hong, a 252-foot Taiwanese-flagged fishing boat, which was about 150 miles south of the U.S. territory, the Coast Guard said in a news release Monday.
The man was found unconscious in his room by other crewmembers, the Coast Guard said.
He was flown to U.S. Naval Hospital Guam in stable condition. Emergency medical personnel then transported him to Guam Memorial Hospital.
Coast Guard watch-standers in Honolulu received word of the man's condition from the Rescue Coordination Center Taipei at about 2:30 p.m. Hawaii time.
A duty flight surgeon with Squadron 25 recommended the crewmember be medically evacuated as soon as possible, the Coast Guard said.
Squadron 25 is the Navy's only permanently deployed MH-60 expeditionary squadron, providing armed helicopter capability to the Navy's 7th and 5th Fleets. The squadron's flight surgeon, pilots and crews are also critical in assisting the Coast Guard in search-and-rescue operations throughout the Mariana Islands.
"The ability to extend our reach to almost 150 miles away from Guam to conduct a medical evacuation of a critically ill patient highlights this partnership to serve our community and mariners," Cmdr. Allison Cox, search and rescue mission coordinator for Coast Guard Sector Guam, said in the news release.
olson.wyatt@stripes.com Twitter: @WyattWOlson