Navy helicopter airlifts ill cruise ship passenger to Hawaii hospital
by
Wyatt Olson
January 3, 2020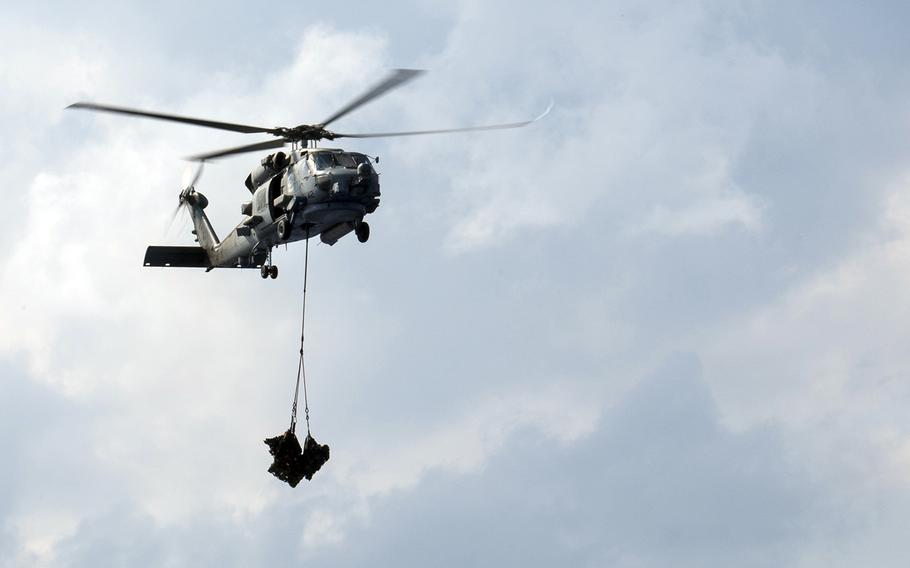 FORT SHAFTER, Hawaii — A Navy helicopter airlifted a 69-year-old cruise ship passenger to Hawaii's Big Island for medical treatment on New Year's Day.
The male passenger, who was experiencing "abdominal distress," was hoisted from the Grand Princess, which was about 210 miles northwest of Hawaii Island, the Navy said in statement Thursday. He was brought to Hilo Medical Center, which was not able to provide the man's condition on Thursday.
The MH-60R Seahawk helicopter crew conducted the medevac while a Coast Guard HC-130 Hercules airplane provided overhead support. The Navy helicopter is part of Helicopter Maritime Strike Squadron 37, which is based at Marine Corps Base Hawaii on Oahu.
The Coast Guard received a report at about 12:30 p.m. Wednesday that the passenger was experiencing abdominal problems. A Coast Guard flight surgeon consulted with the medical staff aboard the Grand Princess and agreed that the man should be medically evacuated, the statement said.
The Grand Princess diverted toward Hawaii Island as the Seahawk and Hercules aircrews launched their responses.
Upon arriving on the scene, the Hercules aircrew provided communications and cover overhead while the Seahawk crew conducted the hoist.
The Coast Guard requested the assistance of the Navy Seahawk because of its long-range capabilities, the statement said.
"The Coast Guard and the Navy often work together during search and rescue operations in the Pacific," Petty Officer 3rd Class Craig Howarth, a Coast Guard Sector Honolulu watchstander, said in the statement. "Depending on the situation, the long-range capabilities of the Navy Seahawk aircrews with our Hercules aircrews in support is the quickest means of getting a patient to the higher level of medical care."
The 950-foot-long Grand Princess is owned by Princess Cruises. At the time it was built in 1998, it was the biggest and most expensive passenger ship ever made. It carries a crew of 1,100 and has the capacity to carry 3,100 passengers.
olson.wyatt@stripes.com Twitter: @WyattWOlson