Navy deploys pair of Tritons to Guam for unmanned aerial vehicle's Pacific debut
by
Seth Robson
January 27, 2020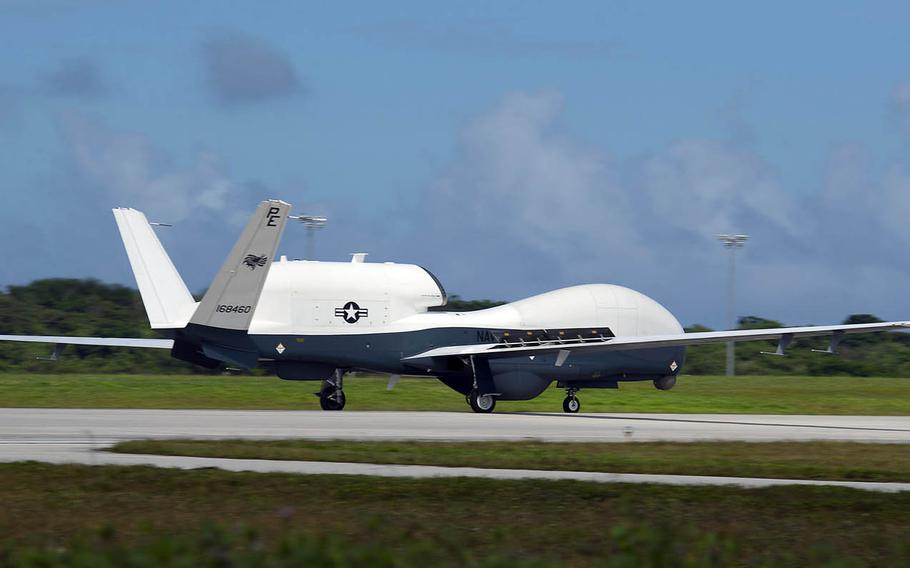 The Navy's largest unmanned aerial vehicle has deployed for the first time to the Pacific, where it will conduct intelligence, surveillance and reconnaissance missions.
Two MQ-4C Tritons — maritime versions of the Air Force RQ-4 Global Hawk — have arrived at Andersen Air Force Base, Guam, the Navy said in a statement Sunday after the second aircraft touched down.
The Tritons, and two others scheduled to be on Guam by 2021, will be flown by the Navy's first dedicated drone squadron, Unmanned Patrol Squadron 19, which will focus on honing the skills needed to operate the high-tech planes, the statement said.
The Tritons will complement P-8A Poseidon surveillance planes and bring increased persistence, capability and capacity through their multi-sensor mission payloads, the Navy statement said.
The drones provide real-time intelligence, surveillance and reconnaissance over vast ocean and coastal regions, Northrop Grumman states on its website.
"The aircraft can fly over 24 hours at a time, at altitudes higher than 10 miles, with an operational range of 8,200 nautical miles," the website states.
The Triton looks like the RQ-4B Global Hawks that the Air Force already flies out of Guam; however, the resemblance is only skin deep.
The front edges of a Triton's wings are toughened to withstand bird strikes, and its electronics are designed to withstand power surges from lightning. Tritons also have stiffer wings that allow them to dive below 10,000 feet to get a closer look at targets floating on the water, according to the Navy.
The Tritons on Guam will fall under Task Force 72, the lead command for patrol, reconnaissance and surveillance forces in 7th Fleet, the Navy said.
"The introduction of MQ-4C Triton to the Seventh Fleet area of operations expands the reach of the U.S. Navy's maritime patrol and reconnaissance force in the Western Pacific," said Capt. Matt Rutherford, the task force commander. "Coupling the capabilities of the MQ-4C with the proven performance of P-8, P-3 and EP-3 will enable improved maritime domain awareness in support of regional and national security objectives."
The inaugural deployment of Triton to Guam also brings enhanced capabilities to forward fleet commanders, Rear Adm. Peter Garvin, commander of 7th Fleet's patrol and reconnaissance group, said in the statement.
The Navy's first dedicated drone squadron is "superbly trained" and ready to provide the persistent intelligence, surveillance and reconnaissance the Navy needs, he said.
robson.seth@stripes.com Twitter: @SethRobson1