Navy cruiser sails through Taiwan Strait days after Air Force flyover there
by
Caitlin Doornbos
February 16, 2020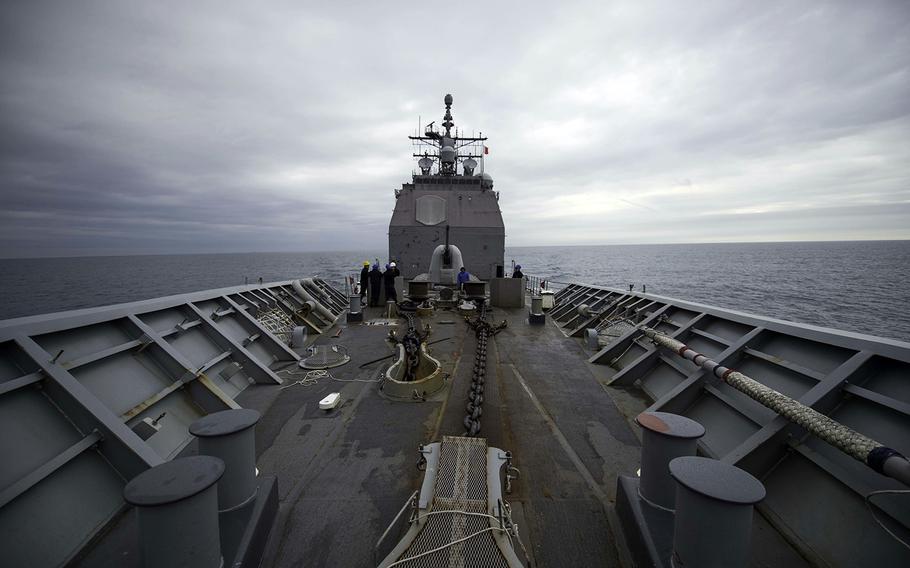 YOKOSUKA NAVAL BASE, Japan — The United States sailed a guided-missile cruiser through the Taiwan Strait on Saturday, three days after flying an Air Force tanker over the contentious area, officials said.
The USS Chancellorsville's transit through the 110-mile-wide waterway that separates Taiwan from mainland China "demonstrates the U.S. commitment to a free and open Indo-Pacific," 7th Fleet spokesman Lt. Joe Keiley told Stars and Stripes in an email Sunday.
"The U.S. Navy will continue to fly, sail and operate anywhere international law allows," he added.
The transit follows an Air Force mission on Wednesday that sent an MC-130J Commando II north to south along the airspace over the Taiwan Strait, while two B-52 Stratofortress bombers flew along Taiwan's east coast, according to Pacific Air Forces spokeswoman Maj. Victoria Hight.
The U.S. operations were held after Chinese naval and air forces operated near Taiwan twice this week. Beijing, which regards the island as its own, held a "combat-readiness patrol" with bombers, jet fighters, early warning aircraft, destroyers and frigates near Taiwan on Feb.9, according to the Chinese Defense Ministry.
The U.S. considers Taiwan's status unsettled, but adheres to the "One China" policy, acknowledging that Beijing considers Taiwan part of China. However, the Taiwan Relations Act provides a framework for the U.S. to aid the self-governing island's defense.
On Monday, China held naval and air drills in the waters off the southeastern coast of Taiwan, including air-to-ground assault and fire-support exercises, a Tuesday Defense Ministry statement said.
Chinese fighter jets during the Monday exercise went over the Taiwan Strait and crossed its "middle line," flying closer to Taiwan than mainland China, according to a report Tuesday by China's state-run Global Times newspaper.
The Navy's Saturday sail was the second Taiwan Strait transit this year. The guided-missile cruiser USS Shiloh made the trip on Jan. 16, Keiley said at the time.
doornbos.caitlin@stripes.com Twitter: @CaitlinDoornbos