Navy crew ejects from jet experiencing 'mechanical issue' over Philippine Sea
by
Caitlin Doornbos
November 12, 2018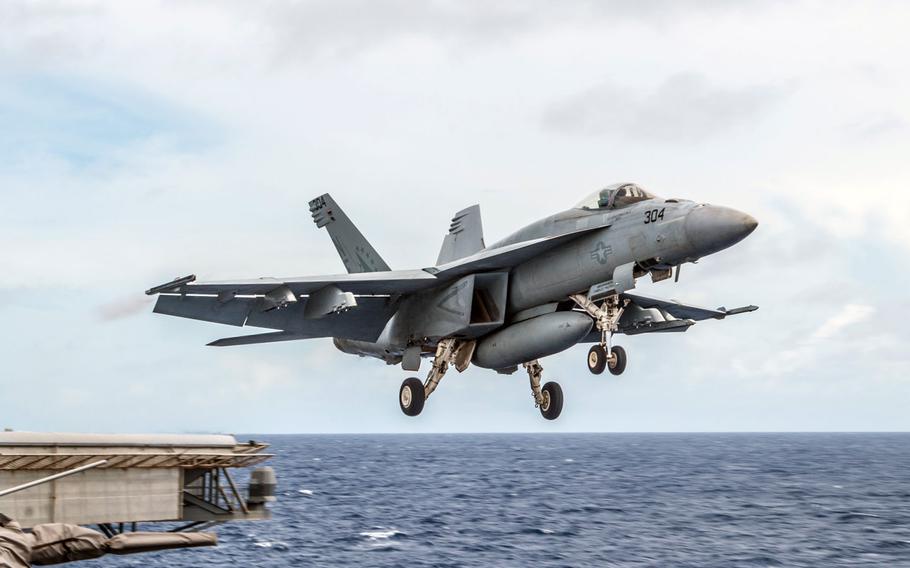 YOKOSUKA NAVAL BASE, Japan — Two Navy aviators are safe after ejecting from an F/A-18 Super Hornet that "experienced a mechanical issue" over the Philippine Sea on Monday morning, a Navy statement said.
The Carrier Air Wing 5 aviators were "conducting routine operations" as part of their deployment with the USS Ronald Reagan when the problem arose, according to the statement.
After ejecting from the Super Hornet, the sailors were picked up by search-and-rescue aircraft from the Ronald Reagan and brought back aboard the Yokosuka-based carrier. The jet crashed into the ocean.
The crew members are in "good condition" and undergoing medical evaluations, the statement.
The cause of the crash is under investigation.
The Ronald Reagan has resumed its regular operations.
Last month, 12 people were injured when a Navy MH-60 Seahawk helicopter crashed on the Ronald Reagan's flight deck in the Philippine Sea. The cause of that crash Oct. 19 remains under investigation, said Task Force 70 spokesman Lt. Cmdr. Matt Knight.
"All patients from the Oct. 19 helicopter crash have been released from the hospital in the Philippines and are currently receiving any necessary follow on care from Navy medical providers," he said.
doornbos.caitlin@stripes.com Twitter: @CaitlinDoornbos