Navy aviators rescue trio of missing hikers near Pagat Caves on Guam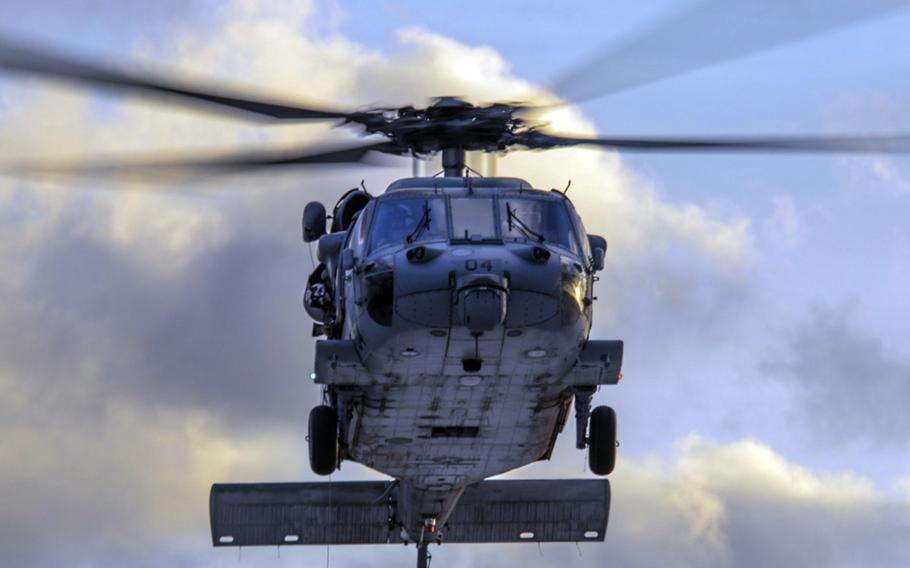 A Navy helicopter on Guam helped save three lost hikers over the weekend near the Pagat Caves on the island's eastern shore.
The hikers were reported missing late Saturday and a ground search was launched the following day by Guam Fire Department, according to a Navy statement issued Monday. The men were found at noon Sunday but were unable to hike out of the area due to severe dehydration and heat stroke.
The Coast Guard contacted the Guam-based Helicopter Sea Combat Squadron 25 — known as the Island Knights — at 4:50 p.m. and requested assistance.
The rescue helicopter was on the scene less than two hours later, the statement said. A crew member was lowered 70 feet, through trees, to extract the men.
The helicopter arrived at Naval Hospital Guam with the hikers at approximately 7:20 p.m., the statement said. The incident marked the 14th search-and-rescue operation by the sea combat squadron in the past year, with 18 lives saved.
"The crew came in ready to [go]," pilot Lt. Pierre Ramos said in the statement. "Everyone had their responsibilities, played their part, and we executed the mission like we're trained to do."
news@stripes.com Twitter: @starsandstripes