Navy aviators on Guam log their 15th rescue this year with save of hiker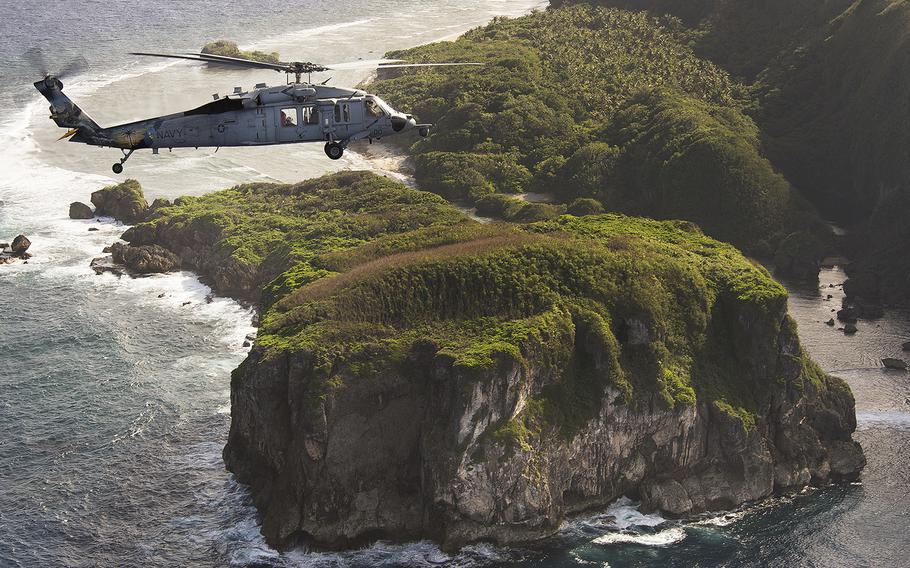 The Island Knights lived up to their nickname once again, pulling a stranded hiker from a popular hiking trail on Guam for the second time in just over a month.
Helicopter Sea Combat Squadron 25 sent an MHS-60 Knighthawk to lift the hiker from Pagat Caves on July 8, according to a news release from Andersen Air Force Base. It was the 15th save for the squadron this year.
Around noon that day, Guam Fire and Rescue found the hiker, who was reported missing that morning, according to the release. U.S. Coast Guard Sector Guam contacted the sea combat squadron, which dispatched the chopper less than an hour later.
Once overhead, two aircrewmen, one a corpsman, were lowered about 70 feet through the trees; they retrieved the hiker, who was taken to U.S. Naval Hospital Guam, the release states.
Andersen provided no details on the hiker's condition.
"Getting the aircraft good to go and launched within an hour from the call says something about the way we do business," Lt. Cmdr. Wagler, the helicopter pilot, said in the release. "Our maintenance department had that bird ready to go with no delays. Our fast response time allowed us to arrive to the hiker's location, get him out of the jungle and to the hospital. This couldn't have been done without the team we have."
The Navy squadron alone has the search-and-rescue mission on Guam, said Lt. j.g. William Zell in an email Monday to Stars and Stripes. The Coast Guard has no helicopters on Guam and the Guam Army National Guard UH-72 Lakota helicopters are not on alert for search-and-rescue duty, he said. Guam Fire and Rescue and the Coast Guard will respond with small boats to stranded boats and swimmers in distress, he said.
On June 14, a crew lifted three hikers suffering dehydration and heat stroke from the same area. The squadron, based at Andersen, this year alone has rescued 19 people, according to the release.
The trail to Pagat Caves is just 1.7 miles roundtrip on Guam's eastern coast, according to the AllTrails.com website. But it can be a challenging hike thanks to a steep climb, sharp rocks and sometimes hot, humid weather, according to reviews on TripAdvisor.com.