Navy, allied forces conduct four-nation exercise Pacific Vanguard near Guam
by
Christian Lopez
September 14, 2020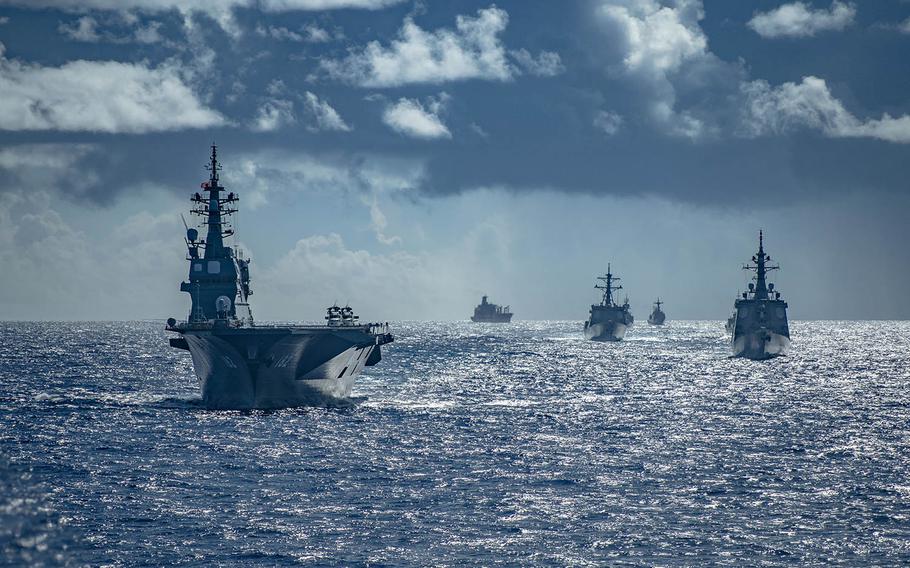 Warships of four nations assembled in waters off the coast of Guam on Saturday for another round of exercises on the heels of Rim of the Pacific drills, according to the U.S. Navy.
Pacific Vanguard involves naval forces from the United States, Japan, South Korea and Australia that steamed together to Guam after the scaled-down multinational RIMPAC exercise that concluded Aug. 31.
RIMPAC, conducted in waters near Hawaii, is considered the world's largest naval exercise but the coronavirus pandemic trimmed the number of navies involved this year to 10.
The eight-ship, one-submarine flotilla that transited the Pacific from Hawaii to Guam used that opportunity to train together, too, according to a previous Navy statement.
The same eight ships are taking part in the third iteration of Pacific Vanguard, along with more than 1,500 sailors, one unnamed submarine and a patrol aircraft, according to a Navy statement Saturday. The service did not say when the exercise would end, but last year's Pacific Vanguard lasted 11 days.
During the exercise, the four navies will work together on live-fire, surface warfare, combined maneuver, anti-submarine warfare and replenishment-at-sea drills, according to the Navy.
"Participation in Pacific Vanguard provides realistic, relevant training that fosters each nation's abilities to plan, communicate and conduct complex maritime operations together, at sea," the Navy quoted Cmdr. Christopher A. Gahl, commander of the guided-missile destroyer USS Barry, as saying. "The United States, along with allies and partners, is committed to preserving stability and freedom of access to the global commons."
The U.S. strategy to offset China's goals in the western Pacific includes building "stronger alliances and partnerships" that allow "interoperability," a frequently employed U.S. military term describing the ability of one country's armed forces to use another country's training methods and military equipment.
The U.S. military works with partner nations in the Indo-Pacific region like Japan, South Korea and Australia to multiply their collective military strength and "deter and deny" aggression by China, according to the "United States Strategic Approach to the People's Republic of China," a 16-page statement released by the White House in June.
The Barry, a P-8 Poseidon patrol aircraft from Patrol Squadron 1, fleet replenishment oiler USNS John Ericsson and the submarine are taking part in the exercise for the United States.
Also taking part are the Japanese Maritime Self-Defense Force destroyers JS Ashigara and JS Ise; the Australian navy frigates HMAS Arunta and HMAS Stuart; and South Korean destroyers ROKS Chungmugong Yi Sun-sin and ROKS Seoae Ryu Seong-ryong.
Meanwhile, in nearby waters off Guam, nearly 11,000 service members from all U.S. military branches on Monday kicked off Exercise Valiant Shield.
The aircraft carrier USS Ronald Reagan, amphibious assault ship USS America, amphibious transport dock USS New Orleans, dock landing ship USS Germantown and about 100 aircraft are participating in that exercise, according to the Navy statement.
Valiant Shield is expected to end on Sept. 25.
lopez.christian@stripes.com Twitter: @CLopez_Stripes
---
---
---