N. Korean leader says he's 'not a person to launch nuclear weapons' at US
---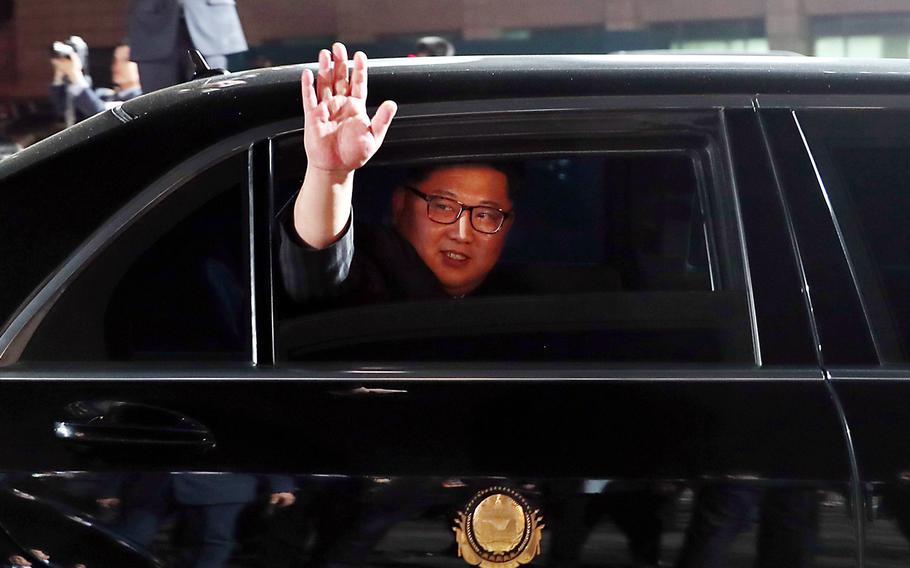 SEOUL, South Korea — North Korea's leader promised to invite international observers to monitor the shuttering of his country's nuclear testing facility next month and expressed optimism about his upcoming meeting with President Donald Trump, a spokesman said Sunday.
The comments offered a new glimpse into Friday's historic summit between Kim Jong Un and South Korean President Moon Jae-in.
In a dramatic reversal of past threats, Kim said he hoped for frequent meetings and trust-building measures with the United States, Moon's spokesman Yoon Young-chan told reporters.
"Once we start talking, the United States will know that I am not a person to launch nuclear weapons at South Korea, the Pacific or the United States," Yoon quoted Kim as saying.
"If we maintain frequent meetings and build trust with the United States and receive promises for an end to the war and a non-aggression treaty, then why would we need to live in difficulty by keeping our nuclear weapons?" he said.
The North Korean leader also said jokingly during the summit that he would no longer interrupt Moon's sleep with missile tests, apparently referring to the fact that most of the launches occurred around dawn.
"President Moon, I heard you didn't sleep very well because you had to take part in a National Security Council meeting, and you have habitually been waking up very early," he was quoted as saying last week. "I will make sure I won't interrupt your morning sleep anymore."
Following a day of historic handshakes and smiles, the two leaders signed a declaration promising to work toward the "complete denuclearization" of the divided peninsula and to try to forge a permanent peace by the end of the year to replace the armistice that ended the 1950-53 Korean War.
Both leaders acknowledged agreements in past decades had failed and promised not to let that happen again.
The final summit statement made no reference to verification or timetables for the North to dismantle its nuclear weapons program but was seen as setting the stage for Trump to try to close the deal.
"The summit certainly gets an 'A' on optics, but it's too soon to tell whether anything substantive will come of all the pomp and pageantry," Lindsey Ford, a former Asia security specialist at the Defense Department, said in an email.
The inter-Korean summit puts pressure on Trump to reach an agreement, but the president should resist the "likely temptation to angle for a big deal right up front," said Ford, a fellow with the Asia Society Policy Institute.
"The goal should be for the president to walk away with a commitment from North Korea to put in place a serious negotiation process to work toward denuclearization," she said. "That's the point when the hard work will really begin."
No date or venue has been set for the meeting, but Trump has said possible locations have been narrowed to two or three countries and it will be held "in the next three or four weeks."
North Korea announced earlier this month that it was freezing nuclear and intercontinental ballistic missile tests and that it plans to close its underground northern nuclear testing facility.
Experts played down the significance, noting the North could resume tests at any time and did not mention short- to mid-range missile tests.
Reports have also suggested the mountainous nuclear test site at Punggye-ri has already been rendered unusable after six underground detonations since 2006, the most recent and powerful in September.
Kim said the facility will be closed in May and "offered to invite South Korean and U.S. experts and journalists" to witness the event," Yoon said.
The North Korean leader also denied that he would be clearing out only damaged facilities, saying that the site includes two more tunnels that are bigger than the others and in good condition, according to Yoon.
While denuclearization details remain to be hammered out, the two Koreas made clear progress toward improving bilateral relations after nearly seven decades of animosity.
Kim even offered to move his country's clocks forward by half an hour to unify time zones with the South, Yoon said.
The diplomatic gains have been welcomed by the international community after months of heightened tensions as Trump and Kim traded personal insults and threats of military action.
North Korea also demonstrated strong progress toward its stated goal of developing a nuclear weapon that could target the U.S. mainland with a steady drumbeat of missile tests, including three ICBMs.
Kim declared his nation had completed its nuclear force after the most recent launch in late November.
"Kim is obviously in a more confident place than he's been thus far in his rule," Ford said. "His ability to declare success in building a strong nuclear deterrent bolsters his legitimacy and credibility at home, while also giving him the confidence to pivot to a more conciliatory stance internationally."
The North is also believed to be suffering from the effects of biting international economic sanctions after Trump's administration tightened the noose and pressured its main benefactor China to do more to implement the measures.
gamel.kim@stripes.com Twitter: @kimgamel
---
---
---
---