N. Korean defectors, advocates urge US, S. Korea to keep human rights on agenda
By
Yoo Kyong Chang Kim Gamel
April 26, 2018
---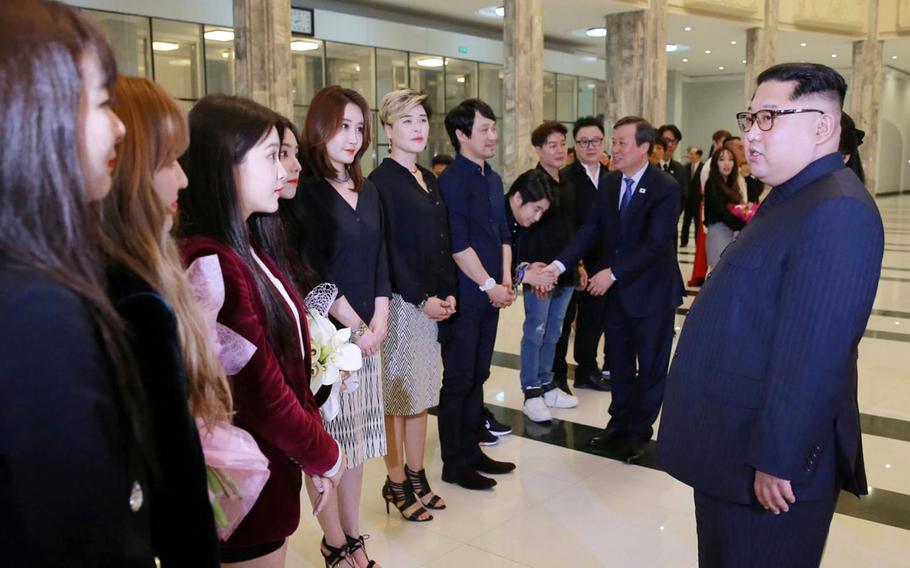 SEOUL, South Korea — Living in North Korea, Kim Seong-min risked his life to secretly listen to banned South Korean music and news before defecting to the enemy state.
So imagine his surprise at the sight of the North's leader, Kim Jong Un, in the audience clapping along to songs by Red Velvet and other K-pop stars during a recent concert in Pyongyang.
"The regime killed North Koreans deemed anti-socialists after finding them listening to South Korean music," he said in a telephone interview. "By the way Kim attended the concert so he is anti-socialist and should be tried in the people's court."
North Korea is considered one of the most repressive countries in the world with a regime that uses public executions, arbitrary detention and tight restrictions on personal liberties to maintain firm control over the population of 25 million.
Rights groups say Kim Jong Un — the third leader in a family dynasty that has ruled the country since it was founded 70 years ago — has cracked down even more as he moved to consolidate power after his father died of a heart attack in 2011.
Now many are worried that South Korea and the United States will sacrifice concerns about human rights abuses to keep the North at the table amid a diplomatic surge aimed at easing tensions and ridding the communist state of its nuclear weapons.
"The world has already forgotten about human rights … since North Korea is said to have expressed its will to denuclearize," said Kim Seong-min, a former military monitor who escaped from the North in 1997 and went on to found the Free North Korea Radio station to broadcast critical information into the isolated country.
Human Rights Watch and other organizations have called on South Korea to raise the issue during President Moon Jae-in's summit with Kim Jong Un on Friday, which is expected to set the tone for a subsequent meeting between Kim and President Donald Trump.
The United Nations' independent expert on human rights in North Korea also warned that ignoring the issue would undermine a nuclear deal, not help it.
"A denuclearization deal will remain fragile if it sidelines the rights and needs of the [North Korean] population," Tomas Ojea Quintana said Wednesday in a statement. "[North Korea] has proven to be a tough negotiator, and not even mentioning human rights at this very first stage of negotiations would be a misstep and a lost opportunity."
The U.S. and rights groups have found evidence of massive human-rights violations, including gulag-like penal camps believed to be housing as many as 130,000 political prisoners.
Quintana suggested starting with less controversial issues such as calling for reunions of family members separated by the war, the release of detained foreigners or addressing the "detrimental impact" of international sanctions on the North Korean population.
Kim Jong Un's appearance at the concert this month was part of what critics have dubbed a "charm offensive" that began with his agreement to participate in the Olympics and expanded rapidly to include the historic summits.
The peace initiatives have reversed the mood on the divided peninsula after months of threats and missile tests that generated the worst crisis on the divided peninsula in decades.
Trump also has toned down his rhetoric after mocking Kim as "little rocket man" and blasting the regime as a "cruel dictatorship" and "a hell that no person deserves."
He even invited a North Korean defector to his State of the Union address as his administration sought to highlight the regime's brutality.
Mixed messages
But the issue has largely disappeared from the debate ahead of the summits as negotiators try to pave the way for an agreement on denuclearization.
Trump called Kim Jong Un "very honorable" during a press conference Tuesday, although he didn't explain why he has changed his opinion.
U.S. and South Korean officials insist they're maintaining pressure on the North to reform its ways.
The U.S. blasted Pyongyang for its "egregious human rights violations" in its annual human-rights report on Friday.
"I don't think you'll see a diminishment in our concern about the issue even as we try to work the nuclear issue," said Michael Kozak of the State Department. "It's not a trade-off."
But he couldn't say whether Trump would press the issue during his summit with Kim, although the president has promised to push for the release of abducted Japanese and detained Americans.
Moon, a former human-rights attorney and the son of North Korean refugees, also is expected to avoid the topic during his meeting with Kim Friday in the heavily fortified border region.
Underscoring the sensitivities involved, the North slammed Seoul for welcoming a routine March 23 U.N. resolution that condemned "systematic, widespread and gross human rights violations" that "in many instances constitute crimes against humanity."
The state-run Korean Central News Agency warned that raising the issue could jeopardize future dialogue, calling it "an open political provocation."
South Korea should understand that "slandering" the North's human-rights situation "at the present time when everything is at the beginning will be tantamount to an act of throwing a stone to the thin, ice-like North-South relations," KCNA said.
Foreign Minister Kang Kyung-wha acknowledged that the issue was not likely to be on the table when Moon and Kim meet, although she insisted that Seoul maintains a "firm stance" against what she called the "dire human rights situation" in the North.
"In order to enhance dialogue, the topics that both sides have agreed upon will be discussed," she told reporters last month. "So to include it in the agenda of South-North dialogue, I think the government will need more preparation."
Proponents of putting the issue on hold argue that focusing on human rights now could derail a nuclear deal and reforms would be better served with increased engagement between the two countries.
Moon Chung-in, a senior presidential aide, also has been quoted as stressing the need to focus on denuclearization efforts.
"If you put human rights and democracy issues together with the nuclear issues, then North Korea will regard this as a hostile act by the United States and they will never make concessions on the nuclear issue," the adviser said recently.
Sokeel Park, the South Korea country director for the refugee aid organization Liberty in North Korea, is optimistic that North Korean society is starting to push for reforms from within but said the issue still needs to be raised.
He said a failure to do so would feed into the North Korean argument that their rivals use human-rights concerns as a political tool.
"I would hope that the South Korean government could find creative ways to raise these kind of issues with the North Korean government and show there needs to be progress in social and people issues not just military," he said. "For it to be credible it needs to be consistent, not just when it's convenient."
gamel.kim@stripes.com Twitter: @kimgamel
---
---
---
---