Analysis
N. Korean criticism raises concerns that scaled-back military drills have reaped little payoff
by
Kim Gamel
April 25, 2019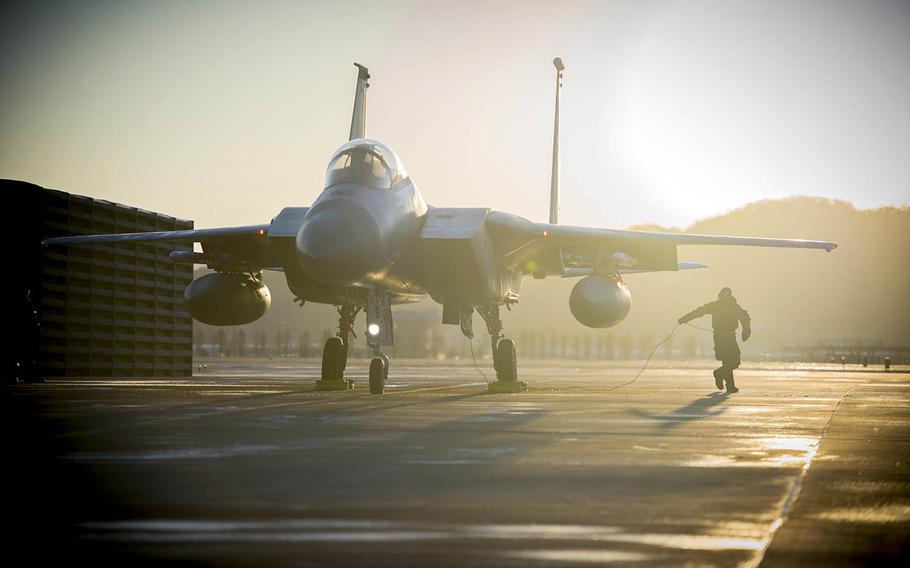 SEOUL, South Korea — The U.S. and South Korea have canceled some annual military exercises and changed the names of others. Commanders no longer publicly profess their resolve to confront the growing nuclear threat from the North.
The allies have drastically altered the way they train to avoid provoking the communist state since President Donald Trump announced plans to suspend "the war games" after his first summit with Kim Jong Un on June 12 in Singapore.
North Korea's response?
"They can never conceal the aggressive, offensive and confrontational nature of their hostile acts no matter how hard they may try to give impression about 'reduction in scope' by replacing the codename," the state-run Korean Central News Agency said Thursday.
"There will be corresponding response to it from our army," it added, quoting an unnamed spokesman for the North's Committee for the Peaceful Reunification of the Country.
North Korea's persistent criticism of joint military drills — Kim also lashed out at them in a policy speech earlier this month — underlines concerns that the military changes made to facilitate diplomatic efforts to persuade the North to abandon its nuclear weapons may have harmed readiness with little payoff.
"When the decision was made after the June 2018 Singapore Summit to postpone major combined US and South Korean military exercises in order to give time for diplomacy to work, it made some sense," said retired Army Lt. Gen. Thomas Spoehr, a defense analyst with the Heritage Foundation.
"Now, nearly a year later, especially in the absence of any tangible denuclearization progress, the rationale for continuing to cancel exercises is much weaker," Spoehr said in an email.
Constant CriticismTrump's decision to curtail military exercises was widely seen as a unilateral concession to the North, which considers them a rehearsal for an invasion, although the president also has said his goal is to save money.
"Also, reducing tensions with North Korea at this time is a good thing!" he tweeted after his second summit with Kim ended without an agreement in late February in Hanoi, Vietnam.
North Korea, however, has continued to lash out at the drills at all levels.
"They've been aiming for a complete and indefinite end to those exercises, which is why they keep taking issue with them despite the allies' recent good faith measure," said Duyeon Kim, a Seoul-based expert on Korean affairs with the Center for a New American Security.
The KCNA report on Thursday was a response to scaled-back Air Force drills that South Korean military officials said replaced the major exercise previously known as Max Thunder.
The U.S. Air Force said airmen, soldiers and sailors were joining South Korean and Australian forces "in a combined flying training event" from April 22 to May 2 to enhance "interoperability and tactical skills."
"It is part of the (South Korean)-U.S. Alliance's routine, annual training program to maintain military readiness," Lt. Col. Brandon Lingle, a spokesman for the 7th Air Force at Osan Air Base, said in a statement.
The fact that the allies also announced they had concluded Key Resolve/Foal Eagle but replaced it with a smaller-scale exercise called "Dongmaeng," which means "Alliance," also was not lost on the North Koreans. They accused Seoul of violating a bilateral agreement aimed at easing military tensions.
"The acts of perfidy on the part of the south Korean authorities have greatly disappointed us," KCNA said Thursday.
A former South Korean army officer noted the North has long employed bellicose rhetoric in referring to the military exercises.
"I think it's too early to tell whether this is just a part of their normal rhetoric," retired Lt. Gen. In-Bum Chun said in a telephone interview.
"It's very disappointing, but we need to wait and see how serious the accusations will be towards the overall peace process."
Maintaining readinessThe allies have worked hard to balance the need to remove the most provocative aspects of the exercises, including the deployment of supersonic bombers, warships and other strategic assets, while successfully maintaining basic readiness, he said.
"I hope they stop their propaganda offensive and trying to lay the blame on the alliance, especially the military alliance, for what's happening," Chun said. "We're doing our part in making sure that we're flexible and supporting the peace process and yet they're literally saying 'lay down your arms,' which is ridiculous."
Gen. Robert Abrams, the commander of some 28,500 U.S. forces stationed in South Korea, testified during a congressional hearing in late March that the militaries had adjusted and conducted more than 82 combined field training exercises since he took command in November.
"We met all our training objectives," he told lawmakers. "The biggest difference is we just don't talk about it publicly."
New norm?North Korea, meanwhile, has not changed its posture and conducted its regular training this winter, Abrams said. In addition to nuclear weapons, the communist state has more than 1 million soldiers and thousands of artillery batteries and rockets poised near the heavily fortified border that divides the peninsula.
"US Forces Korea and the South Korean military have done the best they can to adjust combined exercises so that they do not rise to the level of a 'major' exercise," Spoehr said. "Having said that, the ability for higher level staffs to work and plan together has been impacted, as has the ability of U.S. based forces to flow to Korea."
Navy Lt. Cmdr. James Giles, writing for the Stimson Center, a Washington, D.C.-based think tank, argued that decades of joint exercises had failed to prevent the North from developing nuclear weapons or conduct past provocations.
Military effectiveness can be maintained with focused events involving smaller and deployable units, he said, adding that resources should be refocused on the growing great power competition with Russia and China.
"Given these realities, there are other innovative and less provocative ways to maintain adequate military preparedness and readiness under the current political constraints," he wrote in an April 3 article on the 38 North website.
"Utilizing exercises limited in scope, which would not compromise US national security priorities on the Korean Peninsula or the integrity of its alliance with South Korea, should be the new norm," he said.
Stars and Stripes reporter Matt Keeler contributed to this report.
gamel.kim@stripes.com Twitter: @kimgamel