N. Korea warns it's ready for war; USFK commander won't attend congressional hearings
by
Kim Gamel
April 11, 2017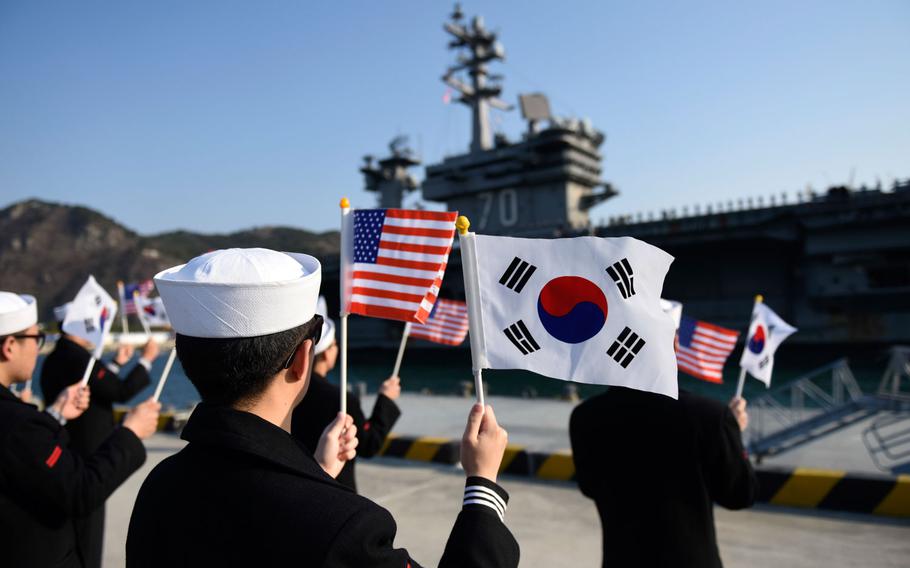 SEOUL, South Korea — The top U.S. commander in South Korea canceled plans to attend congressional hearings on Capitol Hill later this month, a spokesman said Tuesday, citing rising tensions over North Korea's nuclear-weapons program.
The announcement came as North Korea said it was ready for war, warning of "catastrophic consequences" as a nuclear-powered U.S. aircraft carrier moved toward the divided peninsula.
Gen. Vincent Brooks, who leads U.S. forces in South Korea as well as the Combined Forces Command, will not attend the Armed Service Committee hearings in person due to the security situation, a statement said. Instead he will provide a written statement.
"All decisions regarding the schedules of [U.S. Forces Korea] leadership are based on our alliance priority to maintain readiness at all times," spokesman Col. Robert Manning said.
The North was reacting to the weekend announcement that the USS Carl Vinson and its accompanying fleet would return to the waters surrounding South Korea instead of heading for planned port visits in Australia.
It will be the San Diego-based aircraft carrier's second visit to those waters in less than a month, which is a highly unusual fast turnaround.
North Korea's state-run news agency said the decision proves its long-standing claims that Washington is planning an invasion and reiterated that such actions justify its nuclear-weapons program.
"If the U.S. dares opt for a military action, crying out for 'preemptive attack' and 'removal of the headquarters,' [North Korea] is ready to react to any mode of war desired by the U.S.," the Korean Central News Agency said.
"We never beg for peace but we will take the toughest counteraction against the provocateurs in order to defend ourselves by powerful force of arms and keep to the road chosen by ourselves," it added, quoting an unnamed foreign ministry spokesman. "We will hold the U.S. wholly accountable for the catastrophic consequences to be entailed by its outrageous actions."
North Korea is known for using exaggerated and belligerent rhetoric. But the communist state has upped the ante by conducting two nuclear tests and test-firing nearly 30 missiles since last year.
Many of the missile tests were considered failures, but experts have said Pyongyang is showing clear progress toward its stated goal of developing a nuclear-tipped missile that could target the U.S. mainland.
President Donald Trump's administration also has hinted it will take a tougher line against North Korea, and last week's missile strike against the Syrian regime signaled that Trump isn't afraid to take unilateral military action when he deems it necessary.
U.S. national security adviser Lt. Gen. H.R. McMaster told Fox News on Sunday told Fox News on Sunday that Trump has ordered him to prepare "a full range of options" for dealing with the growing threat from the North.
The U.S. maintains some 28,500 servicemembers in South Korea, which remains technically at war with the North after the 1950-53 conflict ended in an armistice instead of a peace treaty.
The situation is complicated by the fact that South Korea is in the midst of a political crisis after the impeachment and arrest of conservative ex-President Park Geun-hye. That forced early elections set for May 9, which could usher in a liberal government that favors a return to talks with Pyongyang.
The USFK spokesman stressed that Brooks' decision not attend the Washington hearings was not unprecedented, saying Gen. James Thurman did not attend hearings in 2013 because of his responsibility to maintain readiness on the peninsula.
The hearings are an important annual event at which USFK commanders appear before lawmakers to report on the situation on the peninsula, including military trends in North Korea and allied countermeasures.
The Carl Vinson strike group, which includes the destroyers USS Wayne E. Meyer and USS Michael Murphy, was in the waters off the peninsula last month to participate in annual war games with South Korea. It made a port call to the southern city of Busan on March 15.
Pyongyang sees the joint military exercises as a rehearsal for an invasion, although Washington and Seoul insist they are defensive in nature. Acting President Hwang Kyo-ahn called for calm and urged the military to tighten its security posture on Tuesday. He warned that North Korea may conduct "provocations" in connection with high-profile events being celebrated in the communist state this month.
"Tensions between major powers have flared up following the U.S. military's action over the use of chemical weapons in Syria, and uncertainties over the global economy and trade have increased with weakening international cooperation over free trade," he said during a Cabinet meeting.
"At times like this, the government and all citizens have to face the current situation with a cool head and thoroughly cope with them," he added.
North Korea convened a meeting of its Supreme People's Assembly on Tuesday, according to South Korea's Yonhap news agency. The legislative body is constitutionally the highest organ of state power but largely rubber stamps decisions made by the ruling Workers' Party.
Pyongyang also will celebrate the 105th birthday of Kim Il Sung, its late founder and the current leader's grandfather, on April 15, and the anniversary of the founding of its army on April 25.
Stars and Stripes reporter Yoo Kyong Chang contributed to this report.
gamel.kim@stripes.com Twitter: @kimgamel