N. Korea says no new nuclear talks unless US changes its position
by
Kim Gamel
May 24, 2019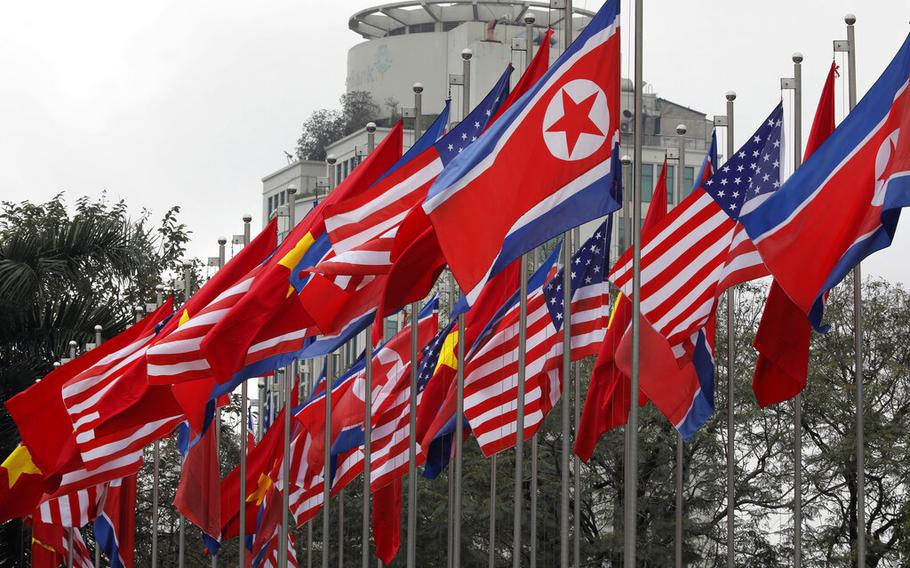 SEOUL, South Korea — North Korea warned on Friday that it will not resume nuclear talks unless the United States changes its position, the latest sign of growing frustration over the Trump administration's refusal to ease sanctions against the communist state.
The statement appeared on the state-run Korean Central News Agency on the eve of President Donald Trump's planned visit to Japan.
North Korea accused the United States of deliberately derailing the second summit between Trump and leader Kim Jong Un in late February in Vietnam by making impossible demands such as unilateral disarmament.
KCNA noted the North had suspended nuclear and long-range missile tests and returned the remains of American soldiers killed during the 1950-53 Korean War.
"However, the United States did not respond to our goodwill measures in the same manner, but deliberately pushed the talks to a rupture by merely claiming the unilateral disarmament," of North Korea, an unnamed foreign ministry spokesperson was quoted as saying.
The spokesperson said the United States could not "move us even an inch" with its current approach, and "the further its mistrust and hostile acts towards (North Korea) grow, the fiercer our reaction will be."
"Unless the United States … comes forward with a new method of calculation, the (North Korean)-U.S. dialogue will never be resumed and by extension, the prospect for resolving the nuclear issue will be much gloomy," KCNA added. "The U.S. would be well advised to wake up to reality and learn anew how to have dialogue and negotiation."
North Korea has stepped up its angry rhetoric against the United States since the Hanoi summit ended early without an agreement. However, it has avoided directly criticizing Trump, who insists he maintains a good relationship with Kim.
The communist state also has expressed anger over the seizure of one of its cargo ships, which the U.S. Justice Department claims was used to export coal in violation of American and international sanctions.
When asked about the criticism on Thursday, the State Department spokeswoman said the United States acts in accordance with international laws.
Morgan Ortagus also defended diplomatic efforts to persuade the North to abandon its nuclear weapons.
"We continue to say that talks and discussions are ongoing, and we think that this is, of course, one of the most important national security issues that we will face and that we will deal with," Ortagus told reporters in Washington.
She reiterated that the president has said recent developments were disappointing.
"But we remain very open and we hope that Kim Jong Un and his government will see the path towards a brighter future that we have offered," she added. "Saying that, sanctions remain in place and they will remain in place."
gamel.kim@stripes.com Twitter: @kimgamel