ANALYSIS
N. Korea raises stakes, threatens to cancel Trump-Kim summit
by
Kim Gamel gamel.kim@stripes.com
May 16, 2018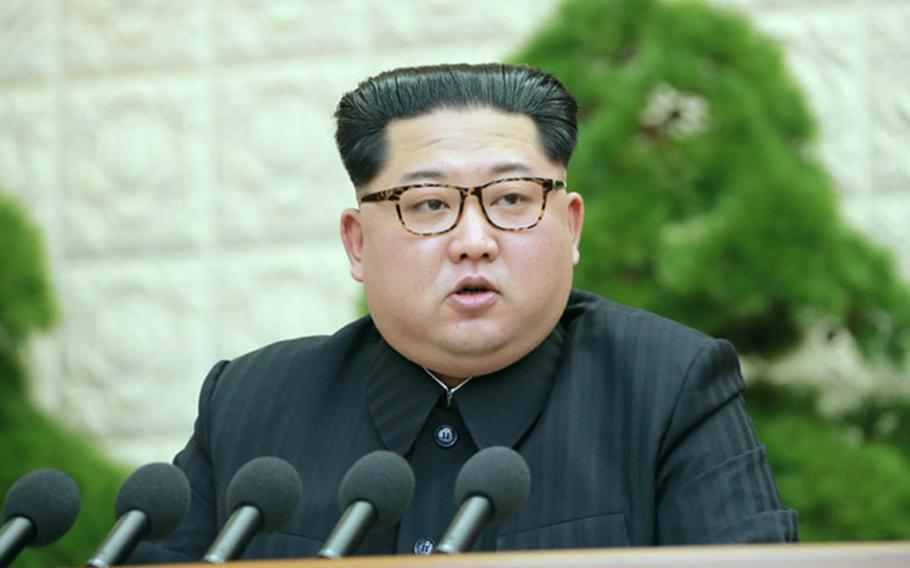 SEOUL, South Korea — After months of surprising outreach to former enemies, North Korea threatened to scrap its upcoming summit with the United States and renewed criticism of U.S.-South Korean war games.
The state-run Korean Central News Agency quoted senior foreign ministry official Kim Kye Gwan Wednesday as saying that the North will "have to reconsider" the summit if the Trump administration "corners us and tries to unilaterally force us to give up nuclear weapons."
The warning came hours after the North canceled a high-level meeting with Seoul to protest annual U.S.-South Korean Air Force drills known as Max Thunder.
The harsh rhetoric cast a shadow over recent diplomatic gains and dealt a new challenge to the U.S. less than a month before President Donald Trump plans to meet with North Korean leader Kim Jong Un in Singapore. It would the first-ever summit between the rival nations.
White House spokeswoman Sarah Huckabee Sanders said Wednesday that the Trump administration is "still hopeful" that the summit will take place.
Sanders said threats from the North to scrap the meeting were "something that we fully expected." Trump is "ready for very tough negotiations," she added.
Analysts said the reclusive communist state is probably not planning to follow through with its threat to pull out of the summit but rather may be seeking leverage to raise the price during its upcoming talks with Trump.
Trump's administration has insisted its main objective is the complete and verifiable dismantling of Pyongyang's nuclear weapons program, while the North has said it wants a phased approach with an eye toward lifting punishing economic sanctions.
"We're seeing a variation on a very old and very familiar game here by the North Koreans," said Evans Revere, a former State Department official who has been involved in past negotiations with Pyongyang.
"We should not be surprised at this. Part of it involves testing the seriousness of the United States."
"They're also trying to change the subject … by focusing on the exercises," he said in a telephone interview. "The North Koreans want to ensure that Washington knows that denuclearization as the United States defines it is unlikely to happen."
The North usually objects to the annual joint war games, which it considers rehearsals for an invasion, but it had been largely silent on the issue this year as the sides sought to ease tensions that had spiked over its effort to develop a nuclear weapon that could target the U.S. mainland. Exercises continue
KCNA singled out Max Thunder in a pre-dawn statement as the South Koreans learned the North was canceling plans to meet in the heavily fortified border area to hash out details for implementing agreements reached by Kim and South Korean President Moon Jae-in at their summit.
It warned Washington "to think twice about the fate of the [North Korean]-U.S. summit" before conducting "a provocative military racket against [the North] in league with the south Korean authorities."
Washington and Seoul agreed to postpone recent springtime drills known as Foal Eagle/Key Resolve until after the Feb. 9-25 Olympics to facilitate the start of talks with the North.
They resumed the exercises after the Winter Games, but the State Department said that Kim had indicated the North understood that would happen because the drills had been long planned.
State Department spokeswoman Heather Nauert said Washington had not heard anything directly from Pyongyang or Seoul that would change that. "We will continue to go ahead and plan the meeting between President Trump and Kim Jong Un," she said.
The Pentagon, meanwhile, insisted the exercises are defensive in nature.
Gen. Vincent Brooks, commander of U.S. Forces Korea, met with South Korean Defense Minister Song Young-moo Wednesday to discuss the way forward.
The two allies agreed to press ahead with the two-week Max Thunder exercise, which began Friday and involves about 100 aircraft, including F-22 fighter jets.
"There are no differences between the South and the U.S.," the ministry said in a statement. "The exercise is designed to enhance the capabilities of pilots and is not the implementation of an operational plan or an attack maneuver."
USFK spokesman Col. Chad Carroll said supersonic U.S. bombers would not be deployed as part of the exercise, but he denied reports that was in response to North Korea's comments, saying the decision was made some time ago. New challenge
Kim Kye Gwan, who was also a former North Korean nuclear negotiator, said separately that the North has made clear its intent to achieve a nuclear-free Korean Peninsula and reiterated demands for security assurances for the regime from Washington.
He also criticized recent comments by National Security Adviser John Bolton who said the so-called "Libyan model" of nuclear disarmament could apply to North Korea with the goal of complete, verifiable and irreversible dismantlement.
"We will respond appropriately to the Trump administration if it approaches the North Korea-U.S. summit with an honest intent to improve relations," Kim said in a statement on KCNA. "But we are no longer interest in negotiations that will be all about cornering us and making a unilateral demand for us to give up our nukes."
Libya is a sensitive subject for the North Koreans. Kim Jong Un took power after his father died of a heart attack in 2011, just weeks after former Libyan leader Moammar Gadhafi was killed by rebel forces after being ousted from power.
The uprising against him was supported by NATO airstrikes despite his agreement years earlier to dismantle his nuclear program in exchange for sanctions relief.
North Korea has a track record of raising tensions, then agreeing to talks only to see the efforts falter over broken promises and mistrust.
"The prudent course of action is neither to rush to make concessions or to further inflame the situation with a hard-line response," said Lindsey Ford, a former Asia security specialist at the Defense Department.
"The fact that North Korea and the United States don't have the same vision of denuclearization should be surprising to absolutely no one. But it also doesn't mean a more realistic deal should be off the table and can't be had," she said in an email.
"With quiet negotiation and some willingness to compromise, there may be a way to creatively thread the needle in defining 'de-nuclearization' that meets objectives for both sides," she added.
South Korea's Unification Ministry said it received a fax after midnight from the North advising that it was canceling the meeting, which had been intended to hash out details for implementing agreements reached during the April 27 summit between Kim Jong Un and South Korean President Moon Jae-in.
Spokesman Baik Tae-hyun called the decision "regrettable" and "inconsistent with the fundamental spirit and purpose of the Panmunjom declaration," as the summit agreement is known.
Trump and Moon also plan to meet Tuesday in Washington to discuss talks with the North.
Revere, now a nonresident senior fellow at the Washington-based Brookings Institution, noted that North Korea has suspended nuclear and intercontinental ballistic missile tests and has begun to dismantle its main nuclear test site.
"The message from the North Koreans is we are prepared to carve off pieces of our nuclear weapons program … in return for significant steps that the United States would take, particularly in the area of sanctions relief," he said.
Stars and Stripes reporter Yoo Kyong Chang and The Associated Press contributed to this report.
gamel.kim@stripes.com Twitter: @kimgamel