N. Korea prepares to hold military parade on eve of Olympics
by
Kim Gamel
January 25, 2018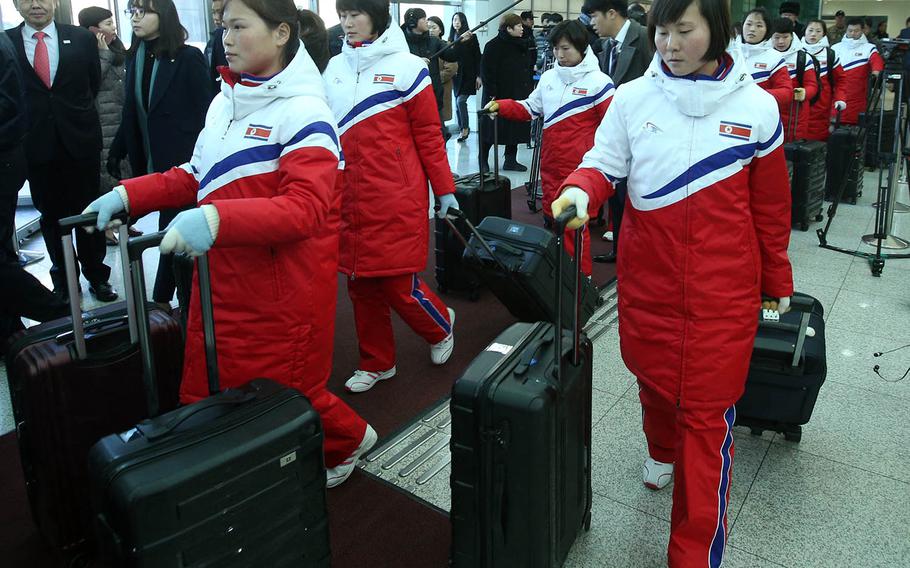 SEOUL, South Korea — North Korea is preparing for a massive military parade that may put new missiles on display on the eve of the Olympics, according to satellite images.
The North raised the possibility Tuesday when it announced that it's changing the date of a national holiday honoring its army to Feb. 8, the day before the Winter Games begin in South Korea.
A parade putting columns of goose-stepping soldiers, tanks and new missiles on display would threaten to renew tensions that had ebbed after North Korea agreed during negotiations with the South to participate in the Olympics.
The two Koreas will march together under a "unification" flag during the opening ceremony and will compete with a combined women's ice hockey team. The North Korean athletes arrived Thursday in South Korea.
The state-run Korean Central News Agency didn't mention a parade, but said the North would "significantly mark" the new Army Building Day, which previously had been celebrated on April 25. South Korea's Defense Ministry said the military was closely monitoring possible preparations for a parade.
Commercial satellite images monitored since November also show an increase in activity outside the Mirim parade training facility near the capital, Pyongyang, according to 38 North, a website that monitors activity in the reclusive communist state.
A large number of buses were parked in front of a hotel at the facility on Nov. 24, apparently for organizational meetings, said 38 North, which is run by the U.S.-Korea Institute at Johns Hopkins University.
On Jan. 10, troops were seen marching in formation on the roads while other units gathered in a replica of Kim Il Sung square, the main parade ground in Pyongyang that is named for North Korea's founding father, 38 North said.
Shelters for heavy equipment also had been erected, although the equipment did not appear to be present, it added.
"These military parades are of great interest to outsiders, as North Korea has frequently used them to showcase new military equipment and its latest weapons systems," defense expert Joseph Bermudez Jr. said in an analysis.
North Koreans in Pyongyang have been assembling daily in frigid temperatures to practice for an apparent mass rally and the area around Kim Il Sung square has been sporadically closed to traffic, The Associated Press reported.
North Korea last staged a parade on April 15 to mark the birthday of Kim Il Sung, the grandfather of current leader Kim Jong Un.
South Korea, a staunch U.S. ally, is hoping the North's participation will allow it to host a successful Olympics and lead to broader dialogue over its nuclear weapons program.
The United States, which maintains some 28,500 servicemembers on the divided peninsula, agreed to postpone annual war games with South Korea until after the event.
Kim stage for the sports diplomacy in his New Year's address, but he simultaneously announced that his country had completed its nuclear force, including missiles capable of reaching the U.S. mainland.
Experts say the North still has technical hurdles to overcome, including difficulties in developing a missile that could carry a heavy warhead and re-enter the atmosphere to hit its target.
But the communist state has made strong progress, having test-fired three intercontinental ballistic missiles and conducted its sixth and most powerful nuclear test last year.
The U.S., meanwhile, has vowed to maintain economic sanctions and diplomatic pressure aimed at isolating the regime in an effort to force it to abandon its nuclear program.
On Wednesday, President Donald Trump's administration slapped new sanctions on North Korean financial and business networks in China and Russia as well as five North Korean shipping companies and six of its vessels.
Former U.N. Secretary-General Ban Ki-moon said North Korea's participation in the Olympics opened "a very tiny window" to resume long-stalled denuclearization talks with Pyongyang.
The two Koreas agreed in their initial meeting this month to resume military talks focused on easing border tensions but no details have been announced.
"Without any talks to follow Pyeongchang, the crisis of last year will be repeated. Talks must be started," Ban was quoted as saying by Yonhap News Agency. "If it does not take place as agreed, another bout of problems or North Korea's miscalculation or defiant provocations could follow."
gamel.kim@stripes.com Twitter: @kimgamel