video
N. Korea hands over 55 cases of remains thought to be US war dead
by
Marcus Fichtl
July 27, 2018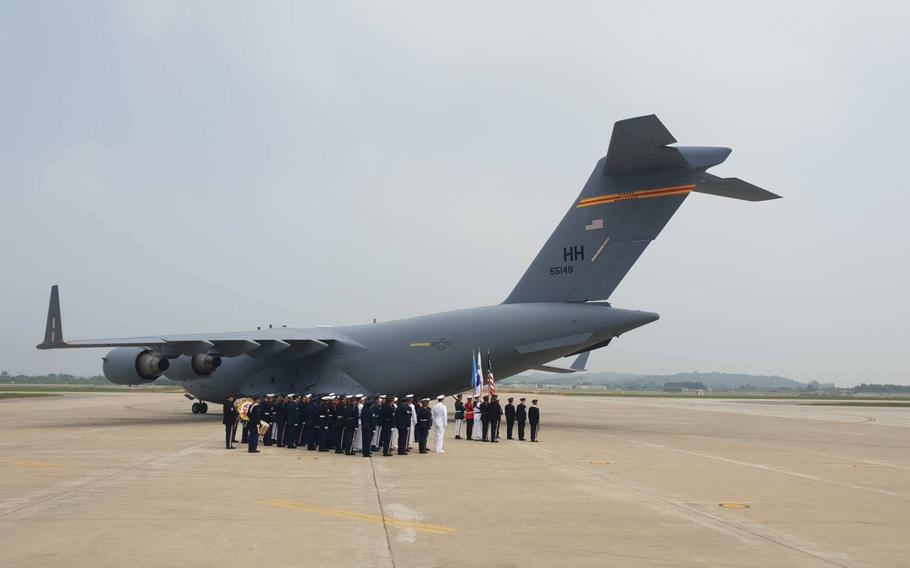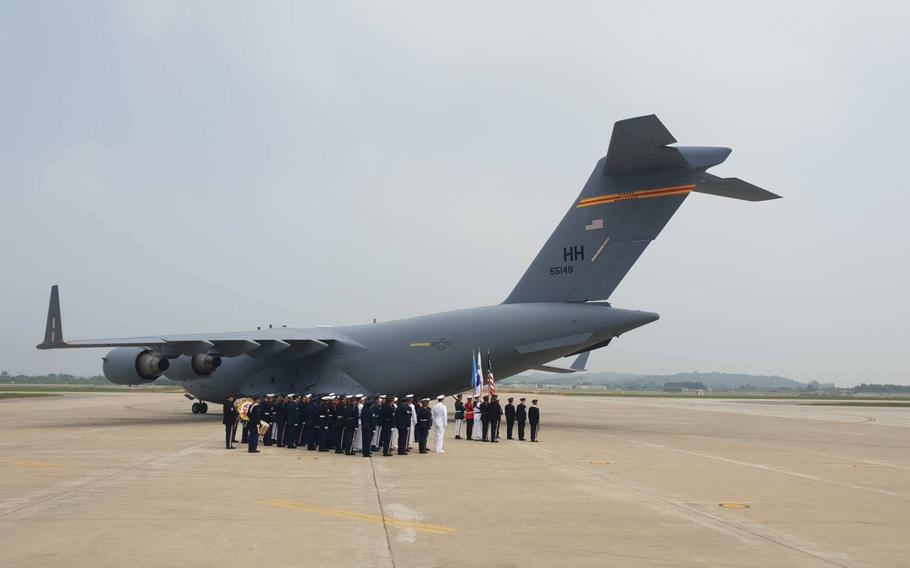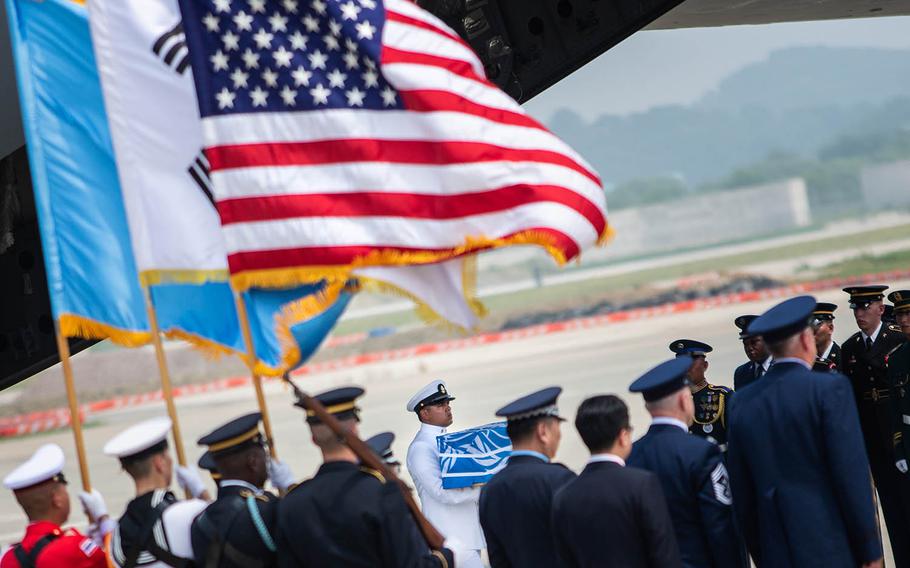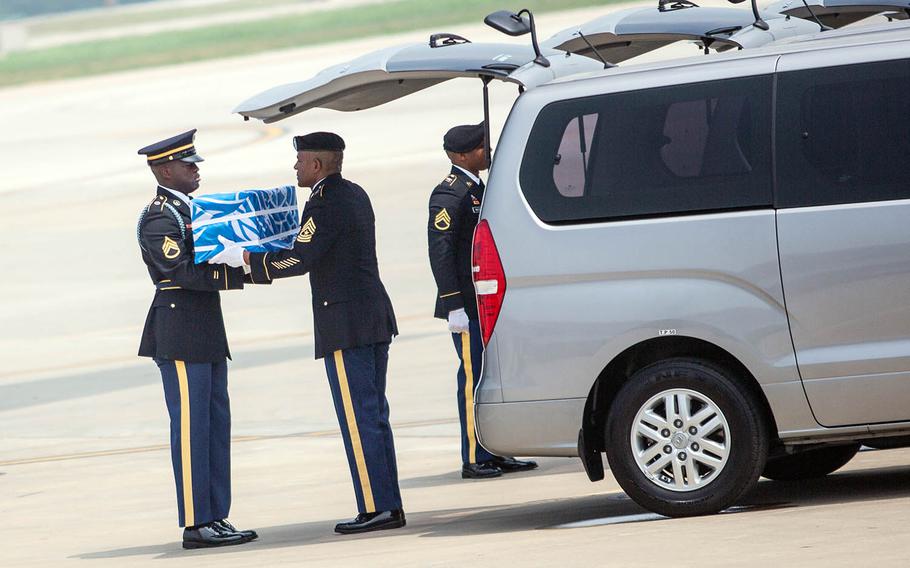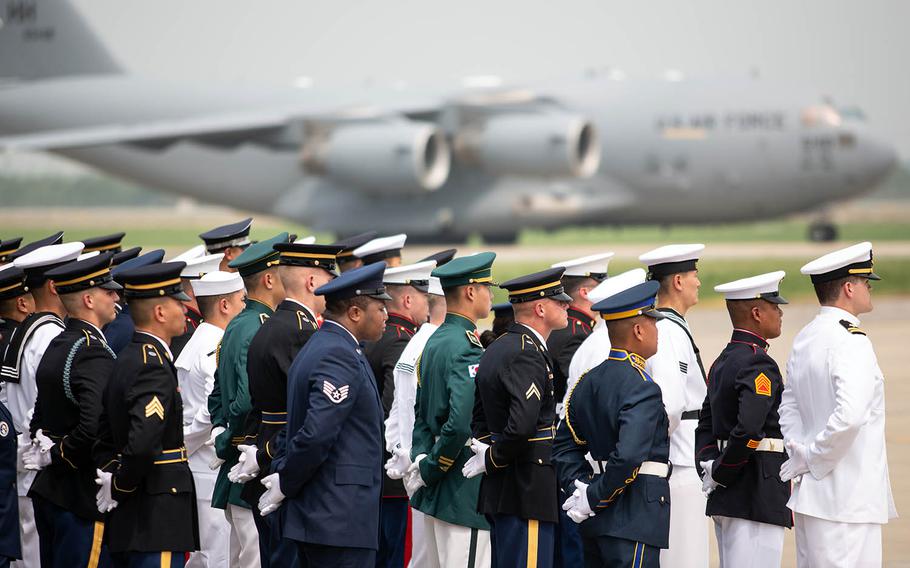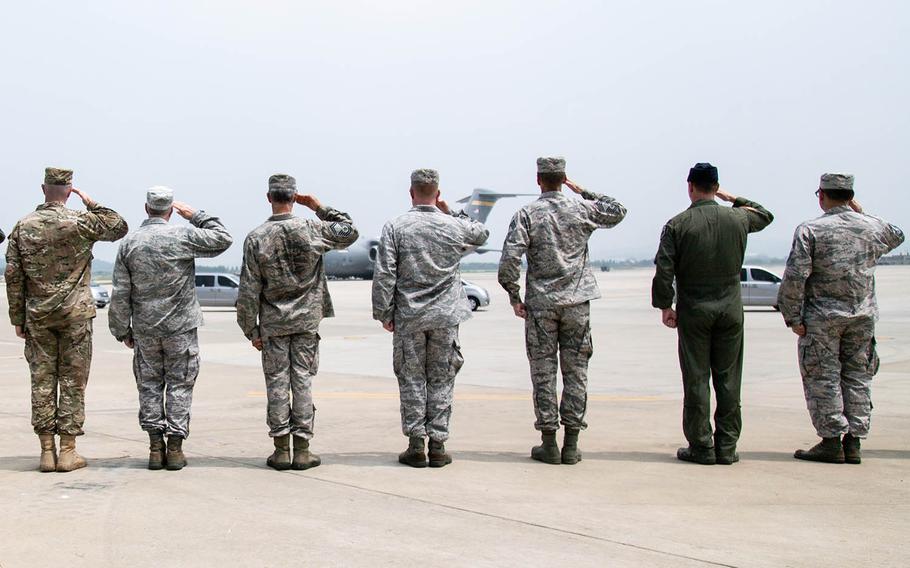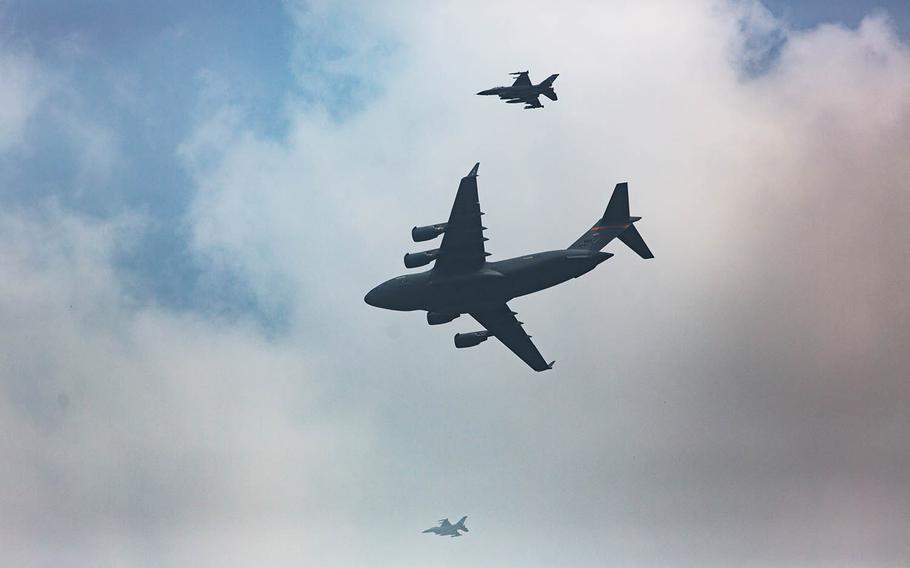 OSAN AIR BASE, South Korea – Fifty-five cases of remains thought to belong to U.S. servicemembers were flown out of North Korea Friday – one of the first tangible results of last month's historic summit between Washington and Pyongyang.
"The Remains of American Servicemen will soon be leaving North Korea and heading to the United States!," President Donald Trump tweeted late Thursday. "After so many years, this will be a great moment for so many families. Thank you to Kim Jong Un."
American and allied troops were on hand to greet an Air Force C-17 Globemaster as it landed with the remains at Osan – the largest U.S. air base in the South – under fighter-jet escort at 11 a.m.
The Remains of American Servicemen will soon be leaving North Korea and heading to the United States! After so many years, this will be a great moment for so many families. Thank you to Kim Jong Un.
— Donald J. Trump (@realDonaldTrump) July 27, 2018The transport plane picked up the remains earlier that morning from Wonson, North Korea. It was accompanied by servicemembers from United Nations Command and technical experts from the Defense POW/MIA Accounting Agency.
"It was a successful mission following extensive coordination," U.N. Command and U.S. Forces Korea commander General Vincent Brooks said in a statement.
About 30 minutes after the aircraft touched down at Osan, the 55 remains-filled cases – draped in blue U.N. flags – began loading into silver vans by a multinational U.N. honor guard. Thousands were on hand to watch, including troops from the U.S., South Korea, United Kingdom, Thailand and the Philippines. All saluted as the remains passed by.
"Now, we will prepare to honor our fallen before they continue on their journey home," said Brooks, who will host a ceremony for the fallen troops on Wednesday, according to the U.N. Command statement.
Staff Sgt. Jamil Green, the honor guard's platoon sergeant, carried the last set of remains off the plane.
"It's an overwhelming moment. It's an honor to bring the remains home," he said, adding that the case he carried weighed about 15 pounds.
It was an especially poignant moment for Green, who had family members fight in the Korean War that have since passed away.
"I know they would have wished to have been here and seen this today," he said.
Another honor guard member, Filipino Staff Sgt. Glecerio Perono Jr., 39, of Iloilo, Philippines, called bringing back the remains alongside his American platoonmates a "historic" moment.
"It's important to remember we all fought together 65 years ago," said Perono, who hopes some of the cases hold Filipino remains.
A corridor of servicemembers provided a path for the remains to follow into the interior of Osan and the Transport Management Office, where they will be stored until Wednesday's departure ceremony, after which the remains will be flown to Hawaii for further processing by the Defense POW/MIA Accounting Agency.
The White House on Thursday called the transfer "a significant step to recommence the repatriation of remains from North Korea and to resume field operations in North Korea to search for the estimated 5,300 Americans who have not yet returned home."
"At their historic meeting in Singapore, President Donald J. Trump and Chairman Kim Jong Un took a bold first step to achieve the complete denuclearization of the Korean Peninsula, transform relations between the United States and North Korea, and establish enduring peace," a White House statement said. "Today, the Chairman is fulfilling part of the commitment he made to the President to return our fallen American service members. We are encouraged by North Korea's actions and the momentum for positive change."
The repatriation sets off a lengthy series of forensic examinations and tests to determine if the remains are human, and whether they are actually American or allied troops killed in the conflict.
About 7,700 U.S. troops are listed as missing from the Korean War, and 5,300 of the remains are believed to still be in North Korea. The war killed millions, including 36,000 American soldiers.
Information from The Associated Press was used in this report.
fichtl.marcus@stripes.com Twitter: @MarcusFichtl
---
---
---