N. Korea fires missile into the sea on eve of US-China summit
by
Kim Gamel
April 4, 2017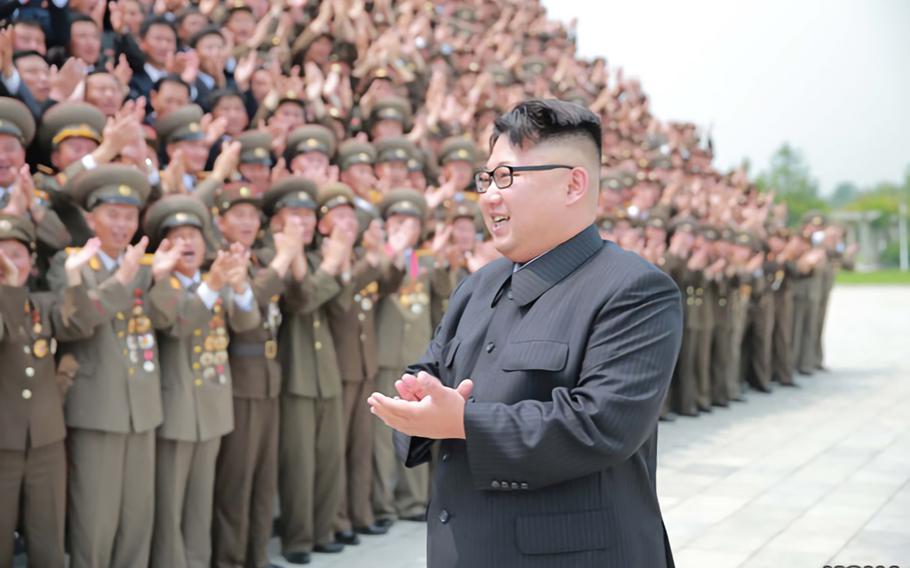 SEOUL, South Korea — North Korea raised the stakes by firing a medium-range ballistic missile into the sea off its east coast on Wednesday, the eve of a much-anticipated U.S.-China summit.
The missile, which was launched from a port city known for its submarines, flew for nine minutes before splashing into the sea about 40 miles away, U.S. and South Korean officials said.
The U.S. Pacific Command said initial assessments indicated it was a KN-15 medium-range missile. But a senior U.S. defense official said later that it was an extended-range Scud missile, which suffered an in-flight failure.
The official, who spoke on condition of anonymity, said the updated information was based on U.S. imagery and assessments, according to The Associated Press.
It was North Korea's fourth attempted missile launch this year as the communist state persists with its banned nuclear weapons programs, despite international condemnation and punishing economic sanctions.
The test sent a defiant signal ahead of a two-day summit between President Donald Trump and his Chinese counterpart Xi Jinping due to begin Thursday in Florida.
South Korea's foreign ministry called it "a threat to the peace and stability of the Korean peninsula and the whole world." Japanese Prime Minister Shinzo Abe said it was a "grave provocation."
U.S. Secretary of State Rex Tillerson — who previously said all options including military action are on the table for dealing with the North — issued a brief statement that contained none of the usual condemnation or other diplomatic language.
"North Korea launched yet another intermediate range ballistic missile. The United States has spoken enough about North Korea. We have no further comment," he said in a statement posted on the State Department's website.
Trump is expected to press China to do more to use its influence as Pyongyang's only major ally to curb the smaller state's nuclear ambitions.
Beijing has shown increasing impatience with its communist protégé but has pressed for a softer approach amid fears a regime collapse in Pyongyang would have a destabilizing effect.
Analysts said Wednesday's missile test was a show of force aimed at showing North Korea's leadership won't be ignored.
"It's a message to both of them, and the message is that 'look, we're gonna do what we're gonna do,'" said Michael Madden, an expert on North Korea's leadership. "The United States needs to change its strategic calculation."
U.S. Pacific Command said it had detected and tracked the launch of a single ballistic missile at a land-based facility near the east-coast city of Sinpo.
"The missile was tracked until it landed in the Sea of Japan," the command said in the statement suggesting it was a KN-15.
Pacific Command said it was committed to working with its South Korean and Japanese allies to maintain security.
South Korea's Joint Chiefs of Staff said the missile was fired at a high angle, reached an altitude of 117 miles and flew nearly 40 miles.
Sinpo is home to a shipyard where North Korea is developing submarines. But the JCS said the missile was fired ashore.
In addition to the symbolic value, experts pointed out the North also has practical reasons for carrying out the tests. Even though many efforts have failed, Pyongyang has shown increasing progress in its goal to develop a nuclear-tipped missile that could target the U.S. mainland.
The launch of a KN-15, which was first publicly tested by the North in February, would be an especially worrisome development. The medium-range missile uses solid fuel that already has been loaded, which could boost its mobility, shorten the time needed to prepare for the launch and make it harder to detect.
"That program represents an important increase in the operational capability of North Korea's missile force," Jeffrey Lewis, of the Middlebury Institute of International Studies at Monterey, Calif., said before the Pentagon update.
Scud missiles are propelled by a liquid-fuel engine, which limits their mobility, and they have a shorter range.
North Korea also fired four ballistic missiles, three of which landed near Japan's coast. The U.S. and South Korean militaries also said they had detected a failed North Korean ballistic missile launch on March 22.
The military has been on alert as North Korea watchers have anticipated a provocation this month because of several high-profile events, including the Trump-Xi summit. The North will celebrate the birthday of its late founder and the current leader's grandfather, Kim Il Sung, on April 15 as well as the anniversary of the army's creation on April 25.
Satellite imagery monitored by the 38 North website has shown the communist state may be preparing for a sixth underground atomic test, although the site noted Pyongyang knows it's being watched and the activity could be a ploy.
Madden also pointed out that North Korea is angry over joint U.S.-South Korean war games that are taking place through the end of this month.
"This might've been just the beginning," he said. "We could have a lot more fireworks in the next two weeks."
The Trump administration has yet to reveal details about its policy plans for North Korea, which has carried out some 30 missile tests and two underground nuclear tests since last year.
Trump said earlier this week that the U.S. is prepared to act alone if China doesn't take a tougher stand on North Korea.
"China has great influence over North Korea," he told the Financial Times in an interview. "And China will either decide to help us with North Korea, or they won't. And if they do that will be very good for China, and if they don't it won't be good for anyone."
Beijing has signed onto toughened U.N. Security Council sanctions against North Korea, but critics say it needs to do more to implement the measures. China fears a North Korean regime collapse would lead to a refugee crisis and may bring the U.S. military presence closer to its borders.
The U.S. maintains about 28,500 servicemembers in South Korea, which remains technically at war with the North after the 1950-53 conflict between the countries ended in an armistice instead of a peace treaty.
Stars and Stripes reporter Yoo Kyong Chang contributed to this report.
gamel.kim@stripes.com Twitter: @kimgamel
---
---
---