N. Korea breaks silence on diplomatic thaw, denies sanctions drove it to dialogue
---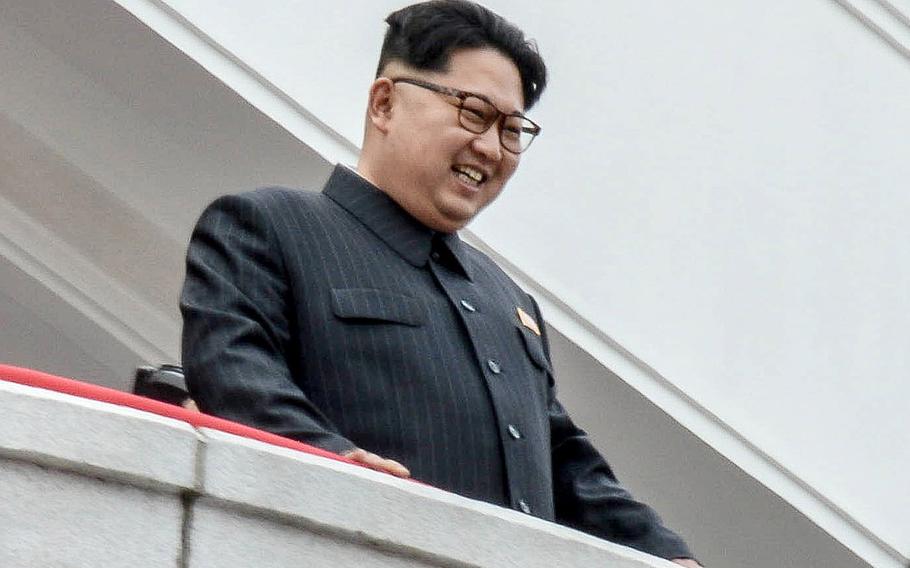 SEOUL, South Korea — North Korea broke its silence about the recent thaw in relations with the South and the U.S., denying that economic sanctions over its nuclear weapons program drove it to dialogue.
South Korean President Moon Jae-in, meanwhile, upped the stakes Wednesday by floating the possibility of a three-way summit involving the two Koreas and the United States.
The commentary posted Tuesday in the state-run Korean Central News Agency did not directly mention plans for back-to-back meetings already expected in coming weeks with Moon Jae-in and his U.S. counterpart President Donald Trump.
But it insisted the North had launched the "peace offensive" from a position of strength, not as a "result of sanctions and pressure," in its first official word about the flurry of diplomacy that followed its participation in the Winter Olympics last month.
"Thanks to the proactive measure and peace-loving proposal made by [North Korea], dramatic atmosphere for reconciliation has been created in relations between the north and the south of Korea and there has been a sign of change also in the [North Korean]-U.S. relations," KCNA said.
South Korean envoys met with North Korean leader Kim Jong Un earlier this month and said he had agreed to hold talks with Moon at the end of April and wanted to meet with Trump as soon as possible to discuss denuclearization. The U.S. president quickly accepted the offer and said a summit would take place by May.
But the fact that the invitation was made indirectly has raised skepticism over Kim's true intentions. Diplomats have been left scrambling to prepare for an unprecedented U.S.-North Korean summit without any confirmation about where and when it may be held.
Moon, who is due to meet with Kim in the border zone of Panmunjom in late April, appeared optimistic about the recent developments.
"Holding a U.S.-North Korea summit following an inter-Korean summit itself is a historical event," he said Wednesday, according to a transcript from his office. "And depending on the outcomes, they may lead to a trilateral summit of South Korea, North Korea and the United States."
"We need to completely resolve the nuclear and peace issues of the Korean Peninsula through these talks and other dialogue that follows," he added.
Underscoring continued tensions, KCNA slammed hard-liners in the U.S., South Korea and Japan for claiming the North's sudden turn toward dialogue was forced by punishing economic measures and diplomatic pressure that are starting to have an effect.
"Such rubbish as 'result of sanctions and pressure' and sort of 'limit' spread by the hostile forces is just as meaningless as a dog barking at the moon," it said.
"It is really an expression of small-mindedness for the riff-raffs to spoil the atmosphere and say this or that even before the parties concerned are given a chance to study the inner thoughts of the other side and are seated at a negotiating table," KCNA added. "We do like to remind that it is time for all to approach everything with prudence with self-control and patience."
Trump has insisted his "maximum pressure" campaign will continue until an agreement on denuclearization is reached.
Officials and experts have cited evidence that several rounds of tightened U.N. Security Council sanctions and other efforts to isolate the regime and deprive it of foreign currency needed for its weapons programs are increasingly having an effect.
Pyongyang's main economic lifeline, China, also has clamped down on its support, although U.S. officials say Beijing could be doing more.
Still the North has made strong advances after a series of missile and nuclear tests last year. Kim declared in his New Year's address that the country's nuclear force was completed, although experts say it's likely years away from achieving a missile that could hit the U.S. mainland.
The two Koreas are still technically at war after their 1950-53 conflict ended in an armistice instead of a peace treaty. About 28,500 U.S. servicemembers are based in the South.
Stars and Stripes reporter Yoo Kyong Chang contributed to this report.
gamel.kim@stripes.com Twitter: @kimgamel
---
---
---
---