N. Korea boasts "biggest-ever" nuke test; claims capability to put warhead on missile
---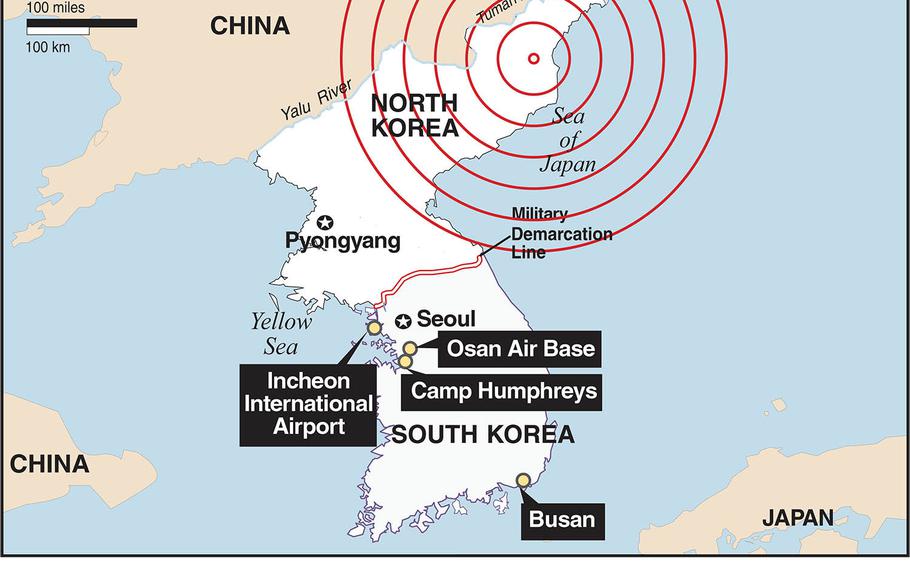 SEOUL, South Korea — North Korea announced its fifth and "biggest-ever" nuclear test Friday, claiming it can now make warheads small enough to put on a missile. The defiant move raises the stakes facing the U.S. and its allies trying to rein in the North after a rash of provocations.
President Barack Obama declared the United States "does not, and never will" accept North Korea as a nuclear state.
The blast, just eight months after the previous detonation set off the latest crisis on the divided peninsula, came as North Koreans celebrated the 68th anniversary of the founding of their communist state. It also follows the nearly simultaneous launch of three midrange ballistic missiles that splashed down off the coast of Japan on Monday as world leaders held the G-20 summit in nearby China.
North Korea said it "successfully" detonated a nuclear warhead to show it has the ability to mount them on "strategic ballistic rockets." It promised to "continue to strengthen our capacity to bolster nuclear force," according to the state-run Korean Central News Agency.
"By standardizing and normalizing the nuclear warhead, we will be able to produce as many smaller, lighter and more diversified nuclear warheads as we need," the North said. "This has definitely put on a higher level (the North's) technology of mounting nuclear warheads on ballistic rockets."
Economic sanctions and diplomatic pressure have so far failed to halt the North's provocations. Instead, the regime has stepped up the pace of missile tests in recent months as it pushes forward with its stated goal of developing a nuclear weapon capable of reaching the U.S. mainland.
Obama was briefed about the report on board Air Force One as he returned to Washington from a trip to Asia, according to The Associated Press.
In a statement following his return to Washington, Obama said he had consulted by phone with South Korean President Park Geun-hye and Japanese Prime Minister Shinzo Abe. Obama said the three leaders agreed to work with the U.N. Security Council and the international community to "take additional significant steps, including new sanctions, to demonstrate to North Korea that there are consequences to its unlawful and dangerous actions."
"I restated to President Park and Prime Minister Abe the unshakable U.S. commitment to take necessary steps to defend our allies in the region, including through our deployment of a Terminal High Altitude Area Defense (THAAD) battery to (South Korea) and the commitment to provide extended deterrence, guaranteed by the full spectrum of U.S. defense capabilities," Obama said.
The South Korean president said in a statement that the estimated 10-kiloton blast was proof of the North Korean leader's "fanatical recklessness."
Pentagon spokesman Capt. Jeff Davis said an Air Force WC-135, a plane equipped with sensors to detect radiation, would be collecting samples near the test site to determine what type of bomb was detonated – whether hydrogen or atomic – as well as the size of the detonation.
Davis said the test underscores the need to deploy a THAAD battery to South Korea, but did not say whether the deployment date would be brought forward. The system is supposed to be operational in South Korea by the end of 2017.
The North Koreans are trying to show the U.S. and South Korea that they are a serious threat in a bid to resume negotiations without the condition of denuclearization, said Shunji Hiraiwa, a professor of contemporary Korean Studies at Japan's Kwansei Gakuin University. Six-nation negotiations stalled in 2009.
"President Obama, who would not change his stance over the nuclear issues, is about to exit," he said. "North Korea is taking this opportunity to demonstrate their nuclear capabilities with an eye to the next government. They are preparing to bring the next U.S. administration to the negotiation table by showing off their nuclear capabilities."
The U.S. presidential candidates have called for different approaches.
Republican nominee Donald Trump has said he would hold talks with the North Korean regime and rely more on Pyongyang's traditional ally China to do more to contain the problem.
Democratic nominee Hillary Clinton, who helped craft Obama's policies as his first secretary of state, has called for toughening sanctions even further.
Monitors detected what South Korea's military said was a magnitude-5 earthquake near North Korea's Punggye-ri nuclear site at 9:30 a.m. The U.S. Geological Survey put the magnitude at 5.3 and called it an "explosion." This is the first time Pyongyang conducted two nuclear tests in the same year after single blasts in 2006, 2009 and 2013.
A graph from the Incorporated Research Institute for Seismology showed more intense seismic activity than the last nuclear test generated in January, when a magnitude-4.8 earthquake was reported. A South Korean military official said officials detected a 10-kiloton explosive yield. By comparison, the atomic bomb the United States dropped on the Japanese city of Hiroshima in 1945 was 15 kilotons.
"We estimate the North has carried out the biggest-ever test," the official said, speaking on condition of anonymity according to department policy.
The situation has intensified as the North condemned annual U.S.-South Korean war games held last month and unprecedented U.S. sanctions against Kim Jong Un, the third leader in the family dynasty that has ruled the country since it was established in 1948.
North Korea also has staged nearly two dozen ballistic missile tests despite a new round of toughened U.N. sanctions that were imposed after the January test, which was followed by a long-range rocket launch the next month.
Park, who was in Laos for the Association of Southeast Asian Nations summit, said Friday's test was a violation of U.N. Security Council resolutions.
The "provocation" would lead to stronger sanctions against North Korea, deepen its isolation and "hasten its self-destruction," the South Korean president said in a statement.
The U.N. Security Council already had strongly condemned the triple missile launch, and Obama vowed to tighten sanctions further. Friday's nuclear test was likely to increase pressure to take stronger action as the North repeatedly defies efforts to get it to stop its nuclear and missile programs.
China's Foreign Ministry also expressed "firm opposition to the nuclear test," according to the official Xinhua news agency. Any move to impose new international sanctions would require the approval of China, the North's only ally.
Analysts had reported what appeared to be preparations for another test at the site in the country's northeast. Pyongyang also often links tests to major events; the January blast came two days before Kim's birthday.
Kim had threatened to conduct another nuclear test and repeatedly has claimed his country has the capacity to carry out pre-emptive strikes, although he insists it is for self-defense.
The two Koreas remain technically at war after the 1950-53 conflict ended with an armistice instead of a peace treaty. Some 28,500 U.S. servicemembers are stationed in the South.
Stars and Stripes staffers Yoo Kyong Chang and Chiyomi Sumida contributed to this report.
gamel.kim@stripes.com Twitter: @kimgamel
---
---
---
---