More US military bases in Japan gear up to give flu vaccinations
by
Erica Earl
October 1, 2020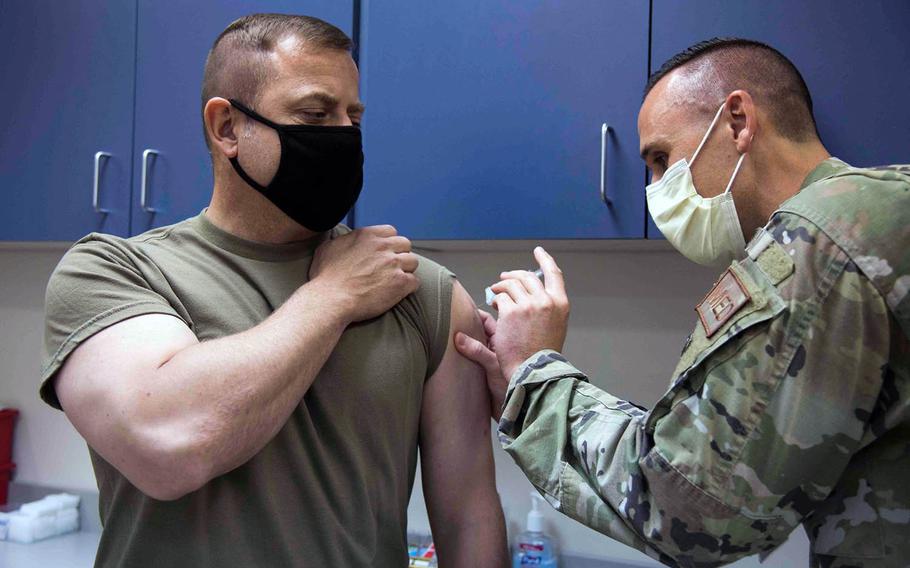 TOKYO — Yokosuka Naval Base, home of the U.S. 7th Fleet in Japan, will soon have flu shots available for infants and toddlers in families affiliated with installation.
Children between the ages of 6 months and 35 months may receive the vaccinations from Oct. 13 through Oct. 16 at the naval hospital auditorium from 8 a.m. to noon and 1 p.m. to 4 p.m., according to a schedule posted Thursday to the base Facebook page.
Yokosuka has yet to announce the arrival of flu vaccines for adults.
Misawa Air Base, in northern Japan, also has flu vaccine, according to a Facebook post Wednesday, although the base medical center has not yet announced when it will be available or if the shots are exclusively for adults or include children, as well.
"Be on the lookout for updates on your unit times and dates to get yours!" the post states.
A photo accompanying the post shows base commander Col. Jesse Friedel and Chief Master Sgt. Joey Meininger getting their flu shots on Wednesday.
U.S. Army Garrison Japan outside central Tokyo has announced dates for flu shots for service members, family members and Defense Department civilians, and nearby Yokota Air Base has announced its vaccination schedule for infants and toddlers.
Military medical authorities stress the importance of a flu vaccination during the coronavirus pandemic as one way to reduce a demand for health care at U.S. bases during the winter.
This year, the vaccines will target four viral strains: H1N1, H3N2, Victoria lineage and Yamagata lineage, according to the Centers for Disease Control and Prevention website.
September and October are optimal months for flu vaccinations; however, they are useful anytime the flu is circulating, even as late as January and February, according to the CDC.
earl.erica@stripes.com Twitter: @ThisEarlGirl
---
---
---