More than 2,400 soldiers, family members 'in limbo' after Army halts moves from South Korea, Italy
---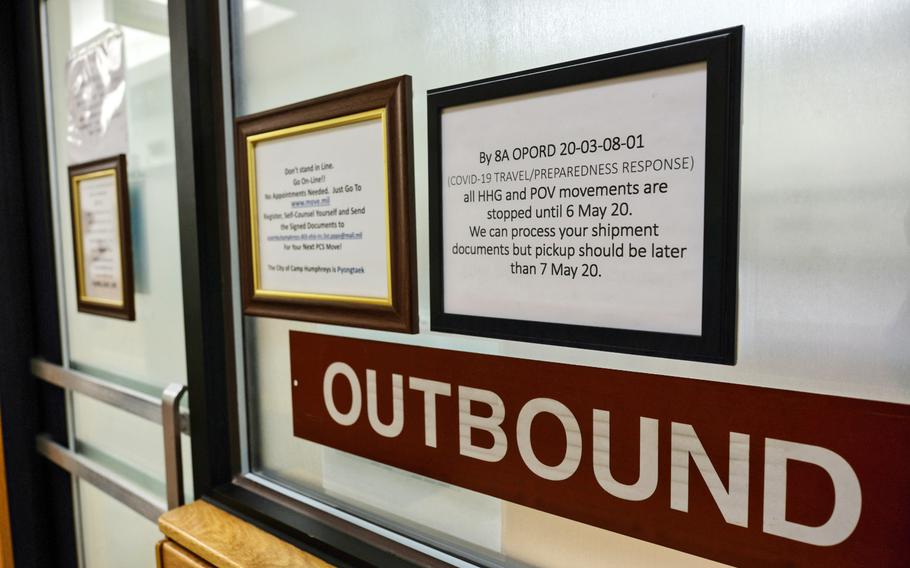 See more coronavirus coverage from Stars and Stripes.
SEOUL, South Korea — Maj. David Watkins and his wife, Irina, must be out of their apartment by next week and already have plane tickets to Fort Belvoir, Va., later this month.
But they're worried about more than inconveniences after the Army halted moves to new assignments from South Korea and Italy during the next two months to prevent the spread of the new coronavirus.
"My husband has PTSD and has been having suicidal thoughts, and at the end of February, we found out that he has a brain tumor as well," she said Tuesday. "It's been so scary and stressful for the past six months that I can't even think about the option of not being able to leave."
More than 2,400 soldiers and family members in South Korea alone will be affected by the order, officials told Stars and Stripes on Wednesday.
Caught off guardThe sudden decision, which was announced during the weekend and included Italy, sparked major confusion as military officials scrambled to work out the details.
"Frankly, it came as a bit of a surprise to all of us," USFK commander Gen. Robert Abrams said Wednesday during a question-and-answer session with the American Forces Network at Camp Humphreys.
The command has sent more than 100 requests for information to the Pentagon seeking clarification, he said, adding that he has asked for general officer-level waiver authority to approve exceptions.
South Korea-bound travelers were kicked off a military charter flight at the Seattle-Tacoma International Airport on Monday, with many told to go back to their former units.
Lt. Gen. Michael Bills, the Eighth Army commander in South Korea, tried to fix the situation by authorizing movement from Seattle-Tacoma to Osan Air Base because they were in transit, not initiating travel.
"If you're a soldier or an Army family member and you were told to get off the Patriot Express on Monday, March 9th, and you are still in the Seattle Tacoma area, we need you to return to the Seattle Tacoma Airport now," Bills said in a message posted Tuesday. "We are ready to receive you."
However, the largest impact was on soldiers and their loved ones who already had vacated homes, shipped household goods and sold cars in anticipation of moving.
Veterinary services on post offered Wednesday to extend paperwork for free for people who already had finished requisite vaccination and other time-sensitive procedures required to transport their pets.
"The current stop move will affect over 2,000 soldiers and nearly 400 family members slated to leave the Republic of Korea between now and May 6," Col. Robert Sketch, the Eighth Army's head of personnel management, said in an email.
"Eighth Army leadership is looking into ways to mitigate the stress and inconvenience experienced by those affected," he said.
U.S. Army Garrison Italy has said it had been expecting about 200 soldiers to change assignments, known as permanent change of station, or PCS, during that period.
The Army also barred travel for professional military education unless the course is for six months or longer, in which case participants will travel to the U.S. two weeks early to allow for quarantine.
USAG Italy had formed a task force to review the PCSes, starting with the most imminent and reviewing their status. Maj. Gen. Roger Cloutier, commander of Vicenza-headquartered U.S. Army Africa, will sign off on exceptions to policy when appropriate, officials said.
The uncertainty came as the military community in South Korea already was struggling to cope with COVID-19 as well as a looming April 1 furlough of local base workers over stalled cost-sharing talks, which is expected to cause service delays.
South Korea and Italy have suffered the largest outbreaks of the virus outside of China, where it first appeared in late December.
Coronavirus fearsIrina Watkins said she pulled her 3-year-old son out of day care nearly a month ago and largely has confined herself to the family's apartment near the Han River due to fears of the virus.
The family is stationed at Yongsan Garrison in Seoul, the former headquarters base that is in the process of closing because U.S. Forces Korea has shifted most staff south.
"There are no services available to help us, nor are there good housing options on base for a family of three," she said.
Her husband also has to commute frequently to the main military base, Camp Humphreys, 55 miles south of Seoul, for hospital visits.
Irina Watkins understands the need for caution against the pneumonia-like illness but believes the decision was made without planning for the consequences.
"This is not just families leaving Korea or Italy; this is impacting the entire movement of personnel and timelines," she said.
David Watkins, 40, an explosives ordnance disposal officer, is pressing forward with preparations in hopes he'll receive an exception, although they haven't received a definitive answer on that.
"My husband is trying to do the paperwork, the normal outprocessing, but he's getting mixed messages when he goes to get signatures," Irina Watkins said. "Being in this limbo has been the worst."
Brig. Gen. Mark Simerly, who leads the 19th Expeditionary Sustainment Command, said Tuesday that exceptions will be made on a case-by-case basis, citing medical needs and emergency or maternity leave as examples.
"We understand why the stop-movement was put in place," he said during an online forum at the Army garrison in the southeastern city of Daegu. "But at the same time, we want to manage the needs of each and every family."
Seeking answersThe military has struggled to balance the need to protect its forces from the deadly coronavirus with the need to maintain fighting capabilities.
U.S. Forces Korea, which commands some 28,500 service members, has restricted access to bases sharply, has implemented health checks at access gates and largely has barred troops and their families from outside activities.
Nine people affiliated with USFK have been infected, including a soldier and his wife.
The Pentagon has grown increasingly worried as the virus spreads in the U.S. as well.
Defense Secretary Mark Esper postponed a trip abroad "out of an abundance of caution" to lead the COVID-19 response, Pentagon spokeswoman Alyssa Farah tweeted Tuesday.
Military exercises, including a joint U.S.-South Korean computer-simulated drill, have been canceled or curtailed, and some Navy ships have implemented a two-week quarantine period between port visits.
Garrison officials have urged those affected to extend their leases where possible and promised to accommodate those who couldn't with housing in lodges and barracks.
Loaned furniture was available for families who already had shipped out their household goods. Expired credentials and leave allowances also were being extended to lessen the financial burden on service members and their families.
One of the biggest sources of confusion was whether the so-called stop-movement order applied to soldiers who were ending their service, a process known as ETS.
"We believe that people ETSing or retiring will be able to go back, but we're delaying them right now while we seek clarification," the Daegu garrison commander, Col. Edward Ballanco, said Tuesday during the online forum.
Nicole, 27, a soldier stationed at Camp Humphreys, was supposed to fly out on March 17 but now fears her departure might be delayed beyond May due to a backlog.
"I don't agree with the decision," she said, asking that her last name not be used because she suffers from mental health problems and fears negative ramifications over her comments.
"I think the basic commonsense prevention methods that have been recommended are enough as well as the two-week quarantine," she said. "I feel like I've pushed and fought as hard as I can just to get to this point and now I have to fight and wait even longer."
Nancy Montgomery contributed to this report. gamel.kim@stripes.com Twitter: @kimgamel
---
---
---
---