More Osprey aircraft will arrive in Japan in late July
by
Travis J. Tritten tritten.travis@stripes.com
June 28, 2013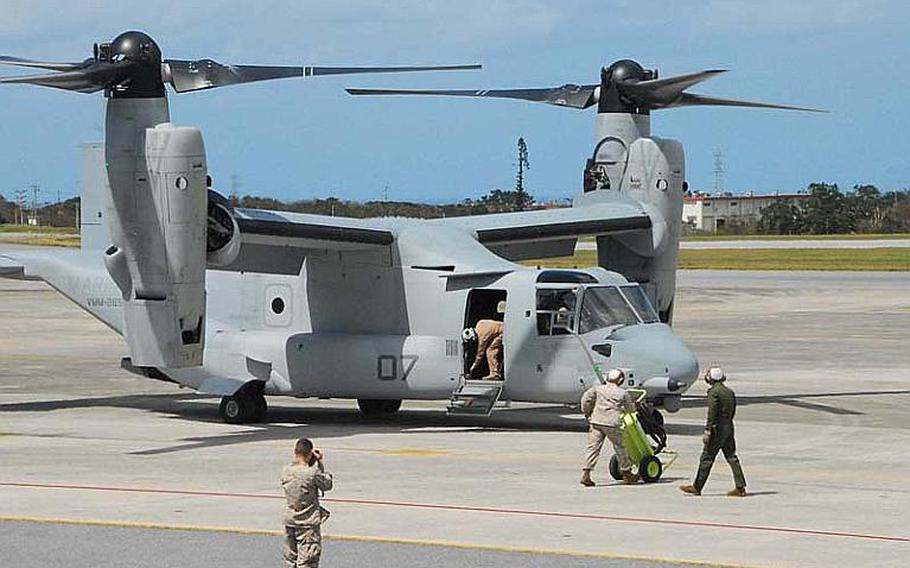 CAMP FOSTER, Okinawa — A second squadron of MV-22 Osprey aircraft will arrive in Japan in late July as part of a fleet upgrade in the region, the Marine Corps said Friday.
The 12 tilt-rotor hybrid aircraft will first be delivered to Marine Corps Air Station Iwakuni, near Hiroshima, before being permanently deployed to Okinawa, where another squadron arrived last fall, according to the service.
The Ospreys, which are replacing aging Marine Corps dual-rotor helicopters fleet-wide, can fly farther and carry more cargo. Defense Secretary Chuck Hagel said in April that the Japan deployment will increase U.S. military capabilities in the Pacific.
But the arrival of the first squadron to Okinawa last year sparked safety concerns and months of demonstrations due to deadly crashes during the aircraft's early development.
The new squadron will undergo systems checks at Iwakuni before going to Okinawa, said 1st Lt. Evan Almaas, a spokesman for the Marine Corps in Japan. The unit is Marine Medium Helicopter Squadron 262, the Flying Tigers.
The United States and Japan have yet to decide a specific date for their arrival at Marine Corps Air Station Futenma in south-central Okinawa, Almaas said.
The Japan Ministry of Defense said Friday that it had no information to release on the Osprey schedule.
The first squadron arrived at Futenma in October after months of testing on the mainland
It remains uncertain how Okinawans will react to the arrival of a second squadron of the MV-22s, which have become a symbol of the island opposition to the U.S. military presence.
Last year, protesters blocked the gates of the air station, threatening to close down the base, and vigils were held for months.
---
---
---
---