More Marine Ospreys arrive in Okinawa
By
Travis Tritten tritten.travis@stripes.com
August 3, 2013
---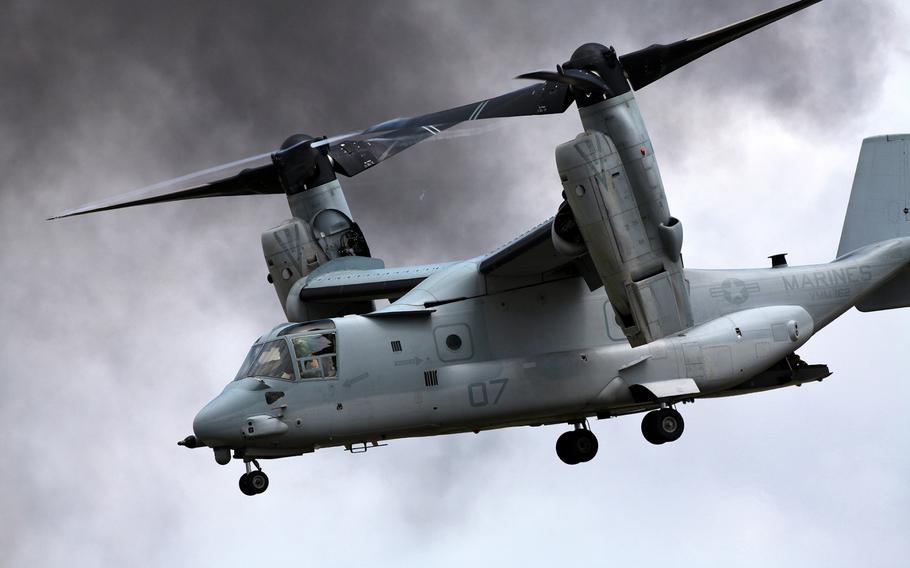 CAMP LESTER, Okinawa — A second squadron of Marine Corps Osprey aircraft began arriving Saturday for a permanent deployment at an air station on Okinawa, the service said.
Two of the MV-22s landed at Marine Corps Air Station Futenma by late afternoon following testing this week at a base on mainland Japan. The remaining 10 in Marine Medium Helicopter Squadron 262, the Flying Tigers, are scheduled to arrive over the next few days, a Marine spokesman on Okinawa said.
The arrival last year of the first Marine Osprey squadron at the Futenma air station sparked safety concerns across Japan and public opposition on Okinawa. The island government requested earlier this summer that Tokyo halt the second deployment of the hybrid tilt-rotor aircraft, which can operate as a fixed-wing airplane or a helicopter.
The deployment is part of a global effort to replace the service's Vietnam-era Sea Knight dual-rotor helicopters.
The United States military has touted the aircraft's superior capabilities compared to the dual-rotor helicopters it will eventually replace and said it remains a key tool in an overall strategic pivot to the Asia-Pacific region.
---
---
---
---