More-lethal littoral combat ships flex their muscles during Pacific deployments
by
Seth Robson
July 9, 2020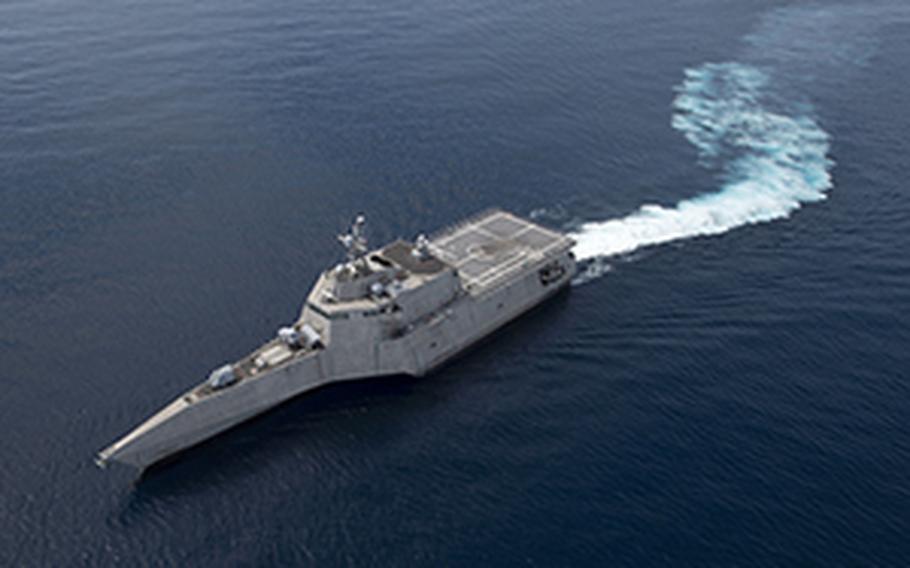 TOKYO — A stand-off this spring between China and Malaysia in the South China Sea was a chance for the U.S. Navy's littoral combat ships to prove their mettle.
The USS Gabrielle Giffords and the USS Montgomery helped stave off Chinese intimidation of a Malaysian-contracted drillship — the West Capella — during April and May in disputed waters near Borneo.
The high-tech vessels were part of U.S. efforts to maintain a monthlong presence near the drillship, which had been approached by a flotilla of Chinese coast guard and paramilitary vessels.
A few years ago, lightly armed and experimental littoral combat ships might not have been trusted for such a high-profile standoff.
"The story of this ship is one that makes me ashamed and embarrassed, as a former Navy person and as a person who's responsible to the taxpayers of my state," the late Arizona Sen. John McCain said of the vessels back in 2010.
The ships were criticized for their cost, lighter armament and lower survivability standard than some larger ships. The first LCS's — the USS Freedom and USS Independence — had an expected price tag of about $220 million but came in at $637 million and $704 million respectively, according to the Baltimore Sun.
A decade later, the Navy says it has tweaked the vessels' design and honed the way it operates them during rotational deployments.
The Montgomery, for example, completed a 12-month rotation to Singapore and returned to its homeport of San Diego last month, Capt. Ann McCann, commodore of Destroyer Squadron 7, said in a statement emailed to Stars and Stripes on June 19.
The ship made numerous port calls and participated in the first maritime drill between the United States and the Association of South East Asian Nations alongside seven foreign navies, she said.
The Gabrielle Giffords is still on its maiden rotational deployment to Singapore, she said.
Since arriving in September, the ship has drilled with various foreign navies and participated in the Pacific Griffin exercise near Guam in October 2019. Pacific Griffin, which included multiple live-fire missile drills, is the U.S. and Singapore's most complex naval exercise to date, McCann said.
"Both ships have also conducted specific freedom of navigation operations to include in vicinity of the Spratly Islands," she said, referring to contested territory that China has been militarizing in recent years.
Made by Austal Both the Montgomery and the Gabrielle Giffords were built by Australian-owned shipbuilder Austal USA.
The company has delivered its ships on budget and on schedule for several years, Austal's customer affairs and business development director, Lawrence Ryder, said in a telephone interview June 8.
Austal has delivered 11 out of 19 contracted littoral combat ships with more on the way, he said. Lockheed Martin has delivered a dozen of 16 littoral combat ships it has contracted to build for the Navy.
"The Navy likes operating them," Ryder said. "They have done very well in freedom-of-navigation operations."
The ships' offensive capabilities have been boosted with organic weapons suites, including surface-to-surface, over-the-horizon naval strike missiles, he added.
"They can get somewhere fast, launch their missiles and reposition," he said.
The Navy can't afford to buy as many large ships as it needs, Ryder added.
"The alternative is to buy more small ships that give you a distributed force," he said, adding that the ships were never meant to replace destroyers but rather to free them up for other missions.
Littoral combat ships are fast and agile surface combatants, optimized for operating in shallow water as well as open ocean, McCann said.
"Mission packages allow for a tailored capability to meet specific mission needs, and provide flexibility for a wide array of missions," she said.
The Gabrielle Giffords is similar in size to ships operated by many other countries' navies and coast guards, making it easier to train, work alongside and build relationships with them, McCann said.
The ship deployed with the Naval Strike Missile and MQ-8B Fire Scout vertical takeoff drones.
"Those capabilities greatly increase both the [littoral combat ship's] and U.S. Navy's lethality and capability," she said.
Littoral combat ships' ability to operate in shallow water provides a significant tactical advantage and access to vital choke points and ports where larger warships are physically unable to go, she said.
Congested areas There are more than 50,000 islands between the Philippines and Sri Lanka with shallow water and small ports limiting traditional ship operations and access, McCann said.
"In that arc, less than fifty ports are accessible to larger ships, including destroyers," she said.
The littoral combat ships, with a top speed of more than 50 mph and a draft of less than 13 feet, are ideal for operations in dynamic and congested sea lanes, straits and archipelagos of South and Southeast Asia, she said.
The difficulty of navigating the waters was illustrated by the collision of the guided-missile destroyer USS John S. McCain with a Liberian-flagged tanker, the Alnic MC, in the Strait of Malacca near Singapore on Aug. 21, 2017.
Littoral combat ships' ability to dock in smaller ports makes it easy to conduct maintenance on the go, when required, McCann said.
The Navy has improved the way it operates the vessels over the years.
"We have optimized our logistics and maintenance methods based on lessons learned from previous [littoral combat ship] deployments," she said.
The Navy has added a maintenance team to provide 24/7 support for deployed ships in Singapore, McCann said.
"[Logistics Group Western Pacific] is able to provide the right maintenance, at the right time, and in the right port, enabling the [littoral combat ship] platform to meet tasking," she said.
The Navy has streamlined the way it crews the ships with sailors rotating every four to five months. When they're not on the ship crews train with other vessels or simulators back in San Diego, she said.
Naval Strike Missile The Gabrielle Giffords was the first deployed littoral combat ship to successfully launch a Naval Strike Missile when it fired one during Pacific Griffin, she said.
The missile greatly increases the ships' lethality, McCann said.
"This precision strike weapon can find and destroy enemy ships at distances up to 100 nautical miles away, flies at sea-skimming altitude, has terrain-following capability and uses an advanced seeker for precise targeting in challenging conditions," she said.
The ships also have the 57-mm MK 110 medium-caliber gun, which can engage known surface threats, McCann said.
They carry the MH-60S Seahawk helicopter equipped with the AGM-114N Hellfire missile. The Fire Scout drones can laser designate targets for the missiles, she said.
"Within the Indo-Pacific, in the coming years, we look forward to welcoming multiple rotationally deployed littoral combat ships to the region," she said.
robson.seth@stripes.com Twitter: @SethRobson1