More base post offices offer workstations to help patrons fill out, print new customs forms
by
James Bolinger
June 18, 2020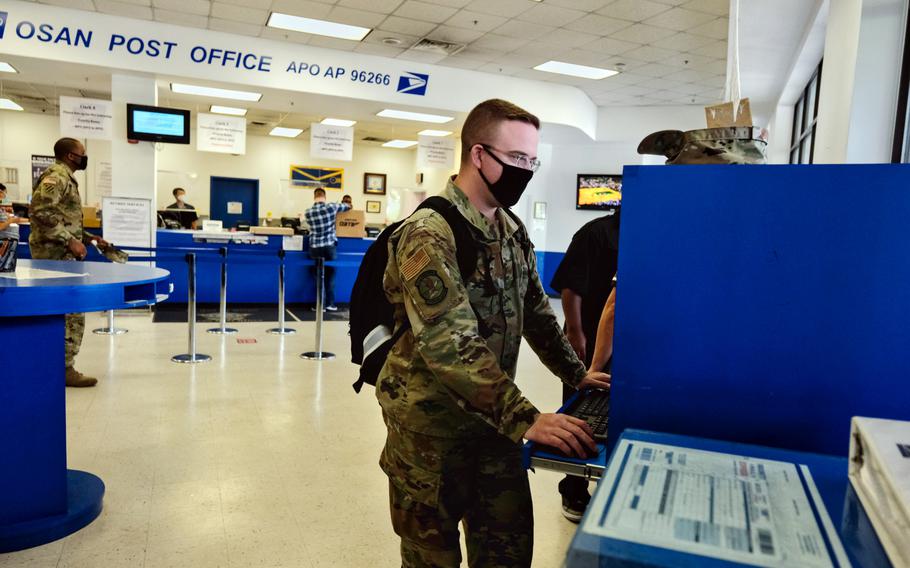 Post offices on some U.S. military bases across the Pacific are setting up self-service workstations with printers to accommodate a switch from customs forms filled out by hand to computer-generated ones.
A new rule that takes effect Aug. 13 requires all packages mailed from any overseas military post office to carry a customs form completed and printed from the U.S. Postal Service website.
Sasebo Naval Base and Yokota Air Base, both in Japan, and Osan Air Base in South Korea, have either already installed computer stations for customer use or plan to do so in the near future.
"We have set up a printer and computer in the lobby to handle these issues," said Sasebo postal manager Lewis Powell on Wednesday. "However, we have a limited number of [customer] lines. So, we plan to set up a line for people with the customs form already printed out and another for the computer station."
Powell said the post office will provide patrons with step-by-step instructions to complete the process.
At Yokota, the home of U.S. Forces Japan in western Tokyo, the base post office plans on three or four printing stations but hasn't received the equipment yet, postal clerk Senior Airman Brianna Phillips said Wednesday.
The post office at Yokosuka Naval Base, south of Tokyo, does not have the money for a workstation and printers but is always "looking for ways to improve our services to the community," according to a Facebook message to Stars and Stripes from the post office on Wednesday.
The switch from the familiar green-and-white form available on post office counters to the digital version is required under global trade agreements, Powell said. The first changes began in March with a digital form required for packages headed anywhere but the United States.
There are benefits to patrons who print their customs forms at home, Powell said. If they know the weight and dimensions of their packages, they can also pay the shipping costs from their computer. When they drop a package off that has already been paid for, a clerk will confirm the package size and weight and it will be on its way.
Customers who access the Postal Service website on their own must first create an account, then select the "Click and Ship" option, where they can create labels, fill out customs forms and pay for shipping.
Stars and Stripes reporters Theron Godbold, Matthew Keeler and Christian Lopez at contributed to this report.
bolinger.james@stripes.com Twitter: @bolingerj2004