Moon praises restraint in response to N. Korean missiles during meeting with top US commander
by
Kim Gamel and Yoo Kyong Chang
May 21, 2019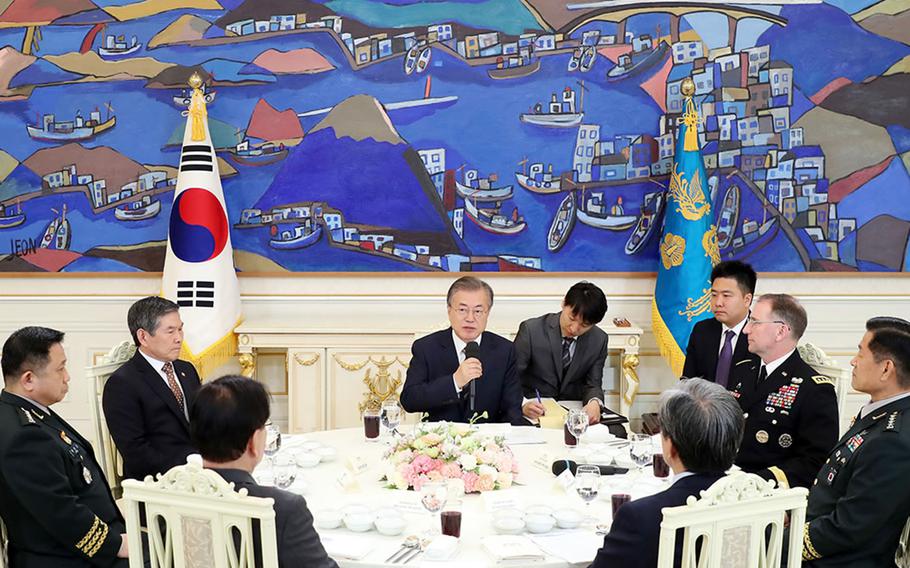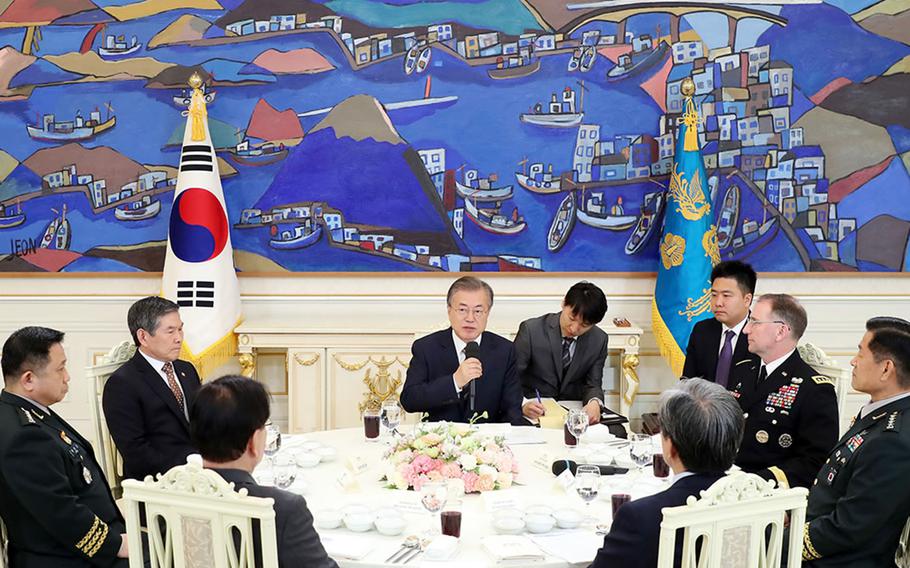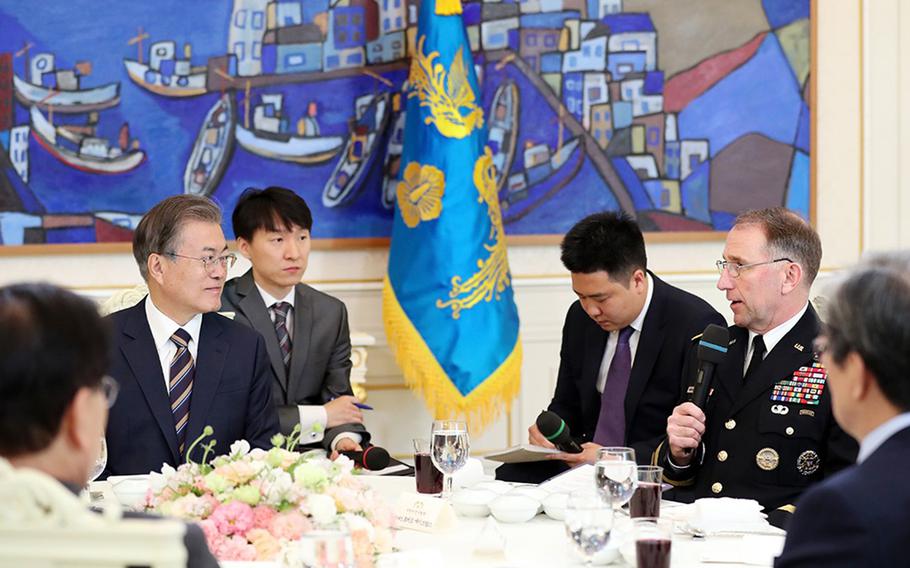 SEOUL, South Korea — President Moon Jae-in on Tuesday praised the allied U.S. and South Korean militaries for showing restraint in response to North Korea's recent missile tests, saying that has helped keep dialogue on track despite recent setbacks.
Moon made the remarks during a meeting with Gen. Robert Abrams, the top U.S. commander in South Korea, and other military officials at the presidential palace in Seoul.
The allied nations have sought to keep tensions from rising after the North conducted two short-range missile tests five days apart earlier this month amid growing frustration over stalled nuclear talks with the United States.
"The solidarity of the (South Korean)-U.S. alliance and close coordination between our two countries was clearly evident during our joint response to North Korea's recent launches," Moon said, according to a transcript from his office. "By offering a calm and moderate message with one voice … the two countries have maintained the momentum of talks."
He also stressed that the alliance, which was forged in the 1950-53 Korean War, would continue even if peace is achieved on the divided peninsula — a nod to concerns about a potential rift over how to deal with the North.
"The role of the (South Korean)-U.S. alliance will remain significant for the peace and stability in the entire Northeast Asian region, even if we establish peace," Moon said.
Abrams, who took command of U.S. Forces Korea in November, said a historic level of investment in South Korea's military under Moon's leadership had made the alliance stronger and prepared it for potential future crises or threats.
The four-star also thanked Moon for supporting joint military exercises so the troops could maintain readiness to fight while supporting the diplomatic efforts to persuade the North to abandon its nuclear weapons.
The relatively muted response by Seoul and Washington to North Korea's recent missile launches — which were the first in nearly a year and a half — was in sharp contrast to the fiery rhetoric that followed a series of nuclear and missile tests in 2016-17 that raised fears of a nuclear war.
President Donald Trump, who previously called North Korean leader Kim Jong Un "little rocket man" and threatened to unleash "fire and fury" on the communist state, said "nobody's happy" about the latest missile launches but insisted the two leaders continue to have a good relationship.
Trump and Kim reached a vague promise to work toward the "total denuclearization of the Korean Peninsula" during their first summit on June 12 in Singapore. But talks soured as the two sides have been unable to agree on the details of how to achieve that goal, with the North calling for an incremental approach with rewards for interim steps and the United States insisting it will maintain punishing economic sanctions against Pyongyang until complete denuclearization is achieved.
A second summit between Kim and Trump ended early without an agreement in late February in Vietnam after the leaders failed to narrow the gap.
gamel.kim@stripes.com Twitter: @kimgamelchang.kyong@stripes.com