Moon, Kim express hope for progress as they begin 3rd inter-Korean summit
by
Yoo Kyong Chang Kim Gamel
September 18, 2018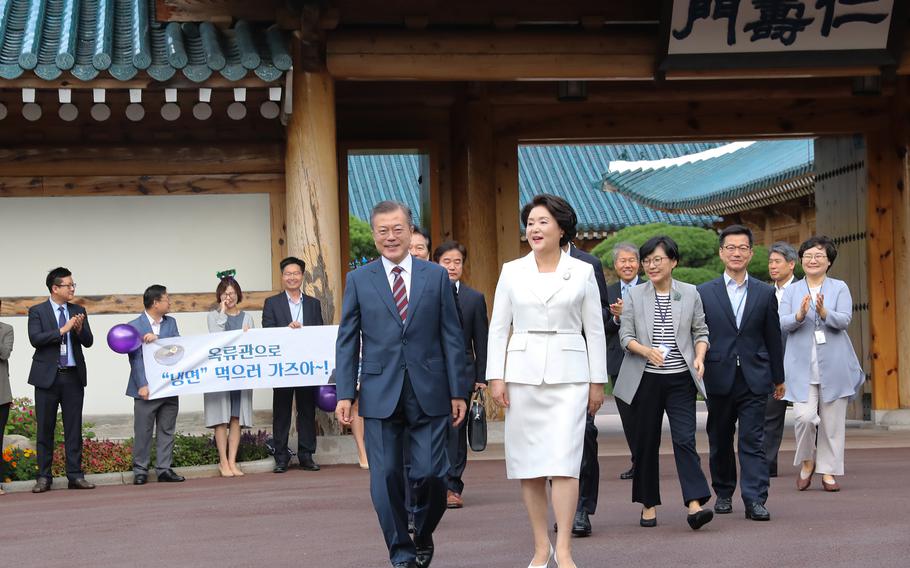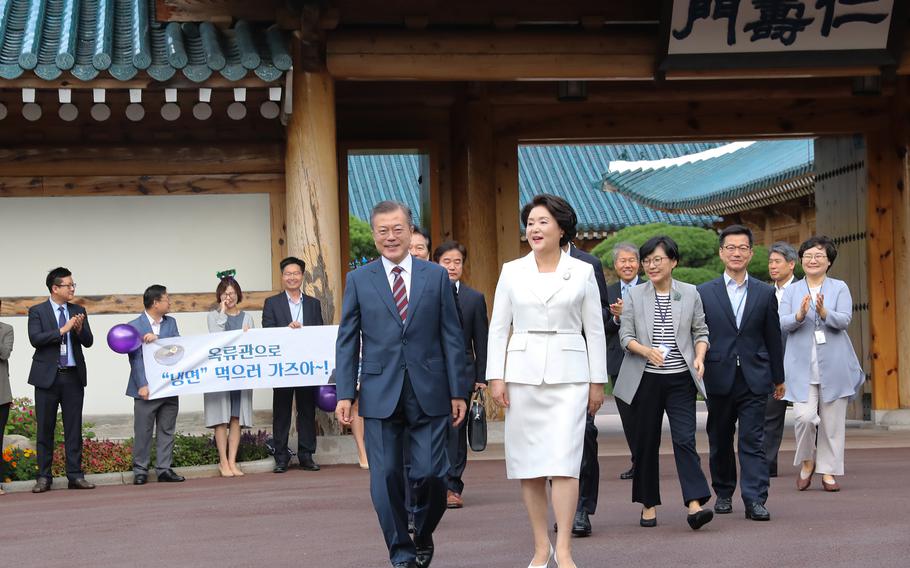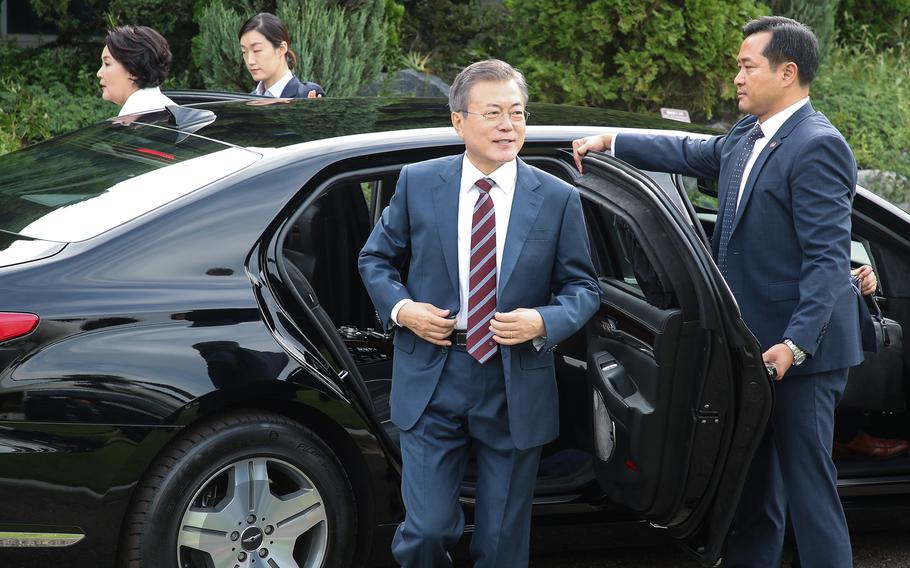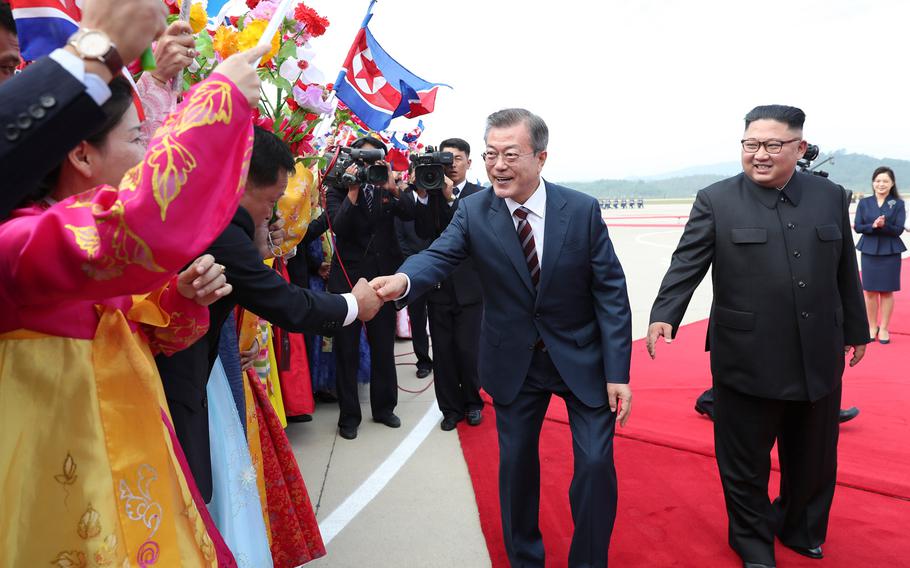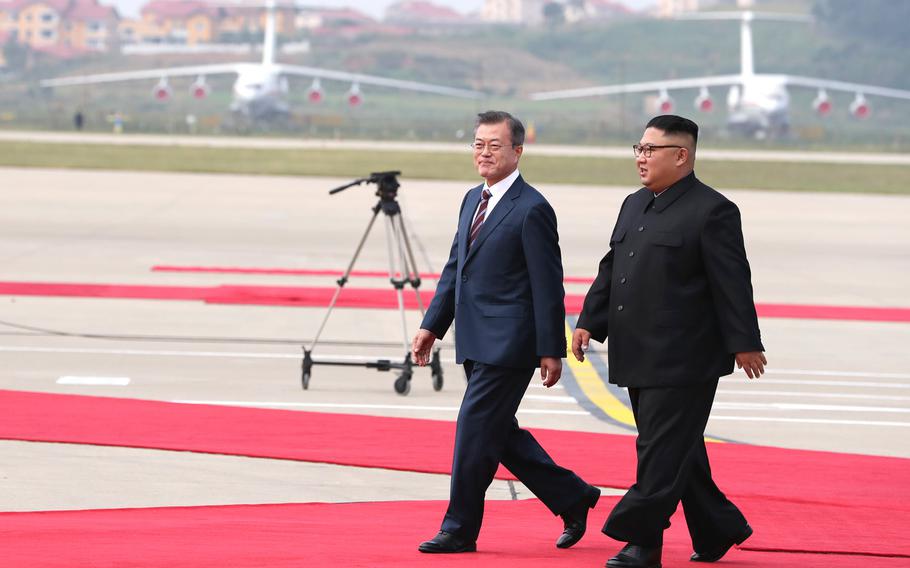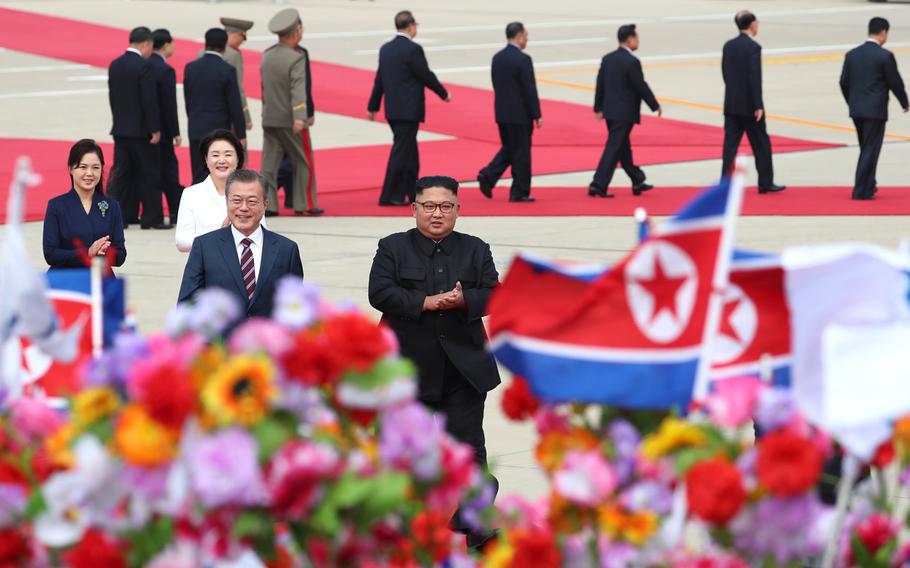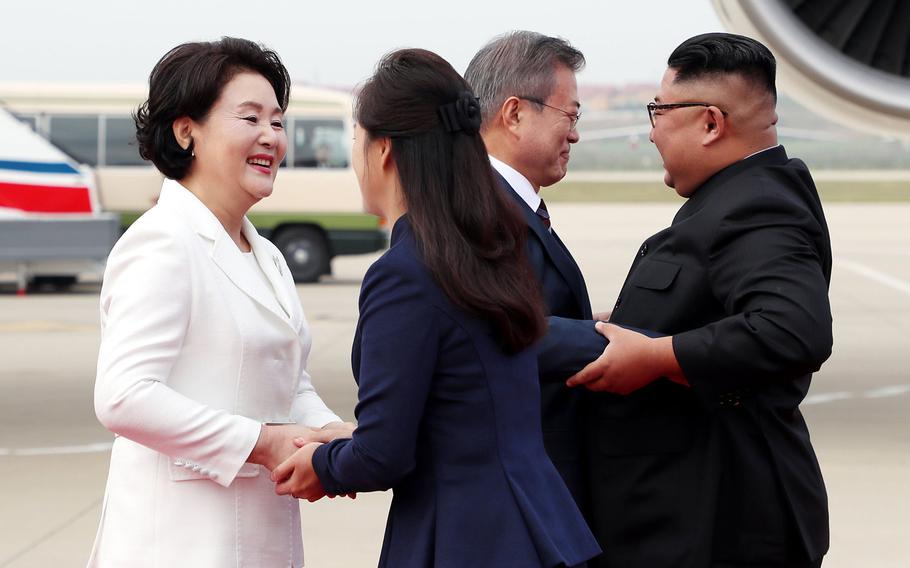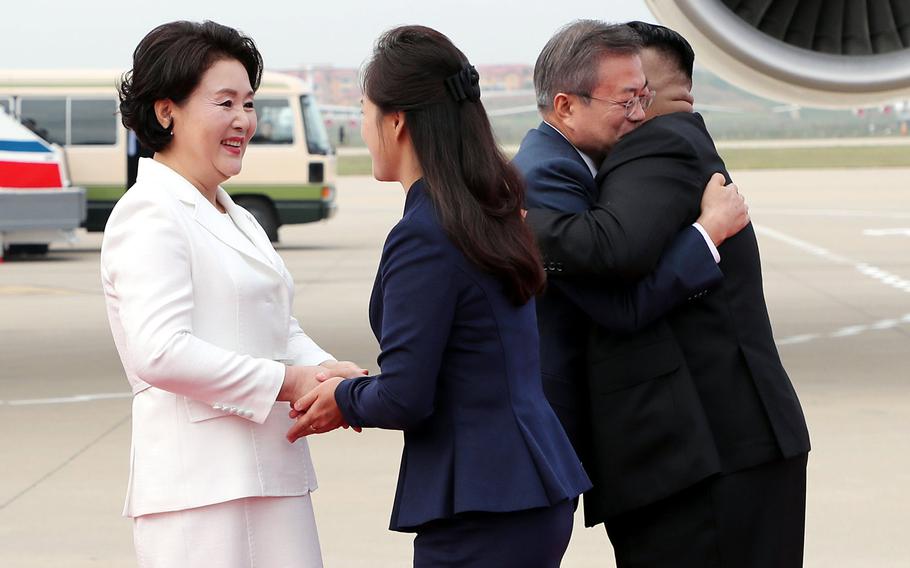 SEOUL, South Korea — President Moon Jae-in enjoyed a warm reception full of pomp and circumstance Tuesday in Pyongyang as he began a high-stakes summit aimed at persuading North Korean leader Kim Jong Un to go beyond the rhetoric and dismantle his nuclear weapons program.
It was a day full of drama, starting with a surprise appearance by Kim and his wife at the airport to personally welcome Moon, the first South Korean president to travel to the communist state in more than a decade. North Korean well-wishers, who had appeared bored, erupted in cheers when the third-generation leader appeared on the tarmac.
Kim, believed to be 35, and Moon, 65, embraced and smiled broadly, then inspected an honor guard of goose-stepping soldiers from a platform in a highly choreographed start to Moon's three-day visit.
The two leaders later rode together in an open black limousine, standing and waving as they rode past rapturous crowds chanting calls for unification along the route to the state guesthouse where the South Korean entourage is staying.
Moon's missionMoon has been thrust in the role of mediator as nuclear talks between the United States and the North have deadlocked over disarmament details, raising concern a new outbreak of tensions could upset the fragile diplomatic process.
He faces the challenge of trying to get the nuclear talks back on track while pressing for peace on the divided peninsula. It's unclear how much progress he can make in persuading Kim to expand on his general commitment to denuclearization by agreeing to specific measures that would satisfy President Donald Trump.
"This summit will be very meaningful if it yields a resumption of North Korea-U.S. talks," Moon said before boarding the plane for the nearly hourlong flight from Seoul to Pyongyang.
The leaders met for about two hours later Tuesday at the headquarters of the North's ruling Workers' Party. They planned a second round of talks on Wednesday and officials said results wouldn't be announced before then.
In opening remarks before the meeting, Kim said he feels "very close" to the South Korean president and praised Moon's "tireless efforts" that he said had paved the way for the unprecedented U.S.-North Korean summit, which took place June 12 in Singapore.
"Because of that, the political situation in the region has become stable and more progress is expected," Kim said in recorded footage broadcast to reporters in Seoul.
Moon responded by thanking Kim for making a "bold decision" earlier this year when he announced in a New Year's Day address that the North would join the Winter Olympics, setting the diplomatic process in motion.
The détente reversed months of tensions over the North's nuclear weapons program that had raised fears of a new war on the peninsula, which has been divided by one of the world's most heavily fortified borders since the 1950-53 Korean War ended in an armistice instead of a peace treaty.
"I feel the great weight we must bear, along with a heavy responsibility," Moon said. "I wish this summit will produce fruitful results as a gift to the 80 million Korean people for Chuseok," an important holiday that begins later this month.
Meanwhile, Moon's wife, Kim Jung-sook, and North Korean first lady Ri Sol Ju toured a Okryu children's hospital and the Kim Won Gyun conservatory.
Moon, a former human rights attorney and the son of North Korean refugees, previously met with Kim on April 27 and May 26 in the truce village of Panmunjom, which straddles the border. Two other inter-Korean summits were held in 2002 and 2007.
Challenges aheadUnlike his predecessors, Moon's mission goes beyond improving bilateral relations to include efforts to persuade Kim to go beyond the vague commitment to denuclearize the peninsula that was reached in their first summit on April 27.
The North Korean leader reiterated the promise in his June 12 meeting with Trump, but the two sides deadlocked over details.
Washington reportedly wants the North to disclose the extent of its nuclear weapons program and insists it will maintain punishing economic sanctions and other pressure until a deal is reached.
Pyongyang says it already has taken important steps, including suspending nuclear weapons tests, and should be rewarded along the way with the lifting of sanctions and a formal declaration to end the war.
Reports citing U.S. intelligence officials and satellite images, meanwhile, have shown continued nuclear activity by the North, raising questions about Kim's sincerity in vowing to give up his arsenal.
Trump canceled a planned trip to North Korea by Secretary of State Mike Pompeo over the summer, citing insufficient progress. But he has signaled a possible willingness to hold a second summit with Kim, thanking the North Korean leader for returning 55 cases believed to contain the remains of U.S. troops killed in the war.
His administration insists it won't ease up on the North Korean delegation until a deal is reached. But many experts say Trump's so-called "maximum pressure campaign" has been weakened as North Korea's benefactor China has reportedly relaxed its enforcement of the sanctions and Seoul and Pyongyang have moved toward increased cooperation.
South Korean business leaders, including Samsung heir Lee Jae-yong, accompanied Moon, underscoring hopes by the two Koreas to resume economic cooperation projects that are limited by the U.S.-led sanctions.
Both Koreas also are eager for an end-of-war declaration, which would be a step toward a peace treaty.
But Washington says the North must give up its nuclear weapons before that can happen.
That has raised concern that the North may drive a wedge in the longtime U.S.-South Korean alliance, which includes the presence of some 28,500 American troops on the peninsula.
South Korean envoys who met with Kim last month said the North Korean leader wasn't pushing for a U.S. withdrawal.
South Korean Foreign Minister Kang Kyung-wha and Pompeo reaffirmed the strength of the longtime alliance between their two countries in a phone call on the eve of the summit. The United States maintains some 28,500 servicemembers on the peninsula.
Stars and Stripes reporter Yoo Kyong Chang contributed to this report.gamel.kim@stripes.com Twitter: @kimgamel