Momentum for dialogue with North Korea 'unshaken' despite recent missile tests, Moon says
---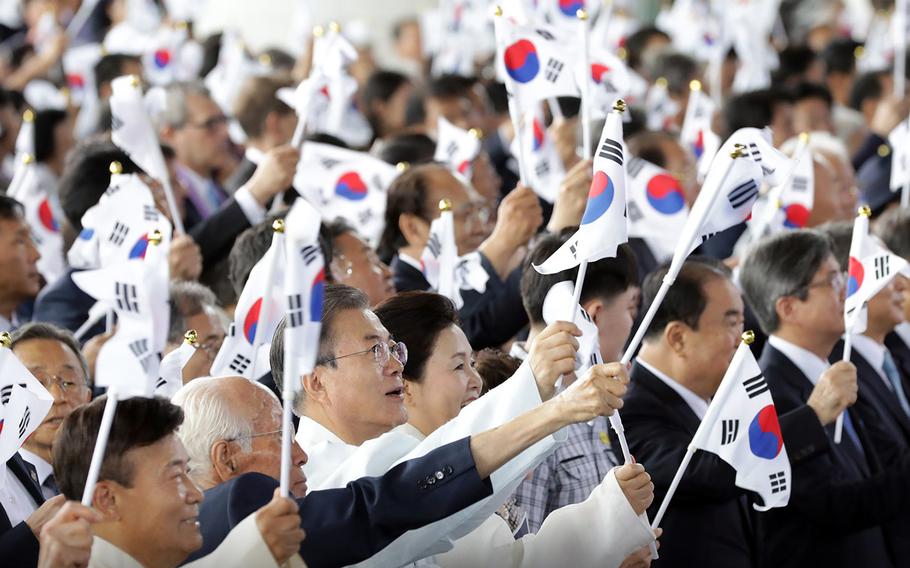 SEOUL, South Korea — President Moon Jae-in offered an olive branch to Japan over the two countries' trade dispute on Thursday, while vowing to "solidify denuclearization and peace" on the Korean Peninsula before his term ends.
South Korea has accused Japan of economic retaliation against court rulings calling for Japanese companies to offer reparations for forced labor during its occupation of the peninsula that ended with World War II.
"If any country weaponizes a sector where it has a comparative advantage, the peaceful free trade order will inevitably suffer damages," Moon said in a speech marking the 74th anniversary of the end of Japanese rule.
"Better late than never: If Japan chooses the path of dialogue and cooperation, we will gladly join hands," he said.
Relations between Washington's two key Asian allies have sharply deteriorated since Japan ended South Korea's fast-track trade status earlier this month, prompting Seoul to do the same.
Moon also laid out an ambitious timeline for peace with North Korea despite recent short-range ballistic missile tests and angry saber rattling by the communist state as it denounced joint U.S.-South Korean military exercises that began last week.
"In spite of a series of worrying actions taken by North Korea recently, the momentum for dialogue remains unshaken," Moon said.
He called on the North and the United States to resume working-level nuclear negotiations as soon as possible, saying the process is at "the most critical juncture."
Moon, whose five-year term will end in 2022, stressed diplomatic and economic goals in pursuing peace with the North.
His administration is eager to connect roads and railways, which would open land routes to China and Russia, for example. But that initiative is limited by U.S.-led sanctions against the North over its nuclear weapons program.
"I pledge to solidify denuclearization and a peace regime on the Korean Peninsula during my term in office. I will initiate the peace economy upon this foundation and move toward unification," he said.
Moon also vowed to "solidify the foundation" for the two Koreas to co-host the 2032 Olympics "and stand tall in the world as one Korea by achieving peace and unification by 2045, which will mark the 100th anniversary of liberation."
The South Korean president, who took office in 2017 after his conservative predecessor was ousted and jailed over a corruption scandal, has staked his political legacy on pursuing peace with the North.
His administration seeks to create a single market with the North to provide new opportunities for prosperity in the impoverished communist state as well as solutions for problems in the South including an aging population and a low birth rate.
"If we combine the capabilities of the two Koreas, even while maintaining their respective political systems, it will be possible to create a unified market of 80 million people," he said.
The comment addressed one of the major questions about how unification would be possible since the North Korean regime is accused of rampant human rights abuses as it maintains its hold on power by brutally repressing its people.
Moon's efforts enjoyed several successes last year as he and North Korean leader Kim Jong Un met three times and agreed to a series of inter-Korean economic initiatives. But he has been stymied by sanctions that prevent many projects from going forward.
Nuclear talks between Pyongyang and Washington also stalled after Kim and President Donald Trump failed to reach agreement during their second summit in late February in Vietnam.
The two leaders pledged to restart negotiations during an impromptu meeting in June on the Korean border, with Moon on the sidelines, but no date has been set.
Instead, the North has accused the other sides of reneging on agreements and warned it may resume long-range missile and nuclear tests.
It also has stepped up its criticism of South Korea, saying it will leave Seoul out of its talks with the United States in an apparent bid to drive a wedge in the longtime alliance.
Moon called on all sides to raise concerns at the negotiating table.
The U.S.-South Korean alliance, which was forged in the 1950-53 Korean War, also is facing pressure from recent comments by Trump who is pressing Seoul to pay more to offset the costs of stationing some 28,500 U.S. troops on the peninsula.
The State Department issued reassuring words on behalf of Trump and the United States in a message congratulating the South on the holiday.
"On this day, we reaffirm the enduring strength" of the alliance, "which remains the linchpin of peace and security in northeast Asia and the broader Indo-Pacific region," it said in a statement.
Underscoring the high stakes as North Korea has sought to show it has other options, Russian President Vladimir Putin also sent congratulations to Kim Jong Un on the holiday, according to the state-run Korean Central News Agency.
gamel.kim@stripes.com Twitter: @kimgamel
---
---
---
---