MLRS artillery battalion starts 9-month deployment in South Korea
by
Seth Robson
February 12, 2016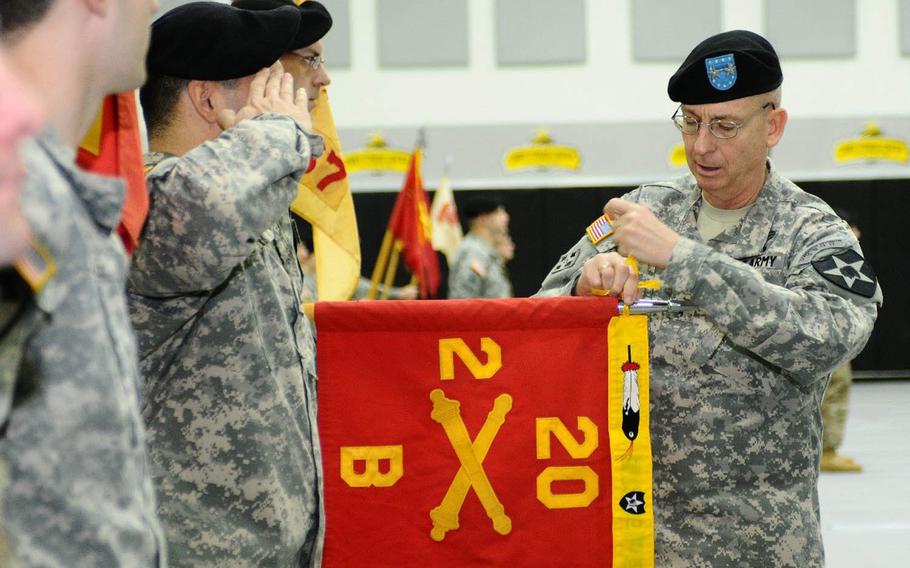 An artillery battalion equipped with Multiple Launch Rocket Systems has arrived in South Korea to support the Army's 2nd Infantry Division amid rising tensions after North Korea tested an atomic bomb last month and fired a long-range rocket last week.
Three hundred "Red Dragons" from the 3rd Battalion, 13th Field Artillery Regiment, 75th Fires Brigade at Fort Sill, Okla., began their nine-month deployment Thursday during a ceremony at Camp Casey, a 2nd ID statement said.
The Red Dragons arrived ready to fight, if needed, Lt. Col. Will Freds, 3rd Battalion commander, said in the statement.
"The 3-13 Field Artillery supported the 24th Infantry Division during the Korean War," he said. "Now, 66 years later, we're back."
The MLRS can fire up to 12 short-, medium- and long-range missiles in quick succession to suppress enemy air defenses so helicopters can move into an area, provide counter fire against enemy artillery units or go after other targets.
The battalion took over from the 2nd "Deep Strike" Battalion, 20th Field Artillery Regiment, as the Army's only rotational MLRS battalion in South Korea. "Deep Strike," which arrived in Korea last year, was the first rotational MLRS battalion to deploy there as part of an Army-wide effort to increase MLRS battalion numbers in field artillery brigades from two to three, a Defense Department statement said.
2nd Battalion is headed home to Fort Hood, Texas, while 3rd Battalion will serve under 2nd ID's 210th Field Artillery Brigade, the 2nd ID statement said.
robson.seth@stripes.com Twitter: @SethRobson1
---
---
---