Missing Osprey part sparks call for an investigation at Yokota
by
Seth Robson Hana Kusumoto
June 19, 2020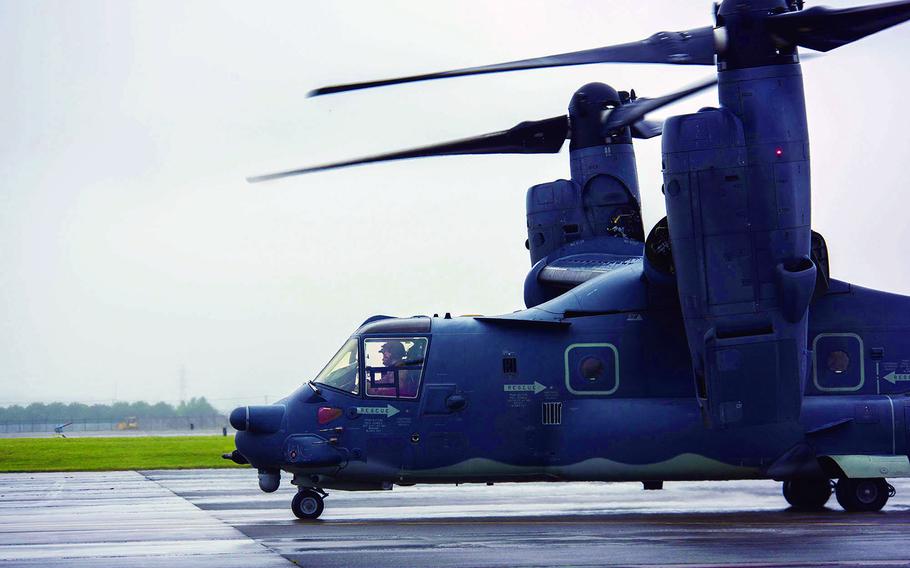 TOKYO — Local authorities in western Tokyo are calling for an investigation into whether a small part may have fallen from a CV-22 Osprey tiltrotor aircraft stationed at Yokota.
Part of a searchlight dome was missing during a check of the Osprey at about 5 p.m. Tuesday, according to a North Kanto Defense Bureau spokesman. The bureau is an arm of Japan's defense ministry.
A spokesman for the 374th Airlift Wing, 1st Lt. Stuart Thrift, in an email Friday confirmed the part was not there when the helicopter-airplane hybrid was inspected after the flight.
U.S. forces notified the bureau Wednesday that the part, which weighs just under a pound, was missing.
On Thursday, the Tokyo prefectural governor and the mayors of a town and five cities surrounding Yokota wrote to the 374th Airlift Wing's vice commander, Col. Jason Mills, and North Kanto Defense Bureau director Takahisa Matsuda asking for an investigation.
"The fallen part is a serious accident, which could involve human lives, and causes anxiety among the residents," the letter stated.
It's not clear the part fell, the defense bureau spokesman said. No off-base damage has been reported.
"Parts have gone missing from aircraft assigned to or visiting to Yokota Air Base in the past," the local authorities' letter stated. "It is extremely regrettable that CV-22 Ospreys continue to fly even after 5 p.m. when you noticed the missing part."
All of Yokota's air operations are conducted in accordance with relevant airspace agreements and regulations between the U.S. and Japanese governments, Thrift said.
"We make every effort to minimize our impact on local communities while ensuring we maintain proficiency in our flight operations for the defense of Japan," he added.
The Ospreys have been operating at Yokota since October 2018. A series of protests by locals concerned about the safety of the aircraft were held outside the base that year after the detachment's surprise arrival in April, two years ahead of schedule.
Five Ospreys are flying out of Yokota with plans for another five to join them at a time to be determined by the U.S. and Japanese governments, according to officials.
kusumoto.hana@stripes.com Twitter: @HanaKusumoto
robson.seth@stripes.com Twitter: @SethRobson1